Because of the COVID-19 pandemic, most governments have chosen to ask their populations to stay home. Touristic activities have stopped almost entirely everywhere. But as the situation seems to be improving, some states are progressively lightening their confinement regulations. Nevertheless, most are still prudent and are taking small steps to return to normal life. It is likely we won't be able to travel far from home this summer. If we missed the staycation trend a few years ago, now is our chance to explore our own backyard!
Destination #1: Stay Home
Recreate a Campground at Home
When it is safe for grandchildren to visit, we'll have to plan some activities to keep them busy. If we're lucky enough to have a backyard, we can set up a tent. If not, the children can build their own with furniture and bed sheets inside the house.
Camping Activities:
Have the children set up the tent on their own
Brush up on astronomy and watch the night sky together
Explore the backyard and look for cool bugs
Examine plants every day and see how they grow and change
Make s'mores
Tell stories at bedtime
The children will surely enjoy a few nights camping. We, on the other hand, might prefer to spend the night in our own bed.
Destination #2: Enjoy the Great Outdoors
Local Parks and Arboretums
While beaches are opening in some states, they may be too crowded to be safe. Nevertheless, many of us had to stay indoors for a long time and need to stretch our legs. Enjoying nature in botanical gardens and city parks during our staycation might be a good alternative. Social distancing rules are easy to keep while walking in a park. To be even safer, don't forget to wear a mask.
Tip: download a botany app, such as FlowerChecker or PlantSnap to help identify plants during walks.
Our National Parks are fantastic but not always nearby. On the other hand, there are many beautiful state and county parks all around us. They might not be as impressive as the Grand Canyon or Crater Lake, but wildflowers are plentiful everywhere. We might also be able to get a glimpse of wild animals; it might be even easier to spot them in less popular parks than in the famous ones.
Check local resources to get a list of local parks and ascertain which ones are already open.
Tip: Geocaching is fun for the whole family and will keep everyone interested and excited. Geocaching is a worldwide treasure hunt activity; players use their GPS enabled devices to find the "geocaches" (or "treasures").
Road-side attractions
The United States has many cool road-side attractions. Once in a while, we notice something unusual off the road but don't bother researching what it is. A staycation is an excellent time to find out more. Two websites below will help.
Weird U.S. focuses on legends and stories, ghost towns and random giant sculptures. The website allows for a search by state which gives us a list of attractions, each described in length. Unfortunately, the administrators of the website haven't completed every state. Alternatively, they have also published several books: one about the entire country and others describing specific states.
Atlas Obscura is an incredibly rich database of world-wide attractions. Searching by country, state or "around me" is easy. It's a good idea to start by researching our own city; we will probably find places we have never heard about. Attractions vary from hidden playgrounds and slides to murals, haunted houses to ghost towns, cool bars to tea rooms, etc. It is also an opportunity to find out more about an enigmatic sculpture our friends, children or grandchildren have asked about!
Destination #3: Explore Your City Indoors
Before taking off on our staycation, let's make sure that destinations have reopened and under which conditions. In or around every town, there are quaint museums that people seldom visit. With a little research, we will find a few that match our interests.
Visit a Small Obscure Museum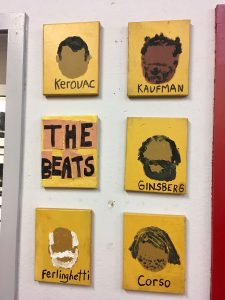 Many museums are specializing in bizarre – but fun – topics. They are usually small, with a cheap entrance fee.
Here are just a few ideas to get us started: history and literature, science and food are the tip of the iceberg. The Beat Museum in San Francisco explores in detail an era and a culture most of us only know superficially – one can actually spend hours here. The Pirate Museum in San Augustine, Florida is interesting for all generations. In Nevada, we can learn more about atomic testing. Food lovers might enjoy the Potato Museum in Idaho, the Mustard Museum in Wisconsin or the Spam Museum in Minnesota.
Toys and Videogames Museums
To keep children and grandchildren busy, several cities have toys or video games museums. Around Dallas, Texas, visit the DFW Elite Toys Museum and the National Videogame Museum. In California, Oakland offers both a computer game museum and a pinball museum. Across the Bay Bridge, in San Francisco, the Musée mécanique brings back to life old-fashioned arcade games.
While toys are pretty to look at, playing old video games and arcade machines are really fun. This is also a good time for us to beat the younger generation at some classic games like Tetris or Super Mario Bros.
Destination #4: Where to Find the Best Food in Town
Local businesses have likely been suffering from shelter-in-place orders. Luckily, there are many good ways to support them after they reopen. Going on a staycation means that we don't have to keep doing all the cooking!
Farmers' markets are selling beautiful flowers and tasty fruits and vegetables. Cheese and wine makers will also be grateful for any patronage they will get in the coming months. Some honey producers are reporting that their bees are making more honey than usual. Now is the perfect time to help our neighbors.
Let's check out the little restaurants we always wondered about. Who sells the best cookies in town? How about the best burritos? Or ice-creams? Instead of rushing to get a cup of coffee at the drive-thru, let's sit down and enjoy a cup with a slice of pie at the local coffee shop. And if we find the perfect place, why not have our next book club meeting there?
To really enjoy a staycation, we should follow a few rules: make the best of what is around us, don't be too ambitious and don't expect extraordinary things. Not only will we discover cool places, but we will also support local businesses. This summer, we won't be able to travel long distances to have a good time. We'll have a lot of fun enjoying what's close to us instead.