Wine tasting around Santa Barbara is an easy outing for anyone visiting Los Angeles. Adults enjoy a relaxing time sipping wine, of course. But when traveling with children, one has to balance adult activities with children activities. Fortunately, you can visit Santa Barbara County because it has a lot to offer families. In fact, it is easy to keep everyone happy and entertained! All the museums and sites mentioned below are small. Therefore, you can visit Santa Barbara for as short or as long as you wish, depending on the age and interest of the visitors.
Animal Lovers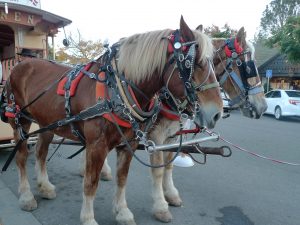 Quicksilver Ranch, north of Solvang, is a unique facility. It breeds miniature horses. Visitors wander around the paddocks where the adorable creatures live and grow. This facility is a farm; therefore, there are no organized tours. Stopping here provides a pleasant "break" from visiting wineries, yet this can be as brief a stop as the schedule demands.Open Monday-Saturday 10AM-3PM
Closed on SundaysThe "Honen" is a horse-drawn carriage and a fun way to discover the village of Solvang. Little trolleys are pulled by sturdy horses in the narrow streets of the old town. Meanwhile, a guide narrates local stories in addition to Danish legends. He also points out all the sights and interesting architectural details. Tours depart from the visitor center in downtown Solvang and last about 25 minutes.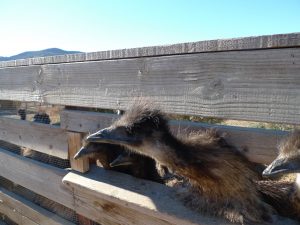 Open Friday-Monday 12PM-5PMAnother unexpected animal facility is OstrichLand USA. It is located a few miles west of Solvang on Hwy 246. Informative panels explain the differences between Ostriches, Emus, and other big birds. These voracious animals will rush to visitors offering them grain (purchase grain on site). Touring this farm might take longer than Quicksilver Ranch because of animal feeding. Craving an omelet? No problem, the Ostrich farm sells ostrich, emu eggs, and other ostrich-related products in the gift-shop.Open everyday from 9AM to dusk
Near Lompoc is Misión la Purísima, 18 miles from Solvang on Hwy 246. It is one of my favorite California missions.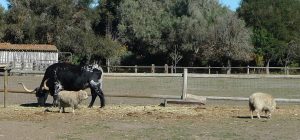 In addition to the traditional historical exhibits in the buildings, this mission provides a re-creation of life in the 1820s. Several farm animals live on the premises and make the visit lively and enjoyable to young children.
Misión La Purísima is a California State Park, open daily 9AM-5PM (except Thanksgiving, Christmas and New Year's Day).
Beach Time
There are many beautiful beaches in and around Santa Barbara. They are easily accessible but tend to be crowded on weekends. Try to get here early, bring a picnic, books, and beach toys. Watch the waves, and you may spot a dolphin or another sea mammal!Favorite Beaches: Goleta Beach, La Carpinteria Beach and El Capitan BeachNote of caution: With the cool ocean breeze, the beach may seem cold. Don't be fooled; wear sunscreen and a hat. The sun is always hot, so bring a lot of water too.
For your little history fans…
California Indians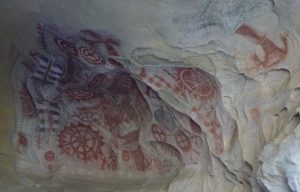 The Chumash Painted Cave in the beautiful foothills of the Santa Ynez Mountains is an interesting stop for young learners of California history. Despite the fence protecting the paintings, one can fully appreciate the artwork. In fact, everyone can wonder at the motivations and cosmology of the first Californian artists. Deciphering symbols and trying to imagine their meanings can surely amuse children of any age. To get to the cave, drive 5 miles off US 101 on State Route 154. Caution: The road is winding, slow, and not appropriate for RVs. Parking is difficult near the cave. No flash photography.
Spanish and Mexican Heritage When You Visit Santa Barbara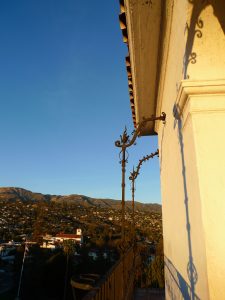 The Mission, probably the most famous landmark in town, is open daily 9AM-4:15PM. Nevertheless, it isn't the only lovely place here.Downtown, the beautiful county courthouse is equally worth a visit. Climb to the top of the clock tower for a gorgeous view of Santa Barbara and the hills surrounding it. In the wedding room, the walls and ceiling are adorned with paintings. Traditional Mission style friezes decorate the ceiling, while murals depict the history of Native Americans and Spaniards living in the area in past centuries.Open weekdays 8AM-5PM and weekends 10AM-4:30PMFinally, the Presidio is a most impressive adobe compound. Several exhibits in the buildings briefly explain the life in Santa Barbara under Spanish and Mexican rule and the importance of this Presidio. Incidentally, these are some of the oldest adobe buildings in the state.Open everyday 10:30AM-4:30PM
Solvang, a Danish Town in California
Children can learn about Danish culture in two museums. The tiny Andersen Museum is located in a bookstore in the center of town. So, plan ahead and have the children select a book. They can enjoy it later in a nearby winery while adults are sipping Merlot.Open daily 9AM-6PMIf the view of windmills and other Danish particularities sparkled interest, spend time at the Elverhøj Museum. Docent are extremely welcoming and helpful. There are several activities for children and sometimes a little reward at the end of the visit! Additionally, there are books and beautiful unusual objects in the gift shop.Open Wednesday-Sunday 11AM-4PM
Food
Petit Valentien is a French restaurant with an Ethiopian twist in downtown Santa Barbara. In a family-friendly atmosphere, the chef cooks dishes with fresh, local ingredients.Also when you visit Santa Barbara, across the Presidio, Three Pickles prepares delicious sandwiches and salads.
Bit O'Denmark
, also in downtown Solvang, proposes Danish-inspired dishes for breakfast, lunch, and dinner in a quaint Scandinavian decor. The restaurant is family-friendly, and the menu offers many choices that will please the entire family.
Equally important for a family trip, the Ice-Cream Trolley Parlor in Solvang offers dozens of different types of flavors, some seasonal, some unexpected, and some more traditional.
Lastly, for breakfast or a snack, consider Olsen's Danish Village Bakery for hearty pastries.
The well-known wineries in Santa Barbara County were the site for the movie Sideways. This movie put local wineries on the wine tourist map. To understand how the movie affected America's red wine drinking habits, view this article by Tricia H. Conover in Prime Women Magazine: "Is Merlot Alive and Kicking? 10 Years After Sideways."
Traveling as a family, with several generations to keep happy and engaged, can be challenging. Depending on the age, interests, and energy levels of the children, Santa Barbara and Solvang provide various types of activities to keep them busy and entertained.