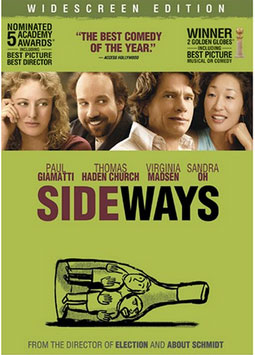 October marked the 10-year anniversary of the premiere of Sideways, the movie that belittled Merlot and starred Pinot Noir. This Oscar-nominated movie–a pre-wedding buddy trip gone wrong—features Miles, the main character starring Paul Giamatti. Miles, who utters a notorious line, "No, if anyone orders Merlot, I'm leaving. I am NOT drinking any [expletive] Merlot." During the next year Merlot sales dropped and Pinot Noir sales soared.
Merlot backlash occurred, but Sideways went on to gross $71 Million in revenues. Trefethen Winery lightheartedly thumbed their noses at the movie by hanging a sign below their entrance marquee reading, "Clearly Miles has never had NAPA VALLEY Merlot." Trefethen is one of the historically significant Merlot producers from the Oak Knoll region of Napa Valley. The folks at Trefethen sent "Sideways" screenwriter, Alexander Payne, a magnum of Trefethen Merlot following the movie release. Payne went on to win the Academy Award for Best Adapted Screenplay and appreciated the Trefethen gesture as well as their quality Merlot.
Was there really a "Sideways Effect" on Merlot? While the movie was truly beneficial for the sales of Pinot Noir (16% uplift in the months after the movie), the "positive impact on Pinot Noir appears greater than the negative impact on Merlot," reports Dr. Steven Cuellar, of Sonoma State University. "The movie did, however, appear to cause a general increase in wine consumption." Bottom line: in 2004 Merlot held a 15% market share. Today, Merlot is the 4th most consumed wine varietal. Although market share is down to 9%, 2014 is a much larger wine-consuming market and Merlot remains double the sales of Pinot Noir. Many vintners believe the movie forced Merlot's quality to leap to higher standards.
Merlot remains one of the most approachable and food-friendly red wine choices. The softer tannins of Merlot make it important in red blends. Excellence in Merlot has been achieved in the US with brands like Shafer, Duckhorn, Trefethen, Nickel & Nickel, and Jarvis. Certainly the Merlot-rich blends from France's Bordeaux region continue to set the standards of excellence and high prices in wine. Right-bank Bordeaux, which are Merlot-rich from the Pomerol Region, for example, Petrus, Chateau Lafleur, and Le Pin continue to command prices like $1000-1500 per bottle.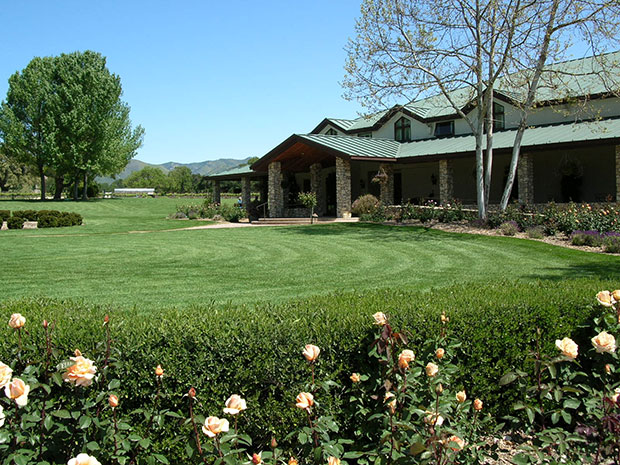 Sideways' filming location was the picturesque Santa Barbara and the Santa Ynez wine country of California. This region enjoyed a surge in tourism and the increased popularity of their Pinot Noir wines. Fess Parker Winery & Vineyard (pictured) was the fake-named Frass Canyon winery, site of the infamous wine spittoon-drinking scene. The Hitching Post II restaurant remains a fan favorite for all who want to do the "Sideways Tour". Love it or not, Sideways had a huge impact on wine drinkers and made the way for more wine-themed movies like Bottle Shock and SOMM. The rising qualities of Merlot, its inherent drinkability, and its blending compatibility have sustained the varietal. Merlot is alive and kicking.
Some recommended excellent Merlots:

Duckhorn Three Palms Vineyard Merlot – 2011 Napa Valley $99
Wine Spectator: 91 Points
Notes: Lush red and black fruit with earthy undertones. Layered and complex notes of ripe plum, currant, mocha, and red licorice. Decant while young.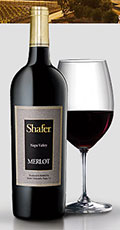 Shafer, Stags Leap, Napa Valley, Merlot – 2011 $53.99
The Tasting Panel – 91 Points
Notes: Fragrant scents and flavors of red and black cherry, black plum, smoke, white pepper, sage and wet earth with fine ripe tannins.
76% Merlot, 14% Cabernet Sauvignon, 8% Malbec and 2% Petit Verdot.

Trefethen Family Vineyards, Merlot, Napa Valley – 2011 $40.00
Los Angeles International Wine Competition – 91 Points
Notes: Savory aromas of cherry, cinnamon, cedar, and leather make this a bright, complex, and balanced wine.
77% Merlot, 12% Malbec, 11% Cabernet Sauvignon
French Bordeaux Blends:

Chateau La Lagune 2010 Medoc, Bordeaux (3rd growth) $79.99
Wine Advocate/Robert Parker 92 points
Notes: Notes of Asian rum sauce, mulberries, kirsch liquor and black currants with a savory smokiness. Full-bodied with both elegance and power.
50% Cabernet Sauvignon, 40% Merlot, and 10% Petit Verdot
Some Great Value Merlots
William Hill Merlot, Central Coast California 2012 $17.99Tasting Panel – 90 PointsGundlach Bundschu Merlot, Sonoma County 2010 $31.99Wine Enthusiast – 90 Points
Visit "Sideways" Wine country:
Wineries to Visit:
Fess Parker Winery (the fake-named Frass Canyon Winery of drinking-spittoon fame)
6200 Foxen Canyon Rd. • Los Olivos, CA
Zaca Mesa Winery & Vineyards
6905 Foxen Canyon Rd. • Los Olivos, CA
Buttonwood Farm and Winery
1500 Alamo Pintado Rd. • Solvang, CA
Where to Eat:
The Hitching Post II (Where Miles and Jack ate)
406 East Highway 246 • Buellton, CA
Ballard Inn & Restaurant
2436 Baseline Ave. • Ballard, CA
Where to Stay:
Moderate:
Days Inn at the Windmill (Where Miles and Jack stayed)
114 E Highway 246 • Buellton, CA
Luxury:
Santa Ynez Inn
3627 Sagunto Street, • Santa Ynez, CA
Wine Movies to See:
Sideways – Starring Paul Giamatti, Thomas Haden Church, Sandra Oh, Virginia Madsen
Bottle Shock – Starring Bill Pullman, Alan Rickman, Chris Pine
SOMM Starring DLynn Proctor, Brian McClintic
About Professional Wine Reviews:
Wine ratings are based on a 100-point scale. Each publication has it own quality criteria. Experts aside, it's up to you to decide what you like. Note: PRiME is not associated with or sponsored by Wine Spectator, Wine Advocate, The Tasting Panel, Wine & Spirits, Wine Enthusiast, or Decanter.