Southwestern Great Britain and French Brittany have shared some common history and culture for centuries. Britons, who left Great Britain during the 5th and 6th centuries, brought their ancestral stories with them when they settled in the northwestern region of France that became Brittany. One finds locations referring to King Arthur, Merlin, or Lancelot in both Britains. For instance, south of Rennes, the Forest of Paimpont bears another name: Brocéliande. Indeed, several locations there clearly refer to episodes of the Arthurian Cycle.
Broceliande Forest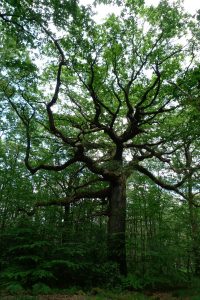 Discovering the many trails of the Paimpont Forest is an extremely engaging experience. The vanilla scent of yellow gorse plants float throughout the forest. Once in a while, the sun rays dart through a clearing, projecting the dancing shadows of leaves on the dried paths. Here, the landscape varies abruptly. Dense forested areas, where tall oaks and beeches abound, lead to moors, where only purple heathers and small bushes can grow. Tradition claims that some of the Knights of the Round Table roamed under these trees and in those paths many centuries ago.
Merlin's Grave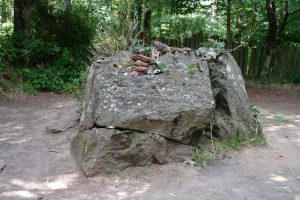 One of the most visited places in the forest is Merlin's grave. A small trail, wandering in trees, high ferns and wild plants, leads to the site. In fact, a Neolithic chamber tomb, this small monument has been greatly damaged and eroded. Nevertheless people still come here to leave a message, sometimes an offering to Merlin, perhaps hoping he will grant their wishes. Some fancifully-clad visitors even play esoteric music in the clearing. The atmosphere is thus a strange mix of fantastical and natural elements.
La Fontaine de Barenton
The Round Table stories refer to the Barenton Fountain several times. Tradition claims that Vivian and Merlin met here. During hot and dry summers, locals used to come to this spot and pour some water on the large sandstone rock, asking Merlin for rain. In addition, Chrétien de Troyes mentions this fountain in his tale about Yvain, the Knight of the Lion. Yvain killed the Black Knight here to avenge his cousin, and thus became the protector of the fountain.Nowadays, visitors easily reach this secluded location after a short walk under the shade of majestic trees. Nothing seems threatening during a sunny day, and it is difficult to imagine a great battle between two powerful knights or the fierce storms described in medieval tales.
Le Val sans Retour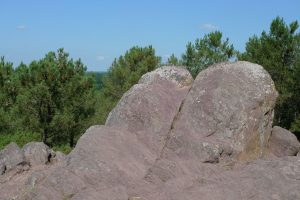 At the Vale of No Return or Vale of the False Lovers, rocks of red schist encircle the small Lac aux Fées (Fairies' Lake). The trail then wanders in the forest and rises onto a desolate moor. Suddenly, the landscape is more mineral than vegetal, purple and red rather than green. Two different worlds collide. A perfect location for Morgane le Fay: this is where she trapped unfaithful lovers inside boulders, punishing them for their infidelities.
Tréhorenteuc Chapel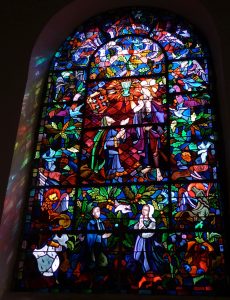 In Brittany, religion and folklore often intersect, just like the Celtic legends and the quest for the Holy Grail in the Arthurian Cycle. The little church of Tréhorenteuc is a perfect example of this symbiosis. Inside this catholic building, paintings, mosaics and stained glass windows tell stories about the Knights of the Round Table combining them with those of the Christian faith.
The decoration of the church is so unusual that it can be a little difficult to apprehend. Yet the effect is charming. The sunshine brings to life the characters and animals on the windows and projects splashes of color onto the granite floor. Everything vibrates with life and happiness.
Other Legends
An Amazing Introduction to Celtic Folklore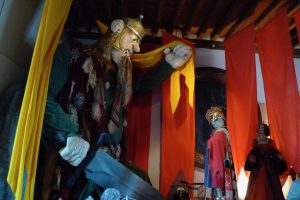 The Château de Comper is home to the Centre de l'Imaginaire arthurien, dedicated to local and Arthurian legends and traditions. The guided tour is extremely informative, delivering details about Celtic and European folklore, and making comparisons between legends around the world. Throughout the castle, colorful displays present popular stories, bringing to life famous characters.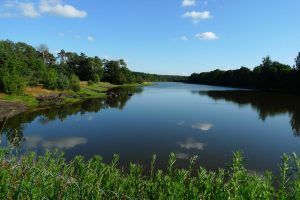 In the park, the surface of a beautiful lake sparkles, while clouds reflect on it like a mirror. Rumor has is that Vivian's crystal palace lays at the bottom of this clear lake. A legend mentions that Vivian was born here. And this is where she educated Lancelot before taking him to Arthur's court at Camelot. The location is so attractive that it is easy to believe Vivian and Lancelot lived here.
The Fontaine de Jouvence
A few hundred yards from Merlin's grave, the Fountain of Youth still trickles in the shade of ancient trees. Described in old texts as a majestic fountain surrounded by great stones, it seems very diminutive nowadays. Druids used to perform ceremonies here, most notably ritually washing and registering newborns. Sometimes parents only brought their baby during his or her second year. This child was registered during the year it was brought here, hence becoming younger by a year.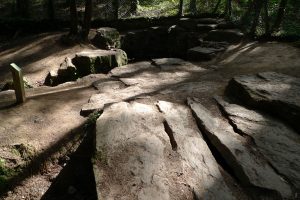 Legends say that to become younger, people have to come here at Midnight on the summer solstice, drink a full bowl of the fountain's (probably undrinkable) water and have been perfect during their entire life. Not so easy after all…During the Middle Ages, writers linked the fantastic tales of King Arthur and his knights to several Neolithic sites in this forest. By then, druidic traditions had been completely lost, although some legends had remained alive. Indeed, local inhabitants remembered the magical properties of some fountains; they told stories about the great stone formations lost in the woods. Medieval authors took advantage of that, creating new stories. Compared to other megalithic monuments in Brittany, the ones depicted above are extremely minor and unimpressive. They only gained celebrity because of their ties to Merlin, Vivian and Yvain. The untouched Broceliande Forest is truly the perfect location to reflect on the Arthurian cycle. In fact, it spurs travelers to imagine fearless knights riding through, in their quests to save innocent maidens or to battle monsters.
Now, join us on a trip to Montmartre, considered by many to be the loveliest village in Paris.