Congratulations on making it to 25 years of marriage. That's an incredible accomplishment that deserves to be celebrated. What better way to celebrate than to travel somewhere together and enjoy new experiences with each other. Here are some of the top locations to celebrate your 25th wedding anniversary.
25th Wedding Anniversary Vacation Ideas in the United States
Maui
With its pristine beaches, gorgeously landscaped resorts, and variety of beach, mountain, and tropical activities, there are many things to do on Maui for a 25th wedding anniversary vacation. You can snorkel, surf, longboard, swim, or relax on the beaches. You can also enjoy excellent dinner and shows at the many luaus on the island (I recommend the Drums of the Pacific luau) or drive the Road to Hana to visit a black sand beach. Bike down the Haleakala volcano or go zip-lining between mountain ridges in the west Maui mountains for a bit more adventure. And you can't miss the sunsets on the beach – the perfect romantic anniversary activity.
Carmel by the Sea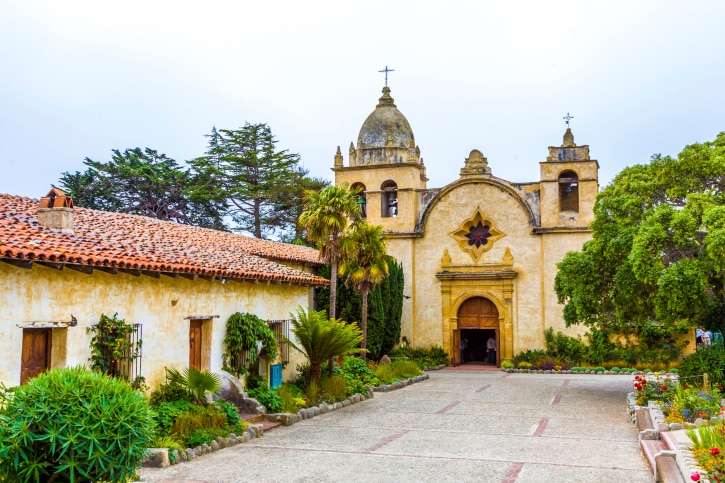 Carmel by the Sea is a quaint, historic seaside town on the Central Coast of California. It has a European flair with beautiful stone architecture, European-styled shops and restaurants, narrow cobblestone streets, and hanging flower baskets. With its white sandy beaches, mild weather, and the charm of a European village, it is a perfect vacation spot for your 25th wedding anniversary.
Oahu, Hawaii
Even though Oahu is the most populated island in Hawaii, it's still full of natural scenery, making it easily one of the top places to spend an anniversary vacation. This island has lots of beautiful scenic drives and beach parks, and several nice botanical gardens to stroll through. Hiking Oahu is another great way to get into nature! Some of the best Oahu hikes include breathtaking mountain scenery, white sandy beaches, extinct volcano craters, and more.
International 25th Wedding Anniversary Vacation Ideas
Corsica
A perfect place to celebrate your 25th wedding anniversary is Corsica. Corsica is a small French island located in the Mediterranean sea near the Italian island of Sardinia. The beaches in Corsica are some of the dreamiest beaches in Europe. With thin golden sand and warm turquoise waters, they are the perfect fit for a romantic vacation. But Corsica has many other activities, such as mountain and lake hiking, swimming in the rivers, and eating delicious local dishes like Figatelli and chestnut cake.
Iceland
Whether you're looking for romance and relaxation or bonding through adventure, Iceland offers many different experiences for anniversary travelers. You can visit the Blue Lagoon or one of the many other hot springs scattered around the island to soak in the geothermal waters with your loved one and lather on the Icelandic skincare face masks for some shared self-care. For a truly unique experience, book one of the many incredible day trips from Reykjavik to the Golden Circle to chase waterfalls or travel to Langjökull Glacier, where you can go snowmobiling or venture inside the glacier itself to tour the ice caves. Who knows, you might even renew your vows inside the ice chapel!
Verona
Nicknamed the Rome of the North and the City of Love, Verona is a delightful Italian city to explore because it's small enough to navigate on foot, yet jam-packed with historical sites. If you're visiting in the summer, be sure to see a live opera performance in the impressive Roman Amphitheater. Take a wine tour to the nearby Valpolicella region and enjoy some of the best food in Italy in one of Verona's charming eateries.
Istria, Croatia
Istria is definitely a unique idea for spending a 25th wedding anniversary! This beautiful Croatian peninsula enchants with a vast selection of romantic coastal towns and dream beaches out of a postcard! In addition, you discover a hinterland with green wine hills, almost like in Tuscany. There is also a wide range of options for hitting the town at night and sports such as SUP, kayaking, cycling, and hiking.
The colorful harbor town of Rovinj is absolutely worth a visit, and also, don't miss the coastal town of Pula with its huge Roman amphitheater! Another highlight of Istria is the nature park Cape Kamenjak with its impressive coastal landscapes and numerous beautiful beaches.

Cyprus
If you want to visit one of the most romantic places in the world, look no further than Cyprus. There is nothing better than celebrating a wedding anniversary surrounded by crystal clear waters and impressive rock formations like the Love Bridge in Ayia Napa. (According to legend, when you kiss your partner at the Love Bridge, all your wishes will come true.)
Cyprus offers a variety of ways to celebrate. You can explore Sea Caves with your partner and take some incredible photos together, or relax at Aphrodite Beach – the birthplace of the Goddess of Love.
There are plenty of other superb beaches on the island, such as Nissi Beach, Blue Lagoon, and Coral Bay. During your vacation in Cyprus, you can swim with turtles at one of the beaches in Paphos or just wander around the town. With so many incredible things to do in Cyprus, you will have an unforgettable 25th wedding anniversary.
The weather on the island is good all year round, and there are many hours of sunshine during the day. The average sea temperature in Cyprus is much higher than in any other European destination. If you want to have a great time with your partner in a warm place, choose Cyprus.
Get Grounded at These 8 Great Meditation Retreats
Lisbon
Picturesque cobblestone streets, wonderful historical landmarks, world-famous wine, fantastic sea views, and the intense sounds of Fado music are just a few reasons to consider celebrating your 25th wedding anniversary in Lisbon.
Although Portugal's capital is not often referred to as one of the most romantic cities, visitors have been flocking from all over the world to discover this beautiful coastal city recently, and for a good reason. Not only is Lisbon very romantic, but it is also one of the most affordable European cities to visit!
While you could spend days only delving into Lisbon's best spots (especially the Belem, Alfama, and Chiado districts), the area offers countless day trips to nearby beach towns and countrysides. But make sure not to miss Sintra – located only 30 min from downtown – for the most romantic getaway you can do in Portugal.
Isle of Skye, Scotland
The Isle of Skye in Scotland is one of the most romantic places on the planet to celebrate your 25th anniversary and renew your vows. This magical island is located in the Inner Hebrides of Scotland. Rugged landscapes, majestic mountains, sea, castles, waterfalls, and whisky distilleries make every inch of this Scottish island like a postcard. In the main settlements, such as Portree, Broadford, and Uig, there are plenty of seafood restaurants where you can have a romantic dinner with a picturesque view.
Don't Miss These Haunted Castles in Scotland for Historical Thrills.
Cabo San Lucas, Mexico
There are so many amazing things to do in Cabo San Lucas — from whale watching in winter to snorkeling in summer to delicious dining all year. This popular Mexico vacation destination, located on the country's west coast, has some of the best beaches and best resorts in Mexico.
It is perfect for a wedding anniversary getaway because you'll find excellent resorts in Cabo for all budgets. If you want to go all out, there's nowhere better than Grand Velas Los Cabos or Garza Blanca, but for a budget-friendly option, opt for the Riu Palace Cabo San Lucas.
El Farallon a Divine Dining Experience in Cabo San Lucas
Galapagos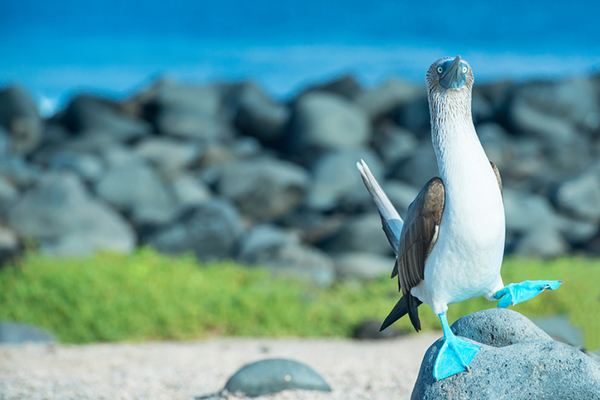 To celebrate your 25th anniversary, select the iconic and unique destination of the Galapagos – there is no place on Earth like it. With flora and fauna you won't find anywhere else, the Galapagos is a coveted destination for many milestone celebrations. All of the Galapagos is a National Park (of Ecuador), and visitors must be accompanied by a certified guide at all times. Of the many operators, we chose to do a Galapagos Celebrity cruise.
Seeing the Galapagos Islands With Grandkids: Priceless
Sacred Valley, Peru
For a mystical experience in nature with your loved one, celebrate your wedding anniversary in the Sacred Valley of Peru, a lush valley between the Andes Mountains. The stunning region is located between Cusco and Machu Picchu and was once part of the Incan Empire. Tucked away in the valley among authentic Peruvian villages and Inca ruins, you will find the luxury hotel, Sol y Luna. The magical garden oasis is an idyllic setting for couples with its spacious casitas facing the Andes, rejuvenating spa, fine-dining Peruvian restaurants, and stylish furnishings that celebrate Andean culture. After your relaxing stay, continue your trip with an adventure to the awe-inspiring Machu Picchu.
Sindabezi Island, Zambia
Sindabezi is a tranquil secluded island located in the middle of the Zambezi river, just 12km from Zambia's Victoria Falls. This award-winning island was voted one of the best remote places to stay in the world and has just five open-sided wooden chalets from which you can watch a breathtaking sunrise and enjoy regular sightings of elephants and hippos.
You can relax in a bubble bath under the stars and indulge in a three-course dinner in the privacy of your chalet after a romantic sunset boat cruise with wine. You can even have a private picnic on another island nearby or dine in style on a floating platform in the Zambezi, where your meal is paddled out to you!
Indonesia
For those seeking adventure, ethical animal encounters, and stunning natural scenery, consider creating an itinerary that takes you to several of the 15,000 islands that make up Indonesia. Trek deep into the jungles of Borneo, looking for the endangered orangutan. Stifle your fear and hike surrounded by deadly Komodo Dragons on Rinca Island in Komodo National Park. Walk to the top of a small mountain on Padar Island and see three different colored beaches – black, white, and pink. Alternatively, climb up Kelimutu, a dormant volcano, watch the sunrise and uncover three different colored lakes sitting in enormous craters. The sunsets are magnificent, the people are kind and generous, and you will never feel more alive than during your time in Indonesia.
La Paz, Mexico
La Paz is an adorable town with stunning beaches located two hours north of Cabo. Here you can stay in one of the cozy boutique hotels, swim with whale sharks, learn something new together, go whale watching, and so much more. Plus, it's a foodie city, ensuring every meal you have is terrific. For a highly unique stay, go glamping at the all-inclusive Rancho Cacachilas, where you can stay in a tent, stargaze, hike, and more.
Wherever you decide to go, we hope you have an incredible experience together, making new memories.
Read Next:How to Plan the Perfect Girlfriend's Getaway8 Wonderful Resorts for a Multigenerational Vacation Around the World