Autumn is a great time for seeking out spooky places – and there are plenty of haunted castles to choose from in Scotland, because almost every self-respecting fortress has at least one blood-curdling ghoul lurking in its dark chambers. I don't go around actively looking for ghosts, but I do find that some places have a distinct 'atmosphere,' perhaps a result of the fate of former occupants mingling with centuries of turbulent history.
Edinburgh Castle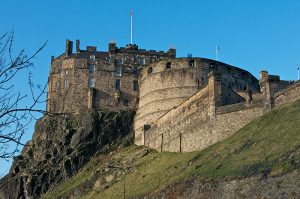 Let's start with Edinburgh Castle, a familiar sight on the city's skyline, looking down over the rooftops from its high vantage point atop a natural outcrop of rock – the remnant of a 350-million-year-old extinct volcano. Understandably, any visit here is going to be made in the company of several hundred other people, as it is one of Edinburgh's most popular tourist destinations. But it's still an exciting and inspiring experience, purely because the most amazing history is all around you in the form of oak-panelled rooms, richly ornamented fireplaces, and a labyrinth of corridors which lead – eventually – to a chamber at the heart of the castle which houses the 'honours' or crown jewels of Scotland.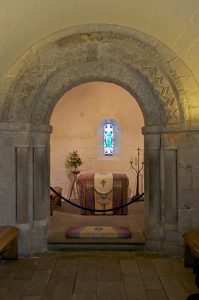 Step back outside into the welcome daylight, breathe in the fresh air, and then enjoy the contrast as you enter the little chapel of St. Margaret in the castle courtyard. This is the oldest building in Edinburgh, founded around 1130 by David I in honour of his mother, Queen (later Saint) Margaret. Gorgeous stained-glass windows commemorate figures in Scottish history: St Columba, St. Andrew, William Wallace, and St. Margaret herself.
The ramparts of Edinburgh Castle are defended by evil-looking cannons, but these are dwarfed by the monstrous presence of a war machine (technically a medieval bombard) known as Mons Meg. Once the pride and joy of James II of Scotland, this formidable piece of 15th century kit could launch a 400-lb cannonball for over two miles.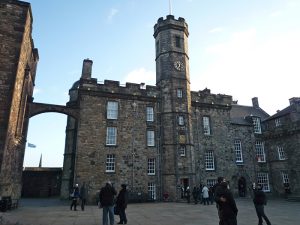 There is so much to see here – but what about the less tangible experiences, the strange accounts that continue to be received from visitors who report shadowy figures, sudden chills and a sensation of being watched? Edinburgh Castle has a whole clutch of ghost stories, perhaps the most famous of which is that of a bagpiper who was sent down into some newly-discovered tunnels beneath the Royal Mile, to see where they led. He never reappeared, but it is said that the sound of bagpipes being played below ground can sometimes be heard. Then there's the headless drummer boy, a ghost dog, and an old man in a leather apron… fortunately I saw none of these during my visit, but I have to say that when I entered the tiny apartment where Mary Queen of Scots gave birth to her son, the future James VI (and I of England), I had to get out quite quickly. For me, there was something very sad and claustrophobic about that room.
Dunstaffnage Castle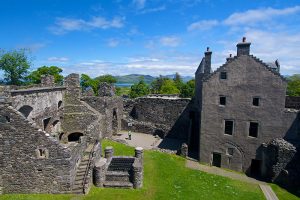 It's hard to believe in haunted castles when you're wandering around on a blissfully warm summer's day. This, at least, is what I found at Dunstaffnage Castle in Argyll, an ancient seat of Clan MacDougall. Sunlight was streaming through open windows onto the dusty floorboards of the tower house, and from the ramparts we gazed across the Firth of Lorn to the distant hills of Morvern. But on a stormy day with the wind rattling the shutters and darkness closing in by late afternoon, I can imagine it's a different story.
The Ell-maid of Dunstaffnage is said to be a restless spirit who takes the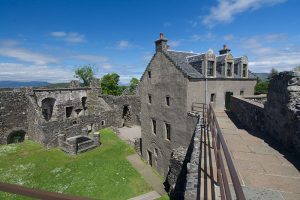 shape of a lady dressed in green. Other reports identify her as a 'gruagach' – a spirit-being similar to a hobgoblin or brownie. In either case, she is well known to the present-day Captain of Dunstaffnage, who, under an archaic law, is obliged to spend at least three nights of every year locked in the Castle. In a lovely book entitled 'Keepers – the Ancient Offices of Britain,' Michael Campbell is photographed sitting in front of a log fire, wrapped in a tartan blanket and clutching a dram of whisky as he prepares for a long night that will doubtless be punctuated by the stumblings of the Castle's 'heavy-footed ghost.' Far from dreading the experience, however, he is said to love the Castle and thoroughly enjoy his time there.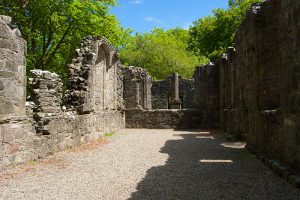 In the grounds of Dunstaffnage Castle, hidden amongst some woodland, is a ruined chapel. Serene and dreamily peaceful, this little sanctuary once witnessed a marriage to rival the 'Red Wedding' from Game of Thrones. On 20th December 1462 a bridal party led by Sir John Stewart, 3rd Lord of Lorn, walked down the short path from Dunstaffnage Castle. Sir John was about to marry his mistress, a MacLaren of Ardvech, thereby making their son legitimate and sealing his inheritance, but a rebellious clansman named Alan MacCoul had other ideas. He and a handful of conspirators ambushed the bridal party and stabbed Sir John before he could reach the altar. The wounded groom was carried into the chapel and survived just long enough to make his wedding vows before he died.
Linlithgow Palace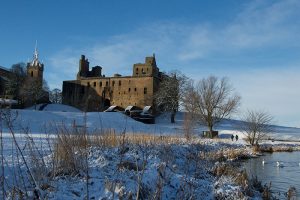 It's hard to take your eyes off Linlithgow Palace, once you first glimpse it – there's something about this huge, imposing place with its rows of empty windows and gaunt, fire-scarred walls. The desecration of this once-fabulous royal palace was brought about in 1746 by the soldiers of the Duke of Cumberland, who were on the trail of Bonnie Prince Charlie and would soon confront him at the battle of Culloden. Quite simply, after their occupation had ended, they left the building in flames.
But there are softer memories beneath the surface. You can stand in the room where Mary Queen of Scots was born in 1542, to Mary of Guise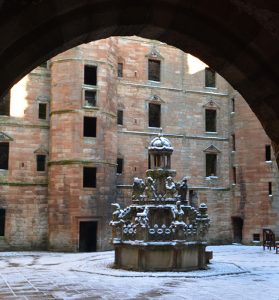 and her husband, James V. You can climb up a winding stone staircase in one of the turrets and sit in a draughty little room known as Queen Margaret's Bower, which gives far-reaching views over the surrounding landscape:  it is here that Margaret Tudor, wife of James IV, watched and waited in vain for the return of her husband from the Battle of Flodden in 1513. And you can admire the great fountain, elaborate centrepiece of the palace courtyard, which once flowed with wine. The Stewart monarchs might have been ill-fated but they knew how to party!
Linlithgow is reputed to have its own otherworldly residents. The ghost of Queen Mary has been glimpsed in her bower, presumably still keeping vigil for her lost husband; and a spectre known as the 'Blue Lady' has occasionally been seen, walking from the Palace entrance to the nearby church of St Michael, which dates back to at least the 12th century.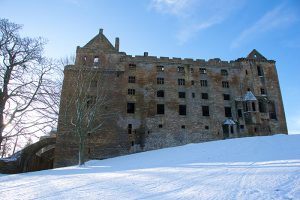 The Palace is still remarkably well preserved, and it is possible to lose yourself in its maze of silent rooms as you progress from one storey to the next. It's a restful place, but as you make the circular walk around Linlithgow Loch you find yourself glancing back at the Palace and checking each one of those windows in turn.
As far as Scotland's haunted castles go, these three are only just scratching the surface. There are many more, each one offering a deliciously unique whiff of the supernatural. Would you be brave enough to visit on your own?