Metropolitan Opera-New York City
The Metropolitan Opera's current revival of the brilliant director, Bartlett Sher's 2009 production of Jacques Offenbach's masterwork, Les Contes d'Hoffmann— or "The Tales of Hoffmann" as it is known in English—is provided by a wonderful cast of mostly younger performers. The title role is sung by rising star Italian tenor Vittorio Grigolo. Mr. Grigolo's career will be fun to watch. Hoffmann's muse and friend Nicklausse is beautifully performed by young American mezzo-soprano Kate Lindsey. Her voice is rich, deep and velvety. An Angelina Jolie look-alike, her singing can only get better with age.
The four villains – Lindorf, Coppelius, Dr. Miracle, and Dapertutto are all sung by the Metropolitan and internationally renowned baritone Thomas Hampson. Hoffman's ideal woman, Stella, and his second major love in life, Antonia, are portrayed by Russian soprano Hibla Gerzmava. Ms. Gerzmaza enjoys an important stage presence and a lush, rich voice that is a pleasure to experience. While Olympia, the mechanical doll who unbelievably represents Hoffmann's first real love is ably brought to life by the pyrotechnical voice of American soprano Erin Morley, and finally, the role of the courtesan Giulietta is seductively sung by British mezzo Christine Rice. All do credit to their characters, and engage the audience masterfully.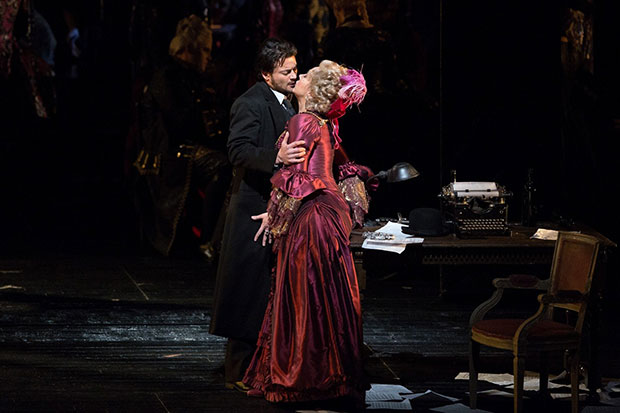 The award winning Mr. Sher, who moves easily between Broadway and international opera stages, brings to life the darkest interpretation of Les Contes d'Hoffmann ever seen by my husband and myself. We have seen roughly a dozen different productions with most showing Hoffmann to be a romantic dreamer who falls in love too easily, but he is usually seen as affable and a tad too irresponsible. Mr. Sher's Hoffmann, as well as his sidekick Nicklausse, are both cynical and suspicious. Perhaps love and life haven't treated our hero too kindly, but this Hoffmann has little resilience or love for his fellow man. He is almost as misanthropic as the four villains that Mr. Hampson makes so believable.
Parenthetically, before the subject of singers is left behind, a word must be said about the incredible chorus of the Metropolitan Opera led by the incomparable Maestro Donald Palumbo. He is praised in all sectors of the opera world as being an alchemist. He can coach the 100 or so men and women full time chorus members and derive so many different sounds from them that he amazes audiences and experts alike year after year. His genius is unparalleled and deserves all the praise that he receives. Global publications and broadcasts declare the Metropolitan chorus to be the best in the world, and to hear the chorus in "Tales of Hoffmann" is to just get a teaser of the power of this group. Experiencing "Aida" or "Prince Igor" will give you the full "knock your socks off" effect that Maestro Palumbo can deliver. You owe it to yourself to hear why he deserves the world's praise.
Offenbach's music is a perfect introduction for anyone new to this art form. The melodies are lush, memorable and achingly beautiful at times. To me, they suggest a much lighter interpretation of the story than Mr. Sher's, but his is certainly arresting and thought provoking. The lighting, costumes, and sets are all of a whole and support his vision of Hoffmann's external and internal life quite logically. The singers are equally consistent with his translation of Offenbach's intentions. This cast sings through February 5. "Hoffmann" returns on February 28 and runs through March 21 with another one, which will I am sure be equally entertaining. If you are in NYC during either of these time periods, it would be an evening well spent to hear "The Tales of Hoffmann," and as I suggested earlier, if you are new to opera, jump into it with both feet with this production. You will be very glad that you did.
Happy listening and viewing.