Once in a 100 Years:
The previous time the Metropolitan Opera staged a production of Georges Bizet's "The Pearl Fishers" was 1916. That was a long time ago and way, way before I was born. However, if some miracle of science had been able to keep me vital enough to see both the 1916 and now the 2016 versions of this rarely done, beautiful masterwork, I would tell you that a 100 years would be worth the wait to experience Diana Damrau, Mariusz Kwiecien, and Matthew Polenzani singing the starring roles in the current recreation.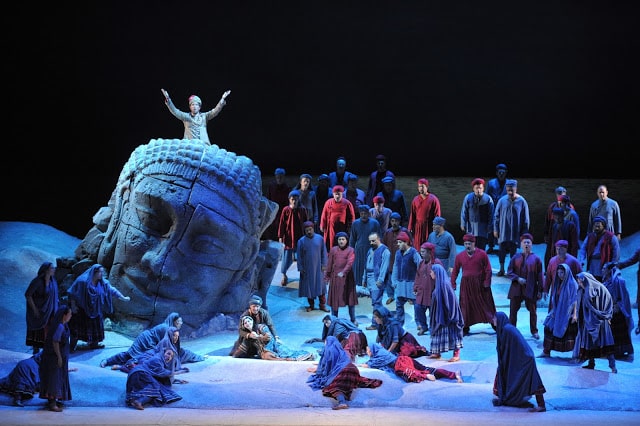 During the overture, the audience is presented with the most stunning and beautiful piece of choreography and stagecraft that I have ever seen in 50 years of attending opera and live theater. Behind a dimly lit scrim in which a clear and deceptively life-like deep blue sea has been created with sparse and undulating under water plants and animals, faint light shows three pearl fishers moving with balletic grace, strength and determination diving to the bottom of the ocean to capture one of nature's greatest treasures, pearl oysters.
Bizet's orchestral music heightens the spine tingling beauty of the visual and aural richness of the scene. So realistic is the effect that you don't stop to wonder how all the elements are being manipulated to give you this "fish's eye view" of the below water action with such veris similitude. Because our orchestra seats were on the far left aisle, I got a clear view of stage hands bringing one of the dancers down from the upper most reaches of the stage's height in a far wing. Even in dismounting the harness and cable set up that allowed the man to swim so realistically all over the stage, he was incredibly graceful. All his movements were smooth and lovely to watch.
Just as enjoyable was German soprano Diana Damrau's interpretation of the role of Leila, a priestess of Brahma. As was handsome, lean and fit Polish baritone, Mariusz Kwiecien's rendition of Zurga, the village leader. Matthew Polezani brought plenty of star power with his round and lyrical tenor voice to his portrayal of Nadir, a pearl fisher, Zurga's best friend, secret lover of Leila and Zurga's competitor for her affection.
Love triangles are complicated enough, but this one has an added layer of drama because Leila is a "professional" priestess whose sole role in life is to remain pure and to intercede on behalf of the pearl divers as they practice their dangerous jobs. Storms and the petulant seas are their perpetual enemies, and they believe that only a woman of unsullied virtue can plead their case to the lord Brahma. She is under pain of death if she is found to be other than virginal in thought and deed.
As these things go both in life and certainly in opera, she and Nadir succumbed in the past to their strong feelings of mutual affection, and by now coming to his and Zurga's village to intercede on behalf of the pearl divers safety with Brahma, she has put both Nadir and herself in grave danger.
Her boss, Nourabad, the High Priest of Brahma, has a vested interest in keeping her innocent because if her prayers are successful, he and Leila will be rewarded with the most valuable pearl of that season's diving efforts. However, their belief system stipulates that Brahma will only listen to the pleas of a maiden. There's the rub. Too late. As we say in Texas, that cow is already out of the barn, and things go south in a hurry. This is a rare opera though in that it ends happily for the young lovers. Not so happily for everyone else in the village, but just fine for Leila and Nadir.
I honestly can't explain why this opera isn't performed more often because it is truly gorgeous. It is not the blockbuster of Bizet's other mega-hit, "Carmen," but still it has one of the most beautiful duets for male voices in all of opera in the first act. If you are going to be in NYC between now and February 4, run don't walk to the Metropolitan Opera Box Office at Lincoln Center or go online at Metopera.org to reserve your seats now. Who knows? It might be another 100 years before the opportunity rolls around again. A woman sitting next to my husband and me said that she had already seen it 4 times, and intended to see it as many more times as she could get good tickets. She appreciated the rare opportunity this beautiful cast and production offered. I admire her ardor.
Happy viewing and listening.