Bartlett Sher's extravagant and exuberant revival of Rogers and Hammerstein's "The King and I" is a Broadway experience well worth the time and money. The Vivian Beaumont Theater at Lincoln Center production is everything you want in a Broadway musical. It has a beautiful and talented cast led by Kelli O'Hara as Anna Leonowens and Ken Watanabe as the King of Siam. The actors playing Anna's son, Louis, as well as those taking the roles of the king's wives, children, court and visitors to his palace are all lovely to look at, talented and believable.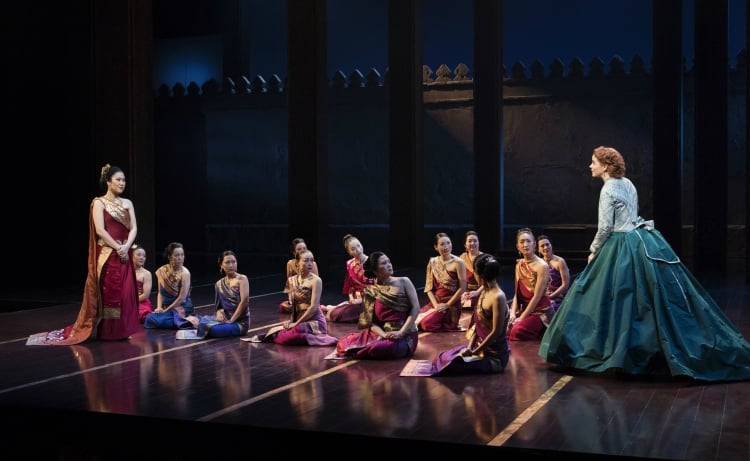 The sets, lighting, and costumes are lavish, and all gained nominations in the recent American Theatre Wing's 69th Annual Tony Awards races. Ms. O'Hara received her sixth nomination for a Tony in a leading role in a musical and rightfully took home the award this year. Mr. Watanabe was nominated for the first time but did not win. All the same, he is a pleasure to watch as the imperious, but conflicted leader of a changing country.
Also receiving a nod from the Tony nominating committee was Ruthie Ann Miles in the category of Best Actress in a Featured Role in a Musical. She too won a Tony on the June 7, 2015, Radio City Music Hall ceremony, and gratefully accepted the award on behalf of the entire cast and crew.
Bartlett Sher received yet another nomination for Best Director of a Musical, although he did not take home the prize this time around. All together this revival of Rogers and Hammerstein's original work from 1951 received nine nominations and realized four wins, excellent and also reflective of the quality received by the audience. It represents a terrific value for ticket buyers.
As with all of Rodgers and Hammerstein works, this one has underlying messages that pack a punch along with their pretty and hummable tunes. The music and songwriters return to familiar themes of racism, sexism, and exploitation of the weak by the strong in this creation for the stage.
None of the messages is heavy handed, but the negativity and destruction that can result from these themes are made clear enough. Mr. Sher commented in an April 2015 article in Vanity Fair magazine, "You are engaged in very serious questions and at the same time have a good time." That is quite a feat for any composer and librettist, not to mention, director, cast and crew.
Speaking of this Vanity Fair article, it features a four-page color spread featuring the work of the ever masterful photographer, Annie Leibovitz. It shows O'Hara, Watanabe, and some of the young actors playing his children in the splendid costumes from the musical. Leibovitz's photos give you an idea of what a gorgeous production this is. Even the walls of the Vivian Beaumont Theater have been decorated with lovely Siamese panels.
Bartlett Sher said that it was the contemporary feel of "The King and I" that persuaded him to undertake the revival in the first place. He felt that the work had a place in current day considerations and conversations. I agree with him.
I predict that this musical will run for months if not years to come. With the enticing previews given at the Tony's, many visitors and vacationers will want to see it this summer and fall. "The King and I" is a show for which I would recommend that you secure seats in advance of traveling to the Big Apple. You can secure tickets through www.ticketsnow.com.
Happy Viewing.