Are you looking for something new and unusual to try when hosting a dinner party this season? Fall is the perfect time to host a "Portfolio Wine Dinner." The season brings us a breadth of culinary choices for vegetables and fruits, a spice rack full of wonderful scents and tastes, and a time when all wine types are appropriate. You can pair these culinary delights with a winery's portfolio for a night of new wines, food, and friends.
What is a Wine Portfolio?
Wineries typically offer a portfolio of wines. Often there is a Chardonnay, Pinot Gris, dry Rosé, Pinot Noir, Merlot and Cabernet Sauvignon at a winery. All this, along with special wine varietals matched to the unique terroir* of the vineyard location. The more unusual wines make for stimulating dinner conversation.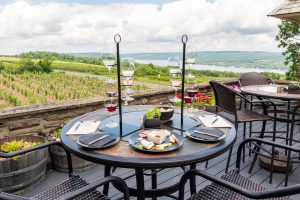 I was lucky to have an unusual and award-winning portfolio of wines for my Autumn dinner. Dr. Frank Wines is the most revered and celebrated winery in New York State. In 1951 Dr. Konstantin Frank revolutionized winemaking and ignited the "Vinifera Revolution" in the New York Finger Lakes wine region. He brought "cold climate" European Vinifera wine varietals to New York. Dr. Frank Wines operates today under the guidance of Konstantin's grandson, Fred Frank, and great-granddaughter, Meaghan Frank. They offer over 37 unique wines. This winery and the beautiful New York Finger Lakes region should be on the list for your next wine and travel adventure.
Tips for Hosting a Dinner Party and Wine Portfolio Sampling
Matching wine and food used to have hard and fast rules that no one wanted to test. Sommeliers today know that those rules are often broken to accommodate the shifting tastes in our society. I prefer to offer "Guidelines for Food Pairing" as an alternative to those old wine-pairing rules. With some food pairing guidelines and below tips from hosting a dinner party featuring a wine portfolio of my own, you too can host a wonderful autumn wine portfolio event!
>READ: SAVVY WINE SHOPPING – TIPS FROM A MASTER SOMMELIER
Before Guests Arrive
Select a broad portfolio of wines from your favorite winery.
Use the food pairing guidelines (below). Remember to start the appetizers with the lightest white wine first, then move on to the most full-bodied white, then next serve a dry Rosé to be followed by the lightest to heaviest red wines in that order.
Assign wines to a course with suggested food items and ask guests which course they'd prefer to bring. Since I hosted the dinner, I chose to make the main course for ease of serving. We ate a delicious herbed lamb served with fall roasted vegetables and fennel.
Set your table with 2 wine glasses (at least) and a water goblet per setting. The white wine and red wine glasses can be reused once cleared. Another small glass is preferable for serving a dessert wine.
Create and print a custom menu with the wine pairings. Place a menu at each table setting.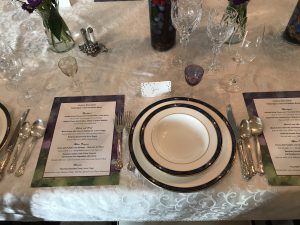 During the Dinner
Plan to pour 1-1.5 oz. of wine in each glass. Remember there are only 25 ounces in a normal wine bottle. If you have 12-14 guests, the wine-pours need to stay small.
Have a spittoon/dump-bucket on the table in case some of the wines are not fully consumed.
Start with appetizers that can be eaten while standing.
Seat your guest starting with soup and salad courses.
A pasta or fish course can be added prior to the main course and dessert.
If your guests have favorite wines they would like to order from the portfolio, see if your winery offers case discounts and order the wines together.
Have fun! Bon Appétit!
>READ: 20 BEST WINES UNDER $20
Wine Pairing Guidelines for Hosting a Dinner Party
Serve what you like to drink, not what you think you must serve. Wine pairing is not rocket science. The right wine can make a dish "sing" while another selection may seem just "so-so."
Match the weight of the food with the weight of the wine.
Decide if you want to mirror flavors or contrast them.
Match "rich with rich," "humble with humble," "delicate to delicate" and "robust to robust" in food and wine pairing.
Use "bridge" ingredients in a recipe (cheese, fruit, nuts) to make wine more compatible with vegetables, salad dressings, and spices.
Avoid heavily tannic wine (Cabernet Sauvignon, Tannat, Tempranillo) with spicy casseroles.
Pinot Noir is always a good choice for roasted white meats, as it has lighter tannins. Dry Rosé works well, too.
Red Zinfandel wines have the flavors of plum, pepper, jammy blackberry, and tobacco and can hold up well to a smoked or deep-fried turkey.
Full-bodied white wines like Chardonnay and Viognier pair well with heavier sauces, root vegetables, creamed soups or creamy cheeses.
Hot and spicy foods or Asian cuisine have umami flavor that can be a pairing challenge. These dishes usually call for a sweeter Riesling or a fruity light red wine with minimal tannins.
Dessert wines should be sweeter than the dessert or the wine will taste flat and sour. However, deep bitter chocolate matches well with a Cabernet or Port.
Special Thanks
Special thanks to these Prime Women and their significant others: Linda Spina, Jim and Kate Ryan, Jeff and Lynn Dugle, Brian and Wendy Hatfield, and Laurie Clegg for making this dinner so special. Enormous thanks to Fred Frank and Meaghan Frank, Dr. Frank Wines, for supplying all the wines and suggesting food pairings for this Autumn Dinner.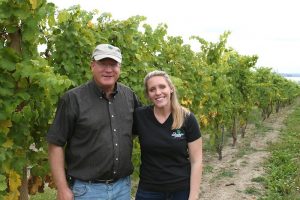 Note: Terroir is a French term for "specificity of place," in which a wine reflects many factors of a location including climate, soil, sunlight, elevation, winds, humidity, rainfall, topography, and farming practices. There is no other single English word meaning for terroir.
>READ: THE PRIME WOMEN "WINE IN A CAN" VIDEO TASTE TEST