With summer splurges behind us and the holidays on the distant horizon, it's a good time to focus a little energy on maximizing your buying power when shopping for wine. Take a five minute read and you will start to not only save money, but get better wine in the process!
When you are shopping in a grocery store, does someone come up to you and say "this jar of pasta sauce is fruity, aromatic and slightly sweet?" No. You look at the selection and either grab the one you are familiar with, grab the one that is on sale or try something new. Think along these very same lines when shopping for wine.
Tips for Shopping for Wine
Pick out two or three bottles that appeal to you and then ask a staff member for his or her opinion. If you like the tone and approach of this person, keep the dialogue going. It's your box full of benjamins. If you feel pressured in any way, excuse yourself and walk out.
Try this with two or three wine shops, or wine sections in larger stores that actually have floor staff to assist you.
Visit often, without a plan. Just walk around and look at all the bottles.
Pick up a newsletter if they have one, or check their website, to see about in-store events such as wine tastings.
Going to in-store wine tastings, where allowed by law, is also the absolute best way to taste very exclusive and expensive high-end bottlings for a fraction of their cost.
Ask the clerks which events they recommend.
Eventually, if the chemistry is working for you, you will become a regular. Becoming a regular has tremendous rewards as your clerk will become familiar with your lifestyle and tastes and will be able to turn you on to some great insider deals. Ask your merchant to recommend wines that have hidden value. Perhaps their names do not have a cult following. Perhaps the wine press didn't care for their unique style and balance as opposed to just all muscle and brawn. Experiment, explore, keep an open mind and keep a journal so you remember what your discoveries are!
>READ: WINE TASTING ENGAGES YOUR BRAIN MORE THAN ANY OTHER BEHAVIOR
Eventually, when you know more about what you want, you can shop where service isn't as important, and prices are lower. For example, maybe your clerk turned you onto a great $9 white. Stroll the aisles at Costco, Price Club, Cost Plus World Market, Total Wine & More, Beverages and More, or at any large chain outlet that carries wine. Keep your eyes peeled for that label and for other finds including markdowns. If the chain buys that very same wine, they are buying in bulk, using their purchasing power to get a lower cost and then also taking slimmer markup as they are selling in higher volume, so you may pay $5 or $6 for the exact same bottle.
Chains stores now also have their own private label wine, such as Target's California Roots, at $5 per bottle. The quality of these wines really depends on the decisions being made behind the scenes. I have not yet tasted them and so cannot recommend them. However, one of my jobs is sourcing for private label wines. If my name is on it, you can count on its quality.
Here's an example of a market survey I conducted recently:
Kendall-Jackson Vintners Reserve Chardonnay California
$17.00 Winery Website and Tasting Room
$13.60 Wine Club Member Price
$13.99 Gourmet Grocery Store
$10.97 Total Wine & More
In between the two extremes of full-service/high markup and no-service/low markup are a handful of wine shops that offer a good service and discounted prices. K&L Wine Merchants in California is a great example of this.
Online shopping is an easy way to check prices and stumble on great deals. You can search just about anything, so type in "Chardonnay under $10″ and see what comes up. You never know! Write down three examples of Chardonnay under $10 in your notebook. Leave room underneath each one for tasting notes. Now, if you can find the wines near you, check them out! By writing down your impressions, even a year from now you'll be able to easily refresh your memory.
>READ: 20 BEST WINES UNDER $20
Specialty shops are another layer of wine merchants to consider. Certain wine buyers have an area they are crazy about, and they end up becoming specialists in the wines from that place. Whole Foods Market has a specialty collection of wines that are made with organically farmed fruit. Master Sommelier Devon Broglie and his team of regional buyers offer top notch and well-priced selections from around the world. Perhaps a shop near you has a specialty selection that jives with your tastes and preference.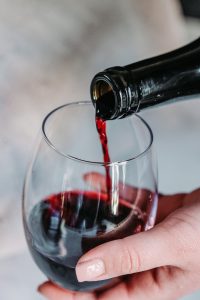 You can also look on the back label of a wine you like to see who the importer is. Write that name down, and ask for another wine from the same importer and see what you think. If you like them both, chances are you will enjoy many of their selections.
Unless you really like the convenience of a few bottles showing up on your doorstep each month, wine-of-the-month clubs are typically not a good deal. First, you rely on someone else to pick out the wines, which are being mailed to everyone on the list regardless of personal preference. Even with claims of customizing to your tastes, the selections typically are industrial, not artisanal, and therefore not all that interesting. Second, you're paying a delivery fee, which raises the average price per bottle by up to one-third or more. Engage your local wine merchant or small wine-expert-guided online merchant when shopping for wine instead for a more satisfying, customized, and value-for-your dollar experience.
The world is your oyster. Take back that kid in a candy shop feeling. Shop with abandon, and always try something new. Employ what you've learned, and enjoy your experiences. Remember, wine is just fermented grape juice!
Excerpted from: 10 Grapes to Know, The Ten & Done Wine Guide by Catherine Fallis Master Sommelier
For guidance with specific wines or to find our recommendations, visit
>READ: CELEBRATE SAUVIGNON BLANC WINE