A great television series can define a generation and even shape how we view the world around us. It takes us into the lives of various characters and shows us the world through a different lens. I think back on some of the defining shows we've had: MASH, I Love Lucy, ER, Seinfeld, The Sopranos… each offered a glimpse into another world. Some paved the way for other shows, while others were shocking in their nature. One show sticks out in my mind because it had such an impact on me. It was about friendships, relationships, sex, and best of all – it offered a look at a style and fashion that I'd never seen or even imagined. And now – it's back!
In 1998, Sex and the City debuted and knocked the socks off of women everywhere. We saw the world through Carrie Bradshaw's eyes and were transported to New York to live a chic, fashion-forward, shoe and man-filled life once a week. It seemed we all related to one character more than the others. Were you a Carrie? Or a Miranda? Perhaps sweet Charlotte? Seductive Samantha? Some of her storylines
made me blush, despite my mature age. That's what made it fun!
After six seasons, Sex and the City (the TV show) ended its run. At the realization that fans wanted more and we wanted it now! the showrunners wisely made not just one but two movies. We could reconnect with the four fabulous ladies and see where their lives were headed after the show ended. It was a reunion of sorts – each of us catching up with four long-lost friends. Each time the final credits aired, we were left wanting more.
That's the mark of a good show.
I'm a….
I'm a Charlotte with a little bit of Miranda. I find myself to be sweet and a bit of a pushover, putting family first and trying to please others. But I'm also an intelligent go-getter that isn't afraid to work hard or face off in the board room. I can intimidate when I need to while still keeping myself in check. An odd combination, for sure, but it's the way I would describe myself. Carrie was always too cool for me. Samantha was just too… wow. That's what I LOVED about the show – even if it was a slight combination, we could all see a part of ourselves in the characters and relate to them and the issues they faced.
Speaking of issues, the show wasn't afraid of broaching any topic. Infertility, infidelity, friendship, betrayal, motherhood vs. career, breast cancer… the list was seemingly endless. At the show's core were the relationships, which included those of all kinds spanning a wide array of lifestyles. At the center of that was the friendship between the four friends, each somewhat similar but vastly different. Those differences were truly interesting because, for each situation that they faced, we were able to view the moment through their eyes and see the different viewpoints. They didn't always get along, and those differences helped expand the viewers' minds and see issues in a different light.
Of course, romance also played a key role in the series. It seemed like the four ladies' romantic lives became very personal to us. Some of the people they dated were amazing, and we were sad to see them go. Some made us want to scream and caused frustration. Carrie was no exception: Mr. Big, Aidan, Berger, Petrovsky… Which team were you on? We all had a favorite, and I think it was hard to picture her with another guy once we made our decision. When Mr. Big left her at the altar – and then subsequently married her – I think it caused mixed emotions in all of us. I still don't think I've totally forgiven him for breaking her heart, to be quite honest.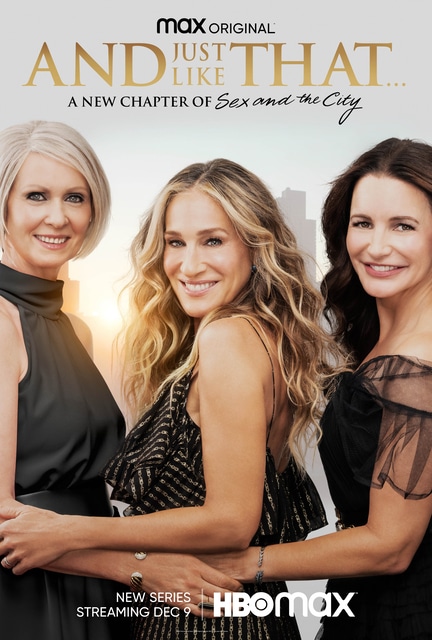 Fashion, the Glorious Fashion!
Prada. Christian Dior. Vivienne Westwood. Salvatore Ferragamo. Dolce and Gabbana…. Which fabulous fashion designer DIDN'T Carrie wear during the run of Sex and the City?! From marvelous newspaper-inspired dresses to sky-high heels to poofy dresses to absolute haute couture, she had it going on from week to week. And while most of us have some sort of fashion sense and have seen models on the runway, to see this sort of high-end fashion in a real-world setting was a grand escape from the normalcy of our everyday style.
I think the most lasting image for anyone that watched the show – even sporadically – was the Vivienne Westwood-designed cloud dress she wore for her wedding. It was an inspiring piece that influenced fashion and continues to dazzle. And when it came to Carrie's wedding to Mr. Big – it had to be big and glorious, or it just wouldn't have been right.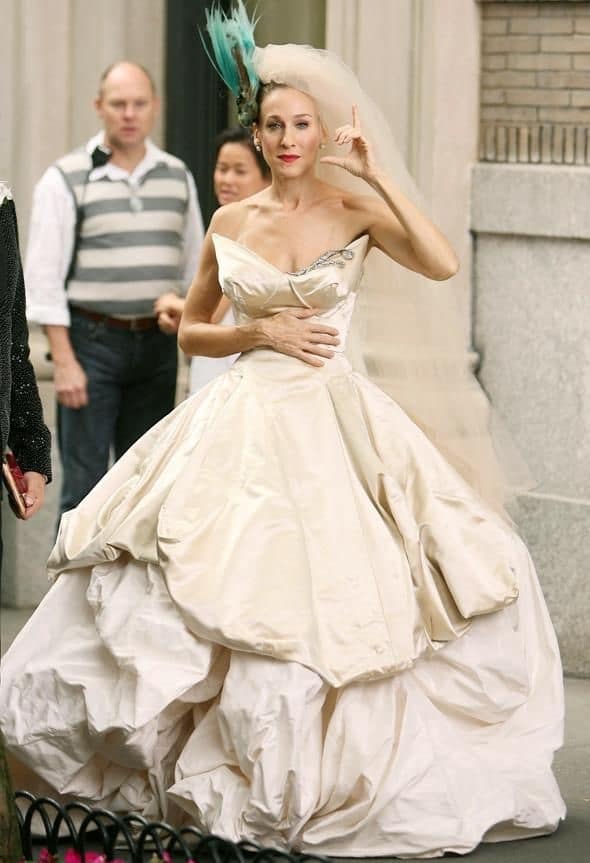 And Just Like That
Sex and the City 2 – the movie – was released in 2010 and gave us some closure to the characters' lives at that point. In 2013, a television series called The Carrie Diaries aired as a prequel to the original series. It only lasted a year. Earlier this year, it was announced that the crew is coming back for more! Carrie, Charlotte, and Miranda will return to the screen so we can see where their lives are now, and I can't be more excited. I was quite disappointed to see that Samantha won't be back for more blush-inducing adventures, but rumors around the show indicate the gals will add a new addition to the friend group.
On December 9, the first two episodes of the series are set to air on HBO Max. The season will include ten half-hour episodes that will navigate the ladies' lives and relationships as they've reached a more mature age. If you don't have a subscription to HBO Max, it's $9.99 a month (or $14.99 if you want to skip the ads). I'm planning to subscribe so I can spend the holidays watching what shenanigans the ladies have planned this time around.
Want more? Watch the trailer here!
Read Next:
Bingeworthy TV: The Morning Show