Since my Mum passed away 8 years ago, I've had a burning desire to have a tattoo. A simple, precise dedication to the beautiful woman who raised me and made me who I am today. Just 'Mum' in black italics, nestled on the side of my foot. Although, I hasten to add, Mum probably would have been horrified at the thought of a tattoo on an older lady, let alone her daughter.
But the 8 years have passed and still, the tattoo hasn't appeared. I'm not sure why — timing, a good tattooist, fear. Definitely fear. Although I really wanted the tattoo, my pain threshold is fairly non-existent. Despite breaking many bones, having some pretty painful operations, and scars to show for it, I still cannot cope with pain. In fact, I think I built up the tattoo pain so much in my head, that subconsciously I'd talked myself out of it.
Getting a First Tattoo as an Older Lady
But then this year, this big year of trying out new experiences, made the tattoo pop back into the forefront of my mind. And with many friends constantly reminding me how much I wanted it done and how important it was to me, I finally booked an appointment. Even though I could easily have canceled, I also knew there was no backing out. I was doing this. The tattoo would be on my body before I was 50.
The date arrived and the nerves, fear and excitement were buzzing around my body in anticipation of what was about to happen. I organized a friend to (literally) hold my hand, made sure I didn't wear mascara, ready for when I cried, and almost (only almost) downed a quick vodka shot before I left. And for a tiny second, I wondered why on Earth I was doing this. Did I really need some permanent ink on my body to remind me of my wonderful momma? I had all the memories I needed tucked up inside my head and heart. Surely, I could just recall them when I wanted to?
But at 10:30, I found myself at the tattoo studio, ready, waiting and petrified. I sat sipping my coffee and watched anxiously as the tattooist prepared the ink and printed off the design. 'Mum' had now changed to a yellow rose with 'Mum' on the stem and had moved from my foot to my wrist. Well, if you're going to do this tattoo thing, you may as well go all in!
Facing the Fear of Pain
Finally, I hopped up onto the bed and held out my left arm nervously. "Ready," he asked. I nodded, trying to swallow down the little bit of coffee that had re-appeared. He switched the gun on and hovered over my arm and with one final scaredy-cat smile, I nodded my head and he began.
Oh. The pain was nowhere near as bad as I expected. Yes, it hurt (sort of) but not in a horrific way. It was like a bad scratch with some kind of tingling effect. The outline was completed first, and whilst I did wince a few times, I was probably being quite dramatic. I managed to have a conversation with my friend, I didn't cry at all and I even watched what he was doing a few times.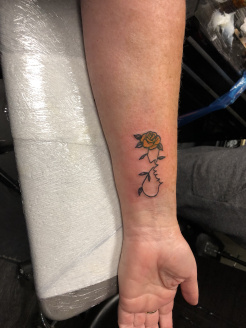 And before I knew it, the 20 minutes was up, and I had a (throbbing) left wrist adorned with a beautiful tattoo. And I loved it! If having a tattoo is important to you, maybe for a reason like mine, then I cannot recommend it highly enough. My advice would be to find a design that really means something (my mum's favorite flower was a yellow rose!), swallow your nerves and just do it.
This is part of Jo Howell's series: 50 Ways to Leave Your 40s. See what other experiences Jo has had here.
>READ: YOU'RE NOT TOO OLD FOR… A TATTOO