Yoga pants have quickly become a staple in every woman's life, and serve as the perfect pair of pants for workouts, errand-running, and just lounging around the home. In fact, we might go so far as to say that there is no pair of pants in your closet that is more versatile than a pair of high-quality leggings. Looking to treat yourself to a new pair? We've rounded up some top-reviewed yoga pants that you will want to wear all year long.
Add some sparkle into an otherwise drab day with these Beyond Yoga pants. Not only do these look great, but they also feel amazing thanks to the supportive high waisted fit. Reviewers have also raved about how they're not overly "gaudy" and the sparkle never rubs off!
If the thought of tight yoga pants make you feel a little self-conscious, try these. These classic black leggings will sculpt your figure for barre class, pilates, or just lounging around the house. There's also a back pocket for your phone and other essentials!
Summer is still in full swing, so you are going to want yoga pants that will help to wick away any moisture that may get in your way. This pair from Zella does just that and manages to also be comfortable, flattering, and fashionable at the same time.
We love the compression and color of these yoga pants and the fact that they are made from recycled water bottles. Give yourself a pat on the back — you'll also be helping the environment out while you're wearing these!
No one wants to be pulling up their yoga pants all day. And if you feel more comfortable in a higher waist, you'll love these Beyond Yoga pants. Their high and thick elastic waistband will help keep everything in place so that you can go about your day with confidence.
When we find a pair of pants that are highly functional and fun, it's almost too good to be true. This style is available in four different patterns and comes equipped with a handy back pocket. So regardless of your pattern choice, you'll have a place to store your keys and phone.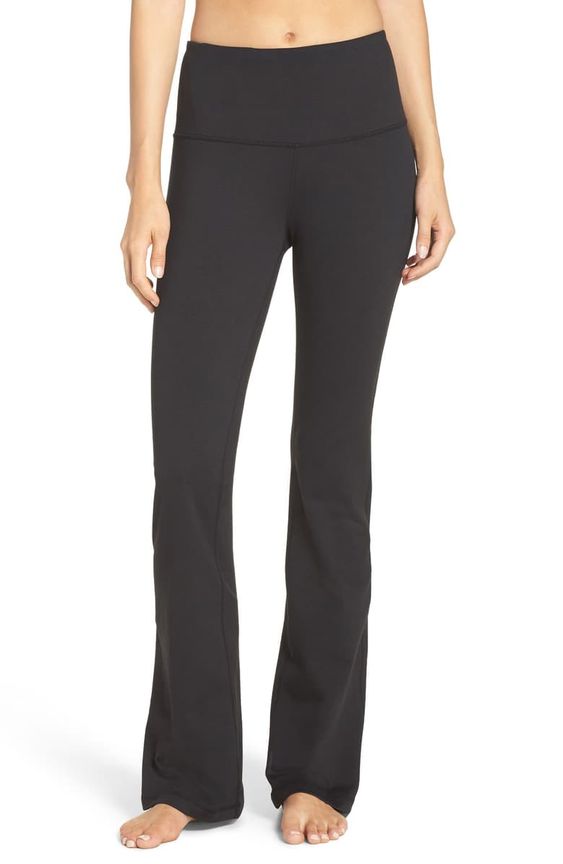 Sometimes you'd rather have something soft and stretchy, instead of the super-tight compressive fit. These soft flared leggings are made with a moisture-wicking, four-way-stretch fabric, so you can stay comfortable without feeling like a sausage.
Are you looking for comfort and breathability? This style features mesh panels to vent excess heat and smooth seaming that won't rub or irritate your skin. And with over half of reviewers giving it a solid five-star rating, it's safe to say that these top-reviewed yoga pants are worth it!
If shimmery, spandex-like material isn't your preference, try this comfortable option instead. These Free People FP Movement pants are a hybrid of leggings and sweatpants and are sure to become one of your favorite pants you own. The drawstring brings added comfort and style, as well as the fitted leggings that are oh-so-flattering.
On those days that you're feeling confident and want to make a statement, pop on these Zella yoga pants. The print is enough to draw a whole lot of good attention, and the fit adds even more. The length is a bit shorter than full-length pants for a different style that is ideal for a workout or for running around town.
Ready to show off your new leggings in a virtual class? Check out these tips to find yourself a virtual personal trainer!