While many of us are holed up in our homes, watching gray skies, snow flurries and sleet outside our windows, there is a ray of sunshine you can cling to. Spring is coming. And with it, short sleeved clothing and sunny skies. That means retailers are already eyeing their stock and noting they need to make room for those offerings by clearing out some winter wear. That's why January and February are great times to shop for winter coats and jackets – and find some great sales.
Coats and jackets are those investments you wear for years, so finding something you love at a discount is especially rewarding. I have a double breasted trench coat that is older than my youngest son. I LOVE it. I can dress it up or down, wear it with boots and jeans or over a dress and heels. It makes me feel good just slipping it on.
Here's wishing you happy hunting and a coat you can form a long term relationship with.
Double Breasted Coats
Faux fur is all the rage. Jackets, coats, with sleeves or without. They're just plain fun. Or maybe I should say NOT plain fun. Choose multi-colored, bright red, blue, yellow, long or short.
Faux Fur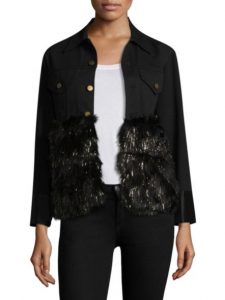 Forget the typical black or brown coat. Stand out with a colorful expression of your personality. Coats and jackets don't have to be boring.
Colorful Coats
Plaid is in, whether in skirts, blouses or adorning fabulous coats like these. Go bold with oversized print or choose a tailored and subtle piece.
Plaid Coats
It's a great time of year to pick up a leather coat or jacket at a bargain price. You'll find moto jackets, trenches and more on sale.
Leather Coats and Jackets
Don't dally – with sale prices up to 70% off, they're going fast. Someone could be buying the last coat that you love in your size right now!