Fall weddings are lovely. They typically consist of earthy, natural colors, floral or even fall smells, and a cooler temperature than we found at the summer shindigs we attended. The different season opens up the decorative options to include more rustic touches, and it changes our fashion choices as well. Gone are thoughts of shorter skirts or thin straps for ocean-side summer weddings. Instead, we're considering longer dresses and cuffed, 3/4-, or even long-sleeves on our fall wedding guest dresses.
While the color palette can be just about anything you'd like (except white, for most occasions), we found that deep and rich colors just seem an elegant and natural choice. This fall shows a liking for wrap dresses (which blissfully cover any post-vacation bellies), or a free-flowing maxi dress is also a lovely option. If you've been invited to a fall wedding, now is a great time to get your outfit ready.
Wedding Guest Dresses for Fall Festivities
Disclosure: This post contains affiliate links.
Fall in love with the Red Giselle Gown. Made to celebrate the feminine figure, it boasts romantic ruffle sleeves reminiscent of garden butterflies and a begging-to-be-twirled full-length skirt. Delicate embroidered flowers compliment the soft textured tulle to complete this romantic design. Add heels and statement earrings, and be ready to dance the night away.
Take a twirl and turn some heads in the Lulus Molinetto Navy Blue Lace Ruffled Tiered Sleeveless Maxi Dress! Made with a lovely floral lace layered over a contrasting black woven lining, this gorgeous dress falls from a plunging V-neckline into a ruffled sleeveless bodice. A high, fitted waist sits above an elegant tiered maxi skirt for a dramatic flair.
Bundles of romantic blooms brighten an elegant evening dress crafted from beautiful point d'esprit with frilly ruffles that frame the shoulders.
Balancing trend-forward style drawn from the runway with classic silhouettes and vintage-inspired details, Eliza J offers everything from sultry sheaths to swingy flared skirts to dramatic ballgowns, ensuring each occasion is a special one. Its striking prints are designed to create fresh, feminine looks that beautifully span the seasons.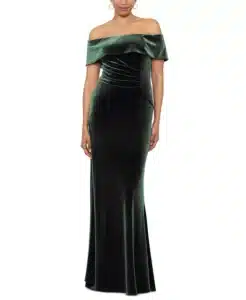 Delight in this shoulder-baring chic dress made with plush velvet. The classic shape of this XSCAPE gown is perfect for a party or formal event.
This elegant party dress is really going to make for memorable moments. It lays well over your body to smooth out your curves and fully shows your femininity, and it will be great for dress-up occasions or dressed down for summer evenings with cute sandals.
Additional Gorgeous Gowns

With the changing colors of fall, it's nice to get a bright and lively dress for a festive occasion like a wedding. Play around with sleeve lengths, styles, and fabrics to find something that will be comfortable yet elegant. Then, you're sure to turn some heads when you enter the wedding venue.
Read Next:
Must-Have Maxi Dresses for Fall and Winter
Turn Heads in a Lovely Mother-of-the-Groom Dress