Once upon a time, Carol (she asked me not to use her last name) fell in love with a ramshackle 19th-century mansion in Washington DC's Dupont Circle neighborhood that happened to be across from the Phillips Collection, America's first museum of modern art, housed in a mansion of its own.
That was 43 years ago.
Carol envisioned dividing the mammoth residence into four palatial apartments, keeping one for herself and renting the others. "I needed $200,000," she said, which today sounds like a joke. "But it was a lot of money to borrow back then."
An artist with barely two nickels to rub together, she tapped into another kind of wealth: A cadre of well-to-do friends and a boatload of chutzpah. She borrowed fine clothing and jewelry and heels, had her hair and make-up done, and strode off to the bank.
Feeling in fine fettle, she insisted on meeting with the bank's vice president. "You don't want to go lower than that," she said. The landed gentry, even the fake sort, don't deal with underlings, you know.
He gave her the loan and then asked her out for a drink.
I did say she had chutzpah. She sold the building last year "for a fortune," without saying how much of a fortune – properties in the area now go for multiple millions.
"You can never be too rich or too thin," said Wallis Simpson, the late Duchess of Windsor. I am neither rich nor thin, but I can dream, can't I?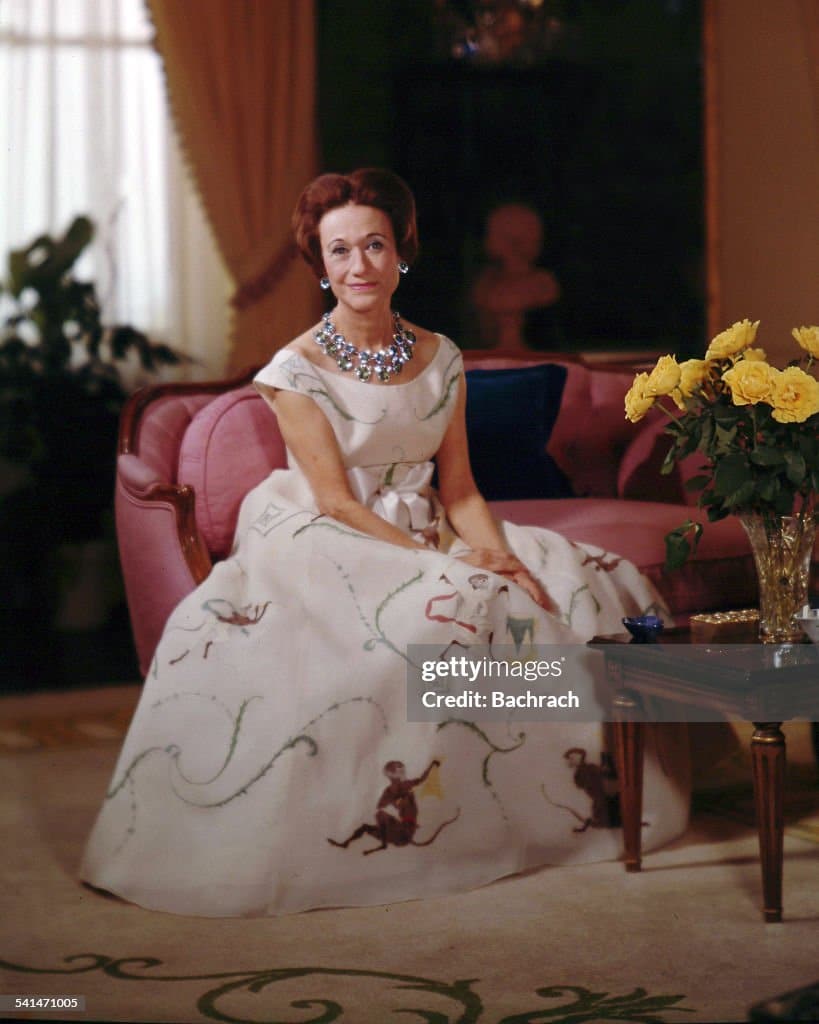 It's easy enough to look like a wealthy woman when you're young and no bigger than a size four. But as you edge past 50, 60, 70 (and so forth) and that little paunch has grown and you'd rather seconds on the crème brûlée than not, how do you pull it off?
Thankfully, it's easier to look rich today than when Carol was raiding the bank. Back then, cheap options looked cheap. Now there are so many low-cost resources to build the basic wardrobe you don't have to break the bank to stock up, though you'll look like you did.
Looking thinner, though. That is another issue.
Alexandra Dickinson cut her fashion teeth at designer Diane von Furstenberg's New York flagship, styling celebrities and newscasters for events. She now has her own clients and also serves as the Director of Marketing & Creative Initiatives for Arsenal NY, which boasts clients like Tom Ford, Valentino, BCBG, and Dior.
Rule number one, she said in a phone interview, is that when you want to look rich, "go for quiet luxury, simple and classic," and no logos, which are for social climbers – remember, you're old-money rich.
"There are certain basics that every woman should have," she says. The dresses, blouses, and pants she calls your "canvas" (fashion speak for your body) should be "monochromatic or neutral in color, with clean lines." A company like Zara, which does quick knock-offs of designer goods, can be great for these items. Beware of bold colors, though, where the quality of the material and workmanship is more obvious.
Another great resource is Outnet.com, she says. Designer brands are often 70% off — I love it for an event."
An asymmetric hem and slit jazz up this basic black midi skirt ($45.90). Wear it with a basic gray or black cashmere sweater ($159), or go a tad kickier with this oversized wool blend number that can be tied this way and that. ($49.90). All at Zara.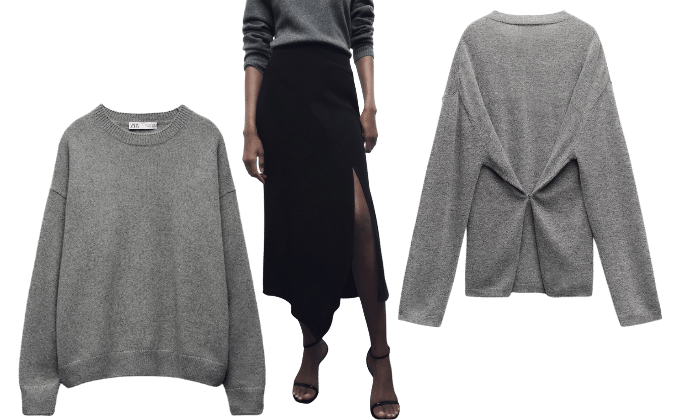 At Outnet.com, a perfectly cut, perfectly classic navy twill blazer from Dries Van Noten is $532. That's 60% off $1330.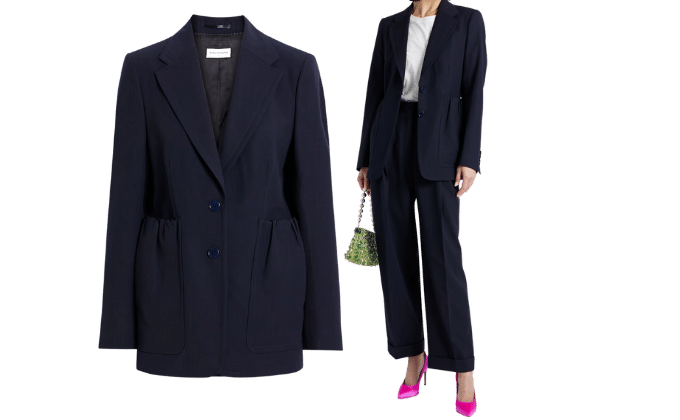 Keep that neutral canvas from getting boring by bringing in color via accessories; scarves, bags, and gloves. "Like with an all-camel outfit, maybe bring in a pigmented green or cobalt blue," she says. "That creates more interest in a subdued look."
A beautiful silk scarf jauntily tied around the handle of your handbag can be all the jazz you need.
If you have a few extra pounds, stay away from "cable knits, chunky sweaters, and shapeless dresses which make you look heavier than you are." Wool, cashmere, and knits hang and hug the figure better – but also make shapewear, like Spanx, essential. They do a great job of smoothing the body and helping define a waist that might no longer exist.
More than 20,000 Amazon customers say they got their waists back and booties boosted with Spanx Higher Power Shorts with tummy control ($38)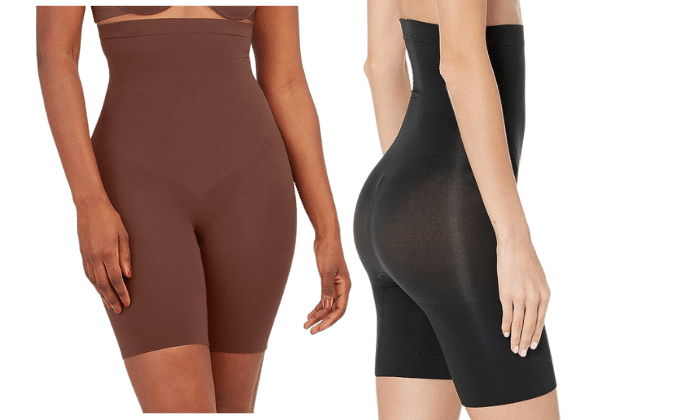 Ah, that waist. "Higher waist pants elongate the figure," she says. "I also love a wrap dress, which gives you a nice shape." Unsurprising, perhaps, for a woman who worked with the Queen of Wraps. Tops that wrap also help minimize the waist. Find one that has the flexibility to tie higher or lower, wherever it's most flattering.
A classic wrap dress from Diane von Furstenberg, the Astrid, whittles the waist and elongates the neck, drawing attention from a chin or two, and flows gracefully to midcalf. ($558).
Target has a simple, elegant wrap dress at a fraction of the price. Perfect for layering under a statement jacket or trench – or on its own if you have the arms for it. ($28)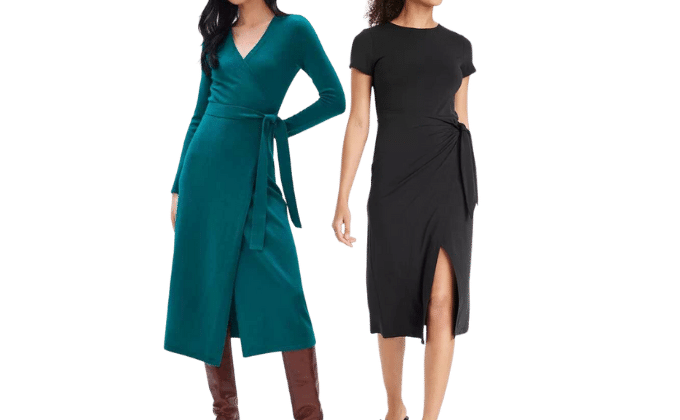 Top that simple canvas with a statement jacket. "Anthropologie has great ones," she says. "They also have good trench coats and blazers." Leaving the jacket open creates a thin window for the midsection, a longer, leaner look. And don't buckle the trench, tie it, "it's more stylish and updated looking."
Bring out your inner Jane Bond with a Burberry trench. Gaspingly expensive at $3,150 – but absolutely timeless, and cheaper than a Rolex.
From Good American, at Anthropologie, the classic trench (note the tie) is $229.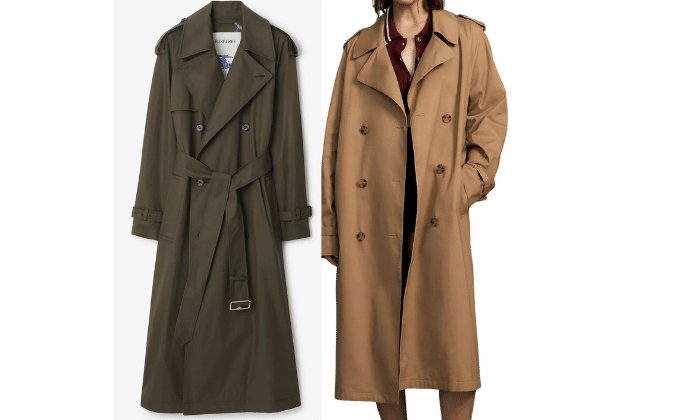 As for skirt length, "Steer clear of super short skirts," she says. Tea length, which hits above the ankle, is pretty and feminine."
And huzzah! Stockings are seeing a revival. "If you want to wear a shorter skirt, do wear sheer stockings." They're more elegant and warmer as winter closes in. She suggests Wolford, which is pricey, but "you can tell the difference." Save the drugstore brands for work.
Wolford Deluxe 50 Tights – they list the reasons why you'd want to part with $55 for a pair. I will say that I have a 40-year-old Wolford camisole that's still in regular rotation, though I wouldn't bet on the longevity of the stockings.
If you want to elongate your legs, and who doesn't, wear a slingback shoe with your dresses – nothing with an ankle strap, which cuts your leg, and keep the shoe toes pointed. "Boxy toes make you look stumpier."
Oh, my poor feet.
From Vince Camuto at Nordstrom, this cap-toed slingback is a ringer for the Chanel original, and it checks all the boxes: No logo, pointy toe, sleek look – and it's just $99 vs. the genuine article, which tops $1000.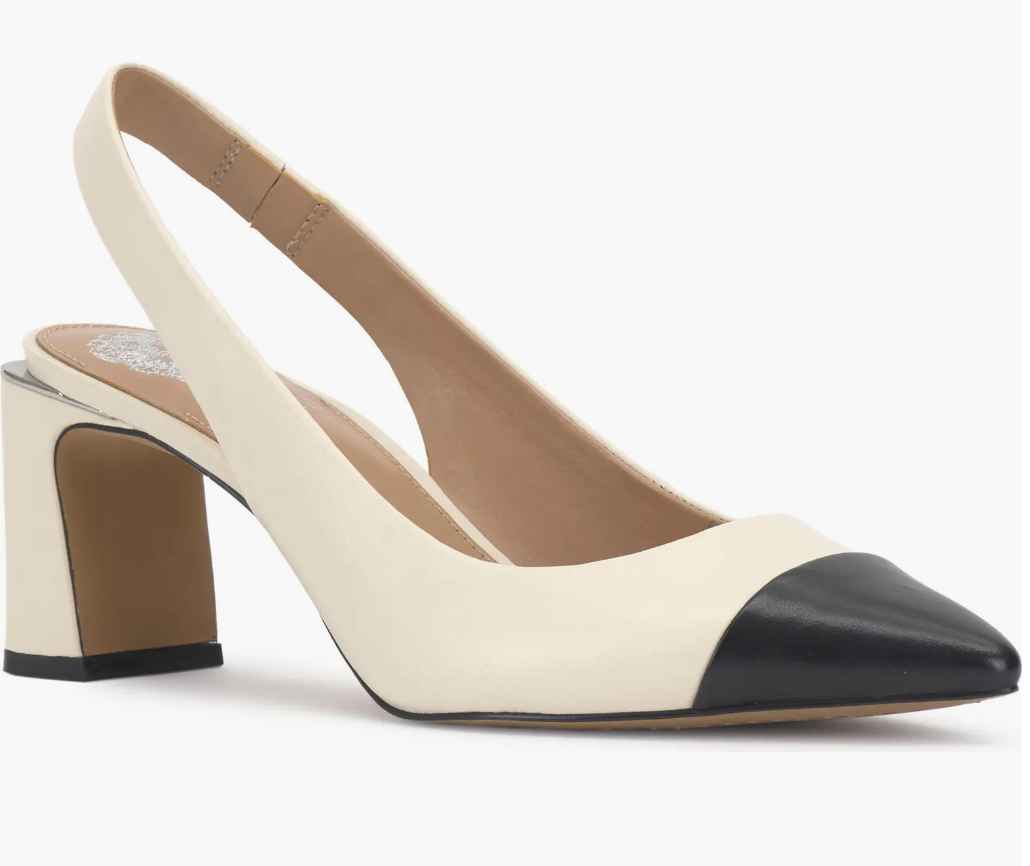 Pair basics with higher-end accessories (or accessories that look expensive) – keeping it simple and logo-free.
She suggests looking at Loewe, the Madrid-based brand owned by LVMH, for accessory savvy. "Jonathan Anderson, their creative director, designs great investment pieces to pair with something simple and classic." Bottega Veneta also has beautiful, expensive bags that elevate your look, both to the tune of thousands. There are excellent copies to be had from lower-cost lines.
The luxe, woven leather Jodie bag from Bottega Veneta is available in 16 colors for $2650.
A ringer for the Jodie is the Melie Bianco Brigitte Satchel at Anthropologie, also available in an array of zingy colors for just $128.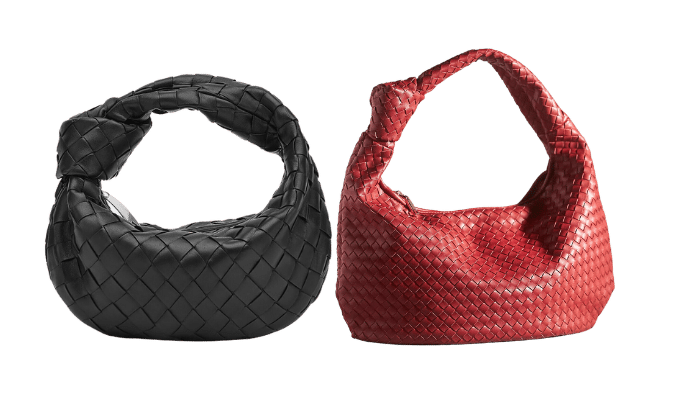 Now polish the look off with natural makeup, glossed hair, and "a fresh manicure. Clean colors are the most sophisticated, like OPI's Ballet Slipper. There's nothing worse than chipped fingernail polish. With pale colors, you won't notice a chip!"
Now, off to the bank!
Read Next: