The September Vogue was jammed through the mail slot the other day, landing with a thud on the foyer floor, all 370 pages of what to wear when the first cool breezes will have you grabbing for a…what do we wear now?
Think what you will about the fashion monolith; it's still the place to see and be seen.
That said. Never mind the supermodels on the cover, Linda-Christie-Cindy-Naomi, who are also featured in the cover story. They were hardly the first, anyway. Remember Jean Shrimpton? Twiggy? Verushka? Beverly Johnson?
What's interesting is that within these pages, there is little a woman of any age can't put on and look sharp. Unlike our mothers, we pretty much wear what our daughters wear, and they're not embarrassed to be seen with us. Well, they might be embarrassed, but not because we're wearing jeans.
While the models might still be shaped like clothes hangers, most everything in the book is friendly at every age with, perhaps, a few modifications.
Fall Fashion for Women Over 50 – What's Trending?
Leather is a big story. Prime Women's CEO, Dorthy Shore, just ordered a leather pencil skirt by Theory. A hot look for when it cools down, as are buttery soft leather pants. Combine either with a frilly shirt or something spangled for a lovely study in contrasts.
I like a bomber jacket, which can top anything from jeans to an evening gown if you can carry it off with nonchalance. Leather adds a bit of toughness to any look; it's never cute. This might keep you from being mugged.
Menswear is huge. The boys have been borrowing from us for the past few years; show them how it's done. Houndstooth, pinstripes, flannels, in wide-leg pants contrasted with a cashmere sweater, a sequined jacket, and a lacy top. Or go all in with a Harris tweed jacket or a pantsuit with shoulder pads – even a tie if you dare. The trick is the more severe the look, the more feminine the makeup and hair. Smoky eyes, bright lips, tousled hair, fabulous earrings. Think Dietrich!
Long skirts. Floating from mid-calf to ankle length in knits and wool, cotton, and satin. Minis are still around, but they're tricky to wear once you get past the age of gamine (you can decide when that is). Lots of long straight skirts have high slits, are far sexier than full exposure, and are easier to move around in.
If you want to go short but are not comfortable with the state of your bare legs, wait until tights season, they hide a multitude of sins. Better yet, invest in some thigh-high boots. An 80-something-year-old I know wears these with dresses and over jeans and looks fabulous.
Jeans are still basic for day and evening; dress them down with cool sneakers or low-heeled boots and a great sweater, or fancy them up for the evening. Blessedly, most come with a bit of stretch, and many are now pull-on, so your tops look sleeker, and the waistline issue is an issue no more.
Seeing red? You certainly are. It's fall's big color, and it's everywhere. If the thought is terrifying, dip into another trend, wearing a single color, like camel or white, grey or blue. When you carry a color (any color) from neck to toe, you're elongated and slimmed – without wearing black.
Check out the necklaces, bracelets, and earrings that are accessorizing these looks. Hefty cuffs, bold necklaces, cocktail rings in a dazzle of stones. And bucket bags are having a revival.
Perhaps the only thing that makes me whimper in dismay this season is the shoes. Teeter-tottering, ankle-busting, toe-crunching stilettos are ubiquitous. If you can still wear them, bully for you. If not, and someone is driving you to an event, dropping you at the door, then offering you an arm so you need only hobble (gracefully) to a seat, fine. Otherwise, go with delicate flats, kitten heels, or low-heeled boots, either knee-high or to the ankle.
What To Wear This Fall
While you should get many seasons of wear from that gorgeous Theory pencil skirt that Dorthy just bought, at $695, it might put a dent in your budget. For instance, most of the leather skirts on Amazon might permanently shock your eyebrows, but they do have a faux leather, faux wrap skirt from Kate Kasin that's downright stylish, hits at the knee, and comes in black, camel, hunter green, and deep red and bargain priced at $36.99.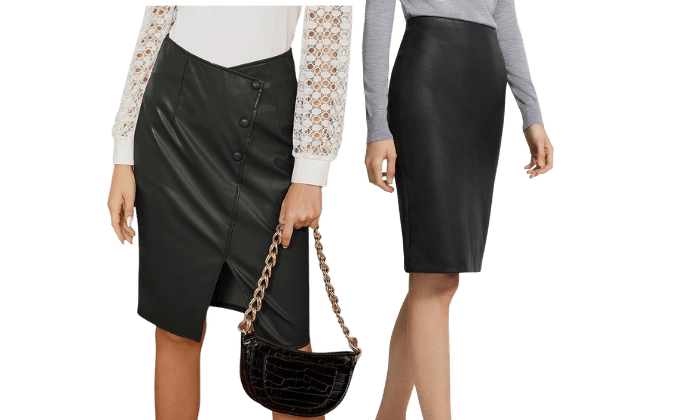 You can have great style at every price point. You just have to do a little, um, weeding. Let's explore some of the highs and lows of what's out there…
In a dark brown distressed finish, Banana Republic's classic Moto Jacket has buckles and zippers and is endlessly cool. $550. Target's black, faux leather Moto Jacket has just the right amount of tough-girl vibe and would go with just about anything in the closet. $42.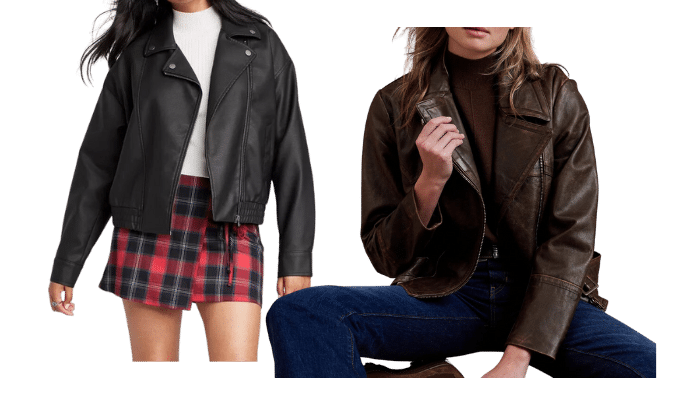 Banana Republic is totally on target with so much of its gear. Try pairing this delicious silk-cotton, billowy-sleeved pirate shirt with those leathers for a girly girl contrast. On sale, $44.97.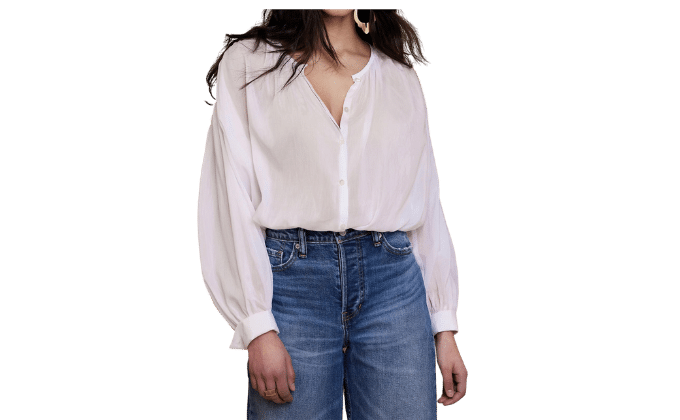 Cords are known for being comfy, sturdy, and a bit boyish. But at $1490, you might not want to test these wide-legged Rufos on a picnic with the grandkids. Undeniably handsome, though. At Bergdorf Goodman. DKNY combines menswear with the wide-leg pant trend in these handsome grey plaid trousers, which can play rough – just rinse off the mud in the washing machine. At Bloomingdale's, $119.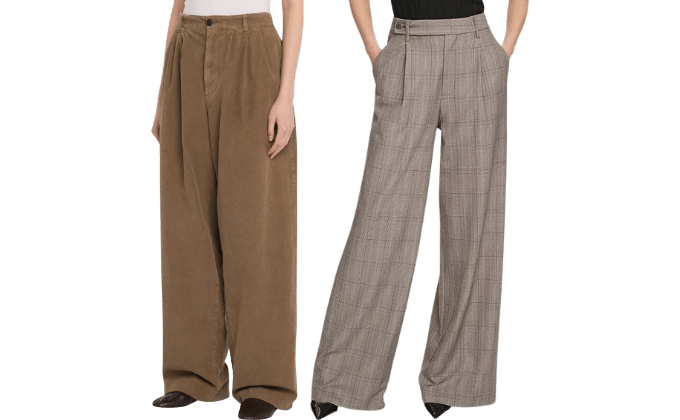 Ralph Lauren knows how to turn out a fine menswear jacket that curves like a woman. From his Polo collection, this wool-blend brown houndstooth blazer tops your pants – perfectly. $698. From I.N.C. at Macy's, a more wallet-friendly, machine-washable slouch of a jacket with pre-pushed-up sleeves comes in seven colors for $79.50.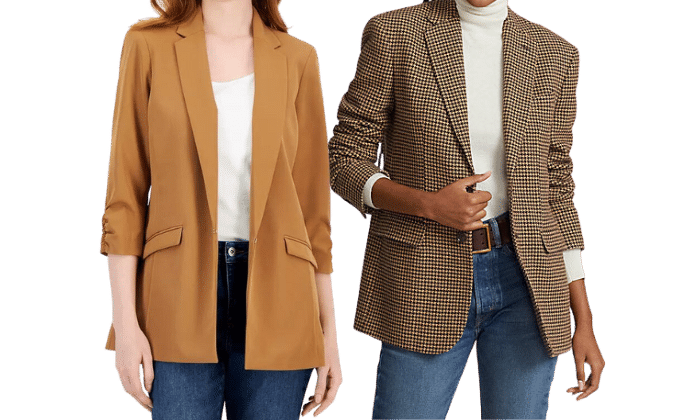 Long skirt? Try the Gwen Maxi by Favorite Daughter at Nordstrom, a simple black column that could go grocery shopping or to a wedding. Toss it in your overnight bag. Toss it in your washer. You'll have it forever. $198. Or this one, at Walmart, for $28.18, but they got me at pockets. Ankle length, lovely flair, comes in black, red, and yellow. At that price, I think I'd stick to black, which rarely looks cheap. But pockets!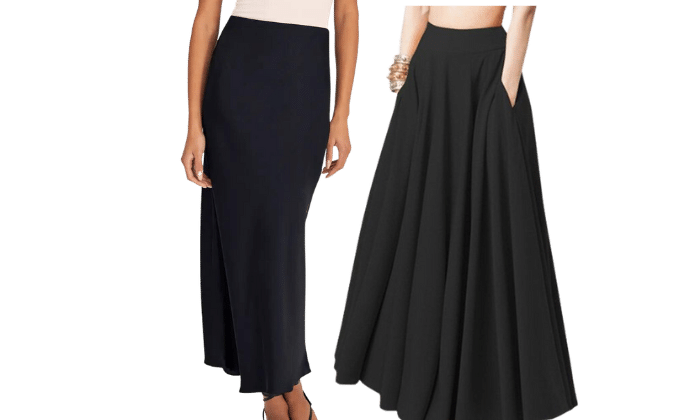 Did you know Spanx makes jeans? Yep, the suck-it-all-in people will take your butt and gut in hand with a variety of styles that include nice loose legs (below that girdled top) like these wide-legged pull-ons with a stretch waist (they suggest you shimmy into them) that will have you in top form. $168. Prefer straighter legs? Try these Paley bootcut jeans from Jag at Nordstrom. Put on a pair, and you're a long drink of water. $65.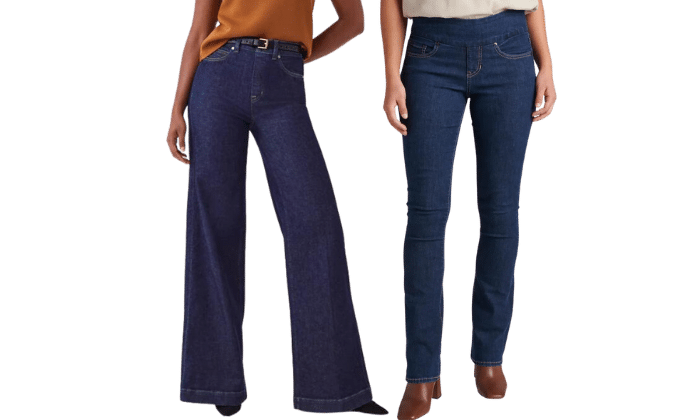 Head to toe red? If you can wear this stretch calf suede dress, more power to you. (See Spanx). $5000. Don't break up the line! Of course, they have red (sit-down) shoes to match. I'm also loving this red linen suit at Banana Republic, slouchy pants, and slouchy jacket. So soignée. $350.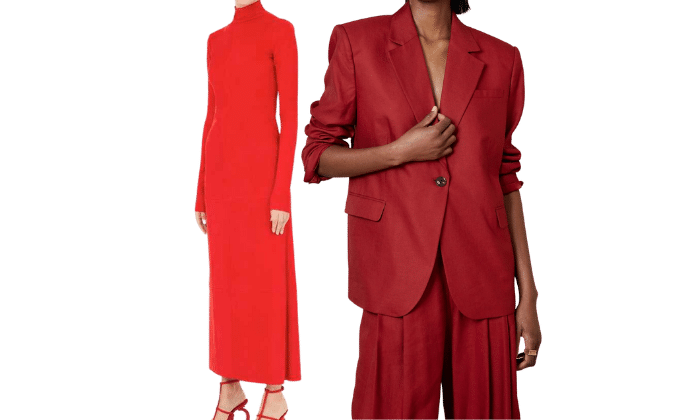 There are sneakers, and then there are Converse Chuck Taylors. This extra cushy version of the classic high-top is "like walking on a cloud," said numerous reviewers. $39.99 from Amazon. Like to flaunt your feet? The Gucci logo is almost subtle on these black mesh and crystal-covered sneakers. These would go with anything, including a gown, for a little tongue-in chic. They come in white too! Perfect for that second, third, and fourth sashay down the aisle. $1190.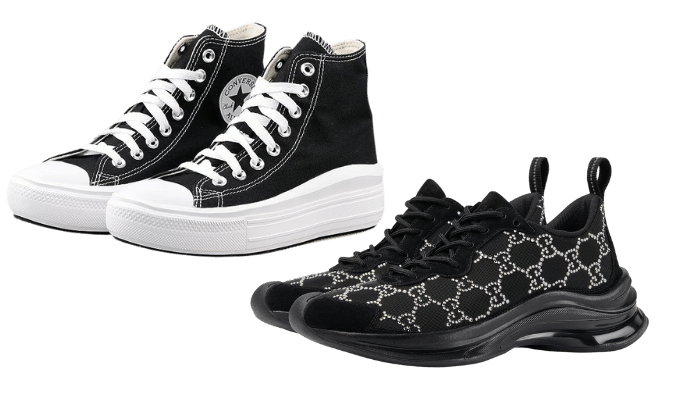 I confess to having four pairs of Fly London booties in my closet. Three black, one brown. Outside of Birkenstocks, these are the only boots I've found that do not cause my toes to scream in pain. And they look cool too. Afraid I'll have to make room for one more pair. These oxblood Milus have the red thing covered and have a perfect 1 ¾ inch heel for just a bit of a lift. At Nordstrom. $325.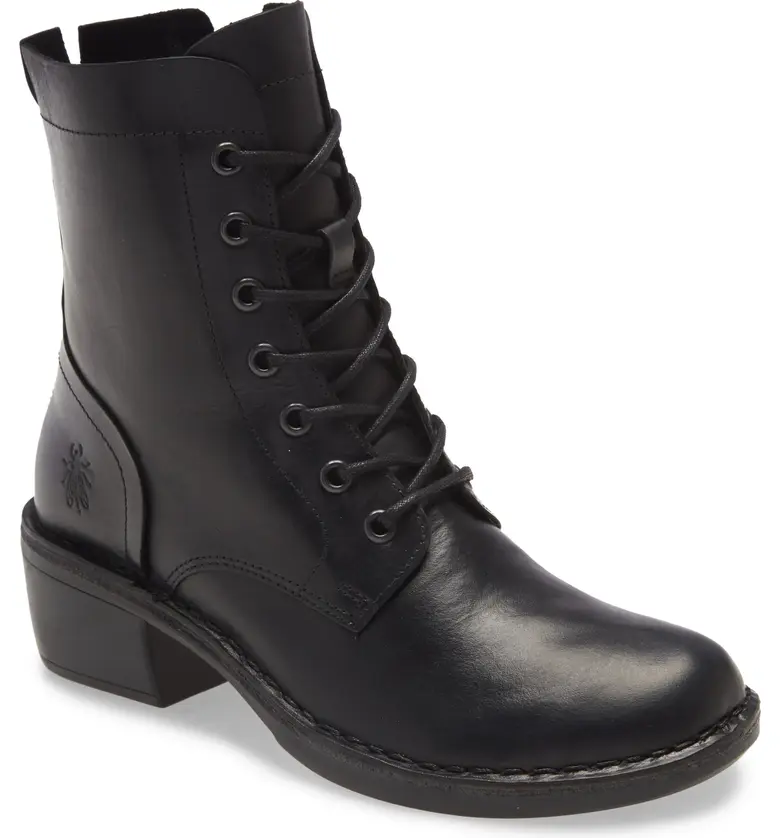 Comfortable, beautiful, sleek. Looks fantastic with dresses, skirts as well as over jeans. What more could you want? The online kudos roll in for these Stuart Weitzman thigh highs. Suede upper, satin lined, fit like a second skin. $950 at Bloomingdales. Also racking up the accolades, and just $95, the Ollie from Sugar at Macy's, comes in five colors, including black/grey glitter mesh. What a way to glow!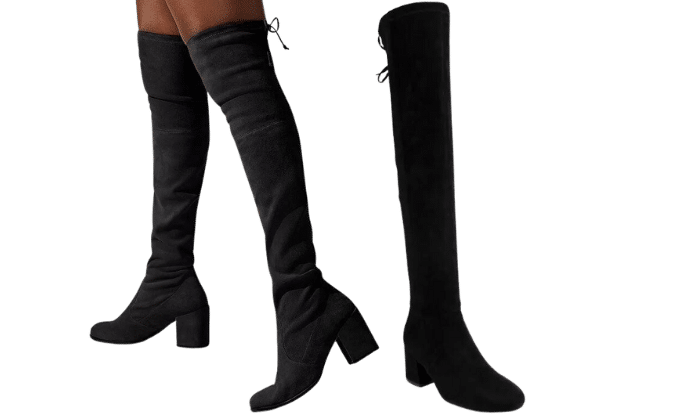 Read Next:
Maxi Dresses: Optimal Comfort, Maximum Fashion