I've had a number of friends and acquaintances go on luxurious and exotic cruises this summer. They've gone to all ends of the earth, and their stories make their voyage sound like a relaxing adventure full of great food and new friendships. I was pleased to hear that my parents have booked a cruise this fall – a dream they've had for many years that's finally coming true. However, despite the excitement they're both feeling, my mom is feeling a bit of trepidation about what to pack and wear while they're on their voyage. To help her out, I polled some of my friends who recently hit the high seas, and they gave me some great fashion tips.
Here are 6 cruise outfit ideas for ladies: three for daytime exploring the boat and the various ports and three for evenings eating delicious meals and strolling along the decks.
3 Daytime Outfits
#1 – Cool and Casual
Whether you're planning to explore the boat or hit the island, this casual outfit will fit the bill. The lovely blue and yellow color combination is subtle yet fun, and the scarf adds a layer of whimsy while holding your hair in place on windy days.
Lemon Blossom Shorts, $54.99 | Navy Top. $19.50 | Navy Sandals, $125 | Navy Tote, $179 | Yellow Scarf, $9.49 | Gold Earrings, $29.50
#2 – Island Explorer
If you're planning to explore the island, you want to prepare for anything – and a chic pair of capris are great whether it's a hot or cool day (and they'll transition perfectly into the evening). Comfortable shoes and cute socks will keep your feet from getting sore, and the classic crossbody bag will hold all of your necessities while you explore exotic locales and mingle with the locals.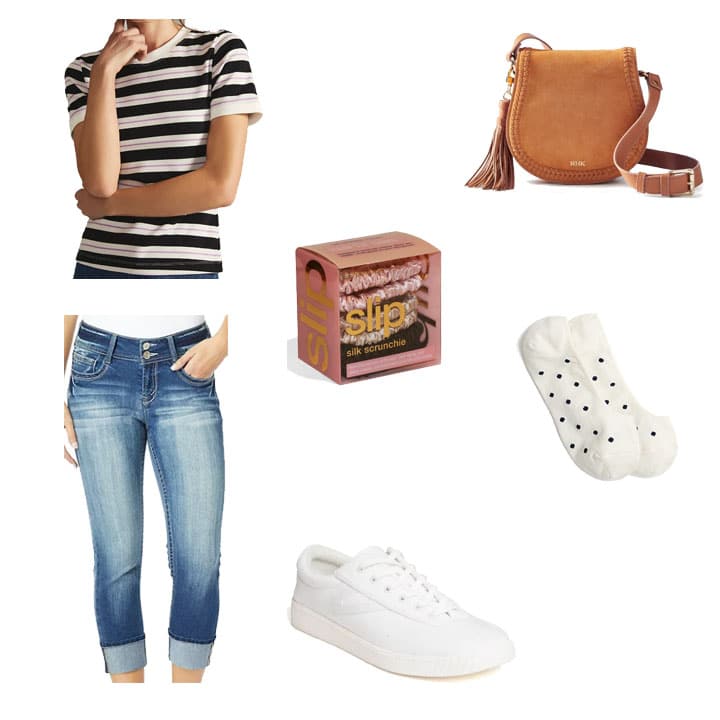 Capris, $29.99 | Striped Tee, $58 | Sneakers, $75 | Crossbody, $169 | Scrunchies, $39 | Socks, $7.50
#3 – Sightseeing Adventurer
I love the casual tone that goes with a cute pair of white shorts and a button-down denim shirt. The natural fedora and camel-colored wedges work perfectly to give you a carefree but stylish look while you're out exploring or heading to lunch.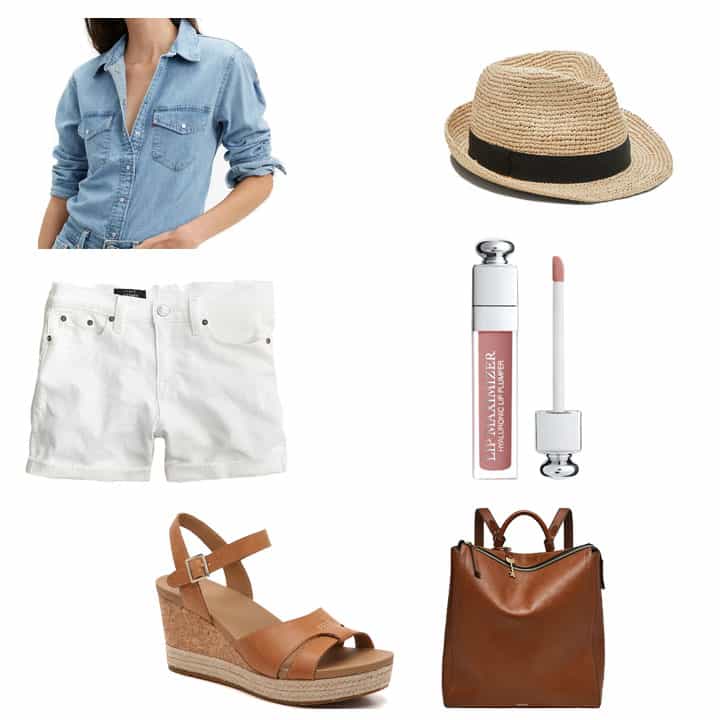 White Shorts, $79.50 | Denim Shirt, $79.50 | Camel Wedges, $119.99 | Fossil Backpack, $250 | Straw Fedora, $54.97 | Lipgloss, $38
Evening Outfits
#1 – Free Flowing
Mealtime on the cruise ship is the time to mingle and meet new people. I love this loose-fitting lilac dress because it will allow you to stay comfortable while relaxing in the dining room or enjoying a cocktail on the deck.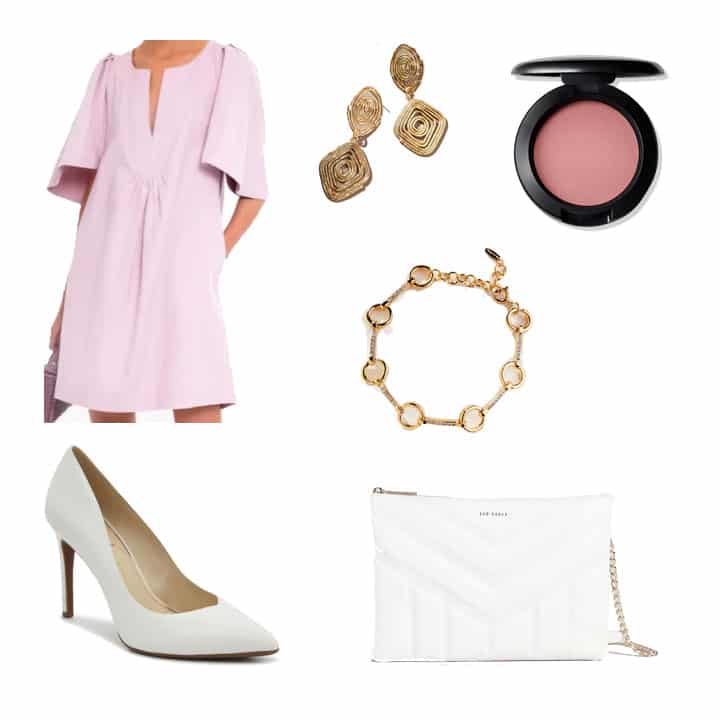 Lilac Dress, $128 | White Heels, $59.99 | White Clutch, $195 | Earrings, $48 | Bracelet, $48 | Blush, $28
#2 – Cool and Casual
When you combine white trousers, a chic black blouse, and daring red lipstick, you're sure to look cool and casual while turning a few heads. Simple black heels and a gold clutch finish this outfit perfectly.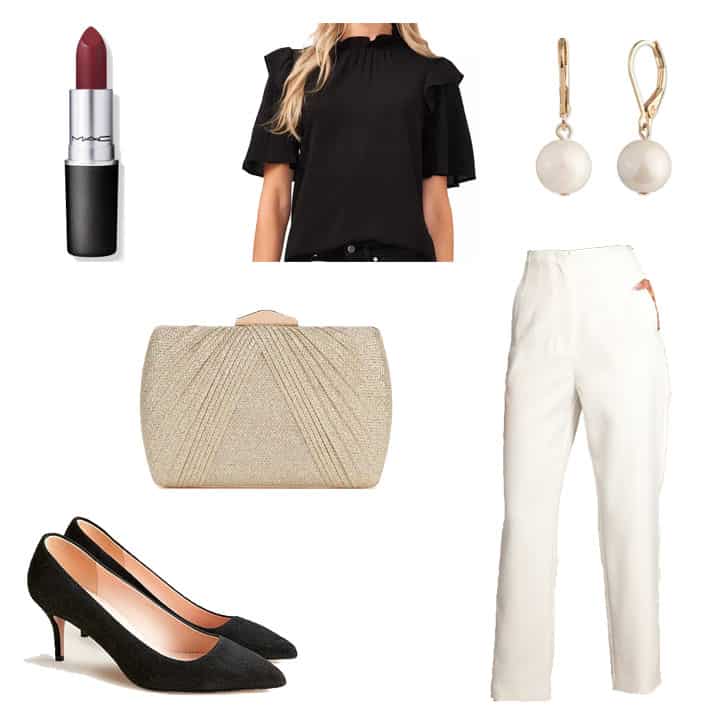 White Trousers, $48 | Black Blouse, $41.40 | Black Heels, $87.99 | Gold Clutch, $70 | Pearl Earrings, $32 | Burgundy Lipstick, $21
#3 – Easy and Elegant
There's nothing better than wearing a free-flowing dress while strolling down the deck of a cruise ship on your way to dinner. Catch the breeze and enjoy the feel of the fabric on your legs as you head to your next on-boat (or off-boat) adventure.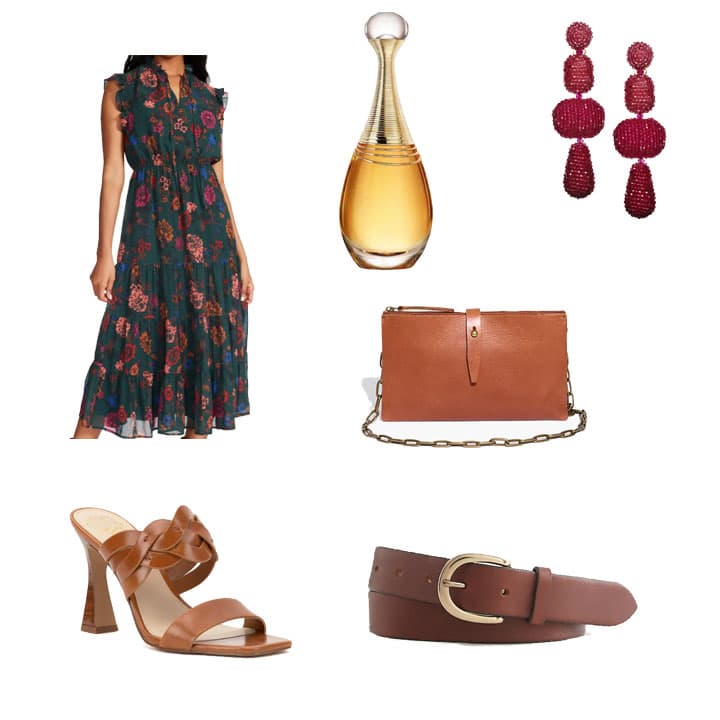 Maxi Dress, $99 | Brown Heel, $69.99 | Brown Belt, $45 | Beaded Earrings, $245 | Crossbody, $98 | J'adore Dior, $109
Read Next:10 Late Summer Prime Picks Under $100How to Get a Deal on Luxury CruisesHeat Up Your Summer Fashion with Hot Weather Dresses