One of the pleasures of waking up in the morning is that first cup of coffee and settling in for a bit of reading or watching the news. No item of clothing can make that experience even more enjoyable like a good robe. And few things are better after a long day at work than coming home and wrapping yourself into a soft, luxurious robe. Since your morning and evening ritual is repeated every day, finding the best robe for the money is worth pursuing.
While the most important thing for a robe is comfort, it can also be fashionable. Gone are the days where your only choice was a thick terry robe that looked good on no one. From fleece to sheer silk, there are lots of choices on the market today that are snuggly and flattering. Here are our choices of the 20 best robes for this year.
Best Robes for Women (especially women over 50)
Naked Cashmere Ynes Tie Belt Cashmere Robe
, $325
Lounge in our Ynes Robe knitted from pure luxurious cashmere strands for an exceptionally soft and warm touch. It's classically styled with a shawl collar and tie belt.
The Robe, $250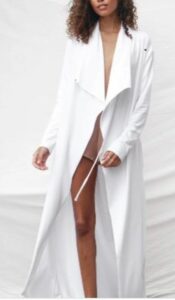 'The Robe' has been featured in both the New York Times and Goop and could be the greatest robe of all time. Unlike terry cloth, this beautiful robe will give you a waistline and flatter your figure, not cover it up.
Kohls Croft & Barrow Woven Zip Robe, $25.49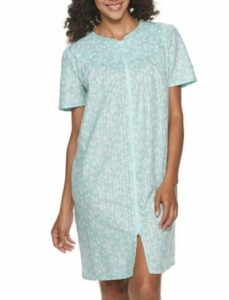 This is very comfortable and easy to wear with the zip up style. It is also cool and light for the warm summer days.
Weekend Stories Long Robe, $258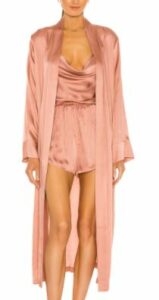 This long robe is both luxurious and comfortable. It is lightweight and perfect for Spring, and if you add the matching cami and shorts, you'll be living like "old Hollywood".
Coyuchi Unisex Air Weight Organic Robe, $128
This is just like being wrapped up in your favorite towel. Made of pure, organic cotton, the soft, absorbent weave is designed to dry quickly on the hook or in the dryer, making it perfect for slipping on right after showering. Comes in three colors.
Barefoot Dreams Cozy Chic Zip Robe, $145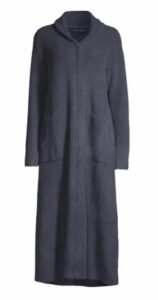 This full-length zipper makes slipping into robe a breeze. It is fashioned with signature brushed starfish pull, two roomy pockets and plush collar, you can also wear this open with a nightshirt or zipped up for a cozier feel.
Amazon Natori Shangri-La Robe, $98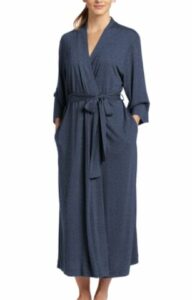 This soft, cozy knit robe is excellent year-round because it's lightweight and perfect for everyday life. This robe comes in five beautiful, flattering colors.
Barefoot Dreams CozyChic Robe, $119.99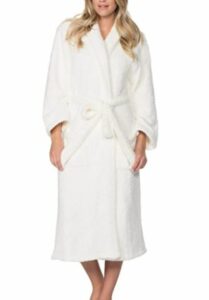 This robe has been seen on Oprah's Top Ten Gifts to Give and Receive, featured on Ellen DeGeneres' 12 days of Christmas, and is worn by other celebrities. Treat yourself and get this uber-comfortable robe. Four colors to choose from.
Kadence Robe, $148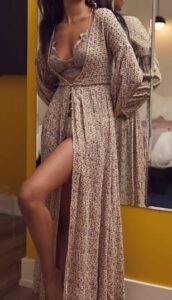 This boudoir-inspired robe is perfect for the woman who wants to look alluring every day or a robe you may want to have on hand for a romantic evening. The robe features a smocked bodice with beaded embellishments and a wide, open v-neckline in a lovely floral print.
Barefoot Dreams Hooded Cozy Chic Zip Robe, $138
Perfect for chilly mornings or cozy evenings, this sumptuously soft robe is made from CozyChic, a machine-washable microfiber that won't shrink or pill.
The White Company Long Lightweight Waffle Robe, $85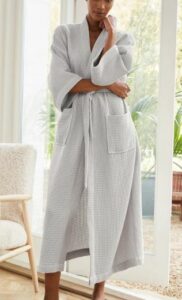 This robe is ideal for both Spring and Summer. It is made with a single-faced cotton waffle for a lightweight feel, and this specific style has a slightly cropped kimono sleeve and comes in a classic gray color.
Parachute Waffle Robe, $119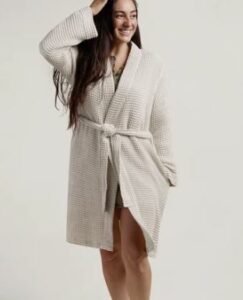 Why would you not want to relax in this soft, lightweight bathrobe that is similar to those you find at the spa? Parachute is a great brand not only for robes but bed and bath, as well.
Jolene Floral Print Charmeuse Wrap, $58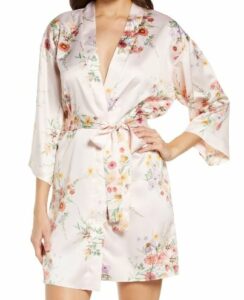 This wrap, made of a silky charmeuse, is light and comfortable. It is perfect for when you just want to throw on something lightweight after a shower or for warm evenings in summer.
Ekouaer Women's Satin Robe Lightweight Kimono Bathrobe, $20.99+
This sexy solid kimono-style robe features 3/4 bell sleeves, a mesh panel patchwork design, and a v-neckline. The knockout color stands out and is flattering on everyone, but there are eleven other shades to choose from.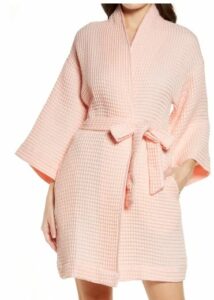 A waffle knit of soft cotton brings a cool plush comfort for warm spring/summer days. Reviewers do say it runs small so might want to size up. Comes in black, white, pink and purple.
Victoria Solid Charmeuse Wrap Robe, $68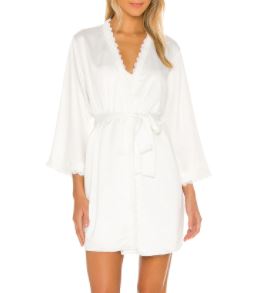 This robe, made of satin fabric with lace trim comes in a perfect ivory shade that flatters almost everyone. You can also purchase a matching chemise.
PrinStory Women Kimono Robes Short Lightweight Robe, $26.99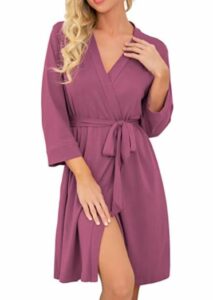 This robe is designed to fall around your body flawlessly. Not only is it very well priced but this robe comes in nineteen colors and patterns, cotton or rayon, depending on your choice.
Floral Bath Spa Robe, $29.99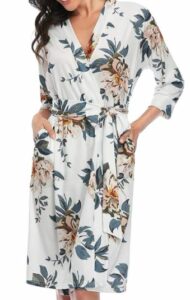 This floral robe is comfortable and lightweight. It's the perfect addition to your summer wardrobe. There are four different floral patterns to choose from.
BHLDN Matine Robe, $68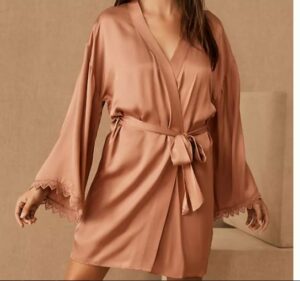 This sexy silky robe is perfect for rekindling that honeymoon night. The lacy trim on the softly draped sleeves adds a romantic detail.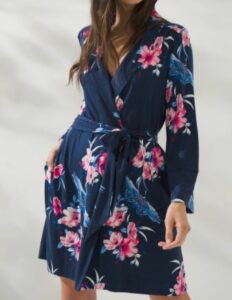 We love the bold pattern in this short robe. Made with lightweight rayon fibers that stay cool to the touch and keep the fabric from sticking to your body.
Satin-finish Robe with Belt, $99.99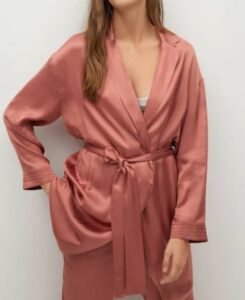 This beautiful robe has a satin finish, making this robe truly luxurious yet washable. Matching pajamas come in short and long.
Cotton Robe, $28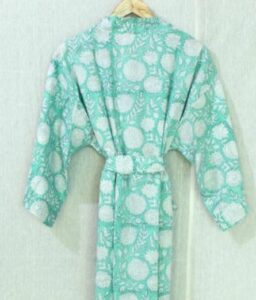 Nothing beats a cotton robe in really warm climates. This unique Kimono is made of soft cotton and the beautiful print makes it cool and fashionable.
Siren Song Robe, $65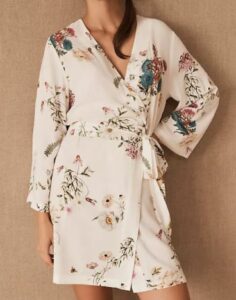 Floral prints decorate this soft robe. Made of rayon and hand-washable for easy care. Comes in XS up to XL.
Sleepless Nights Silk Robe, $69.95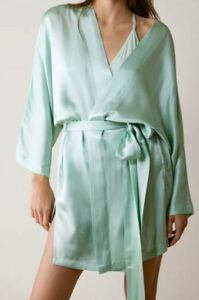 This soft silk robe has a draped silhouette and slit-side details. The pastel colors go perfectly for spring. Matching pajamas, too.
Style, comfort, and fit are key things to look for when selecting your favorite robe. If you're like me, you'll wear it morning and night, so make sure it's both comfortable and something you feel good wearing. It can set the tone for your entire day!
Read Next:
Why Exfoliating Is One Of The Best Ways To Tackle Aging Skin