Beautiful Baby Shower Dresses for Women Over 50
One of the greatest blessings for many people is becoming a parent. A child's birth- whether in your own family or a joyous addition to a friend's home – is an occasion to be celebrated. One of the best parts of a new baby is the baby shower! Fun and colorful gifts, silly games, and a potential gender reveal make for a fun event. As you prepare to celebrate this joyous day, plan ahead on what to wear to keep you comfortably fashionable as the festivities progress. To help you find something you'll love, we've compiled a list of lovely baby shower dresses to delight and dazzle.
Beautiful Dresses for a Joyous Occasion
Disclosure: This post contains affiliate links.
Our Top Pick: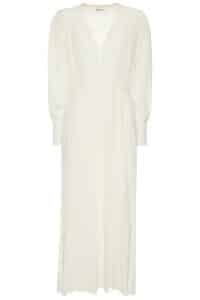 More Beautiful Baby Shower Dresses

I love to attend baby showers. Guessing the size of the baby bump, estimating due dates, and showering the mother-to-be with gifts are fun ways to show how much you love and support the growing family. Just remember: not everyone appreciates your opinion on their selected names, and the ready-to-pop mommy knows how big she is; you don't have to tell her—helpful hints from a foot-in-mouth kind of gal.
Read Next:
Best Fall Dresses For Women Over 50
Chic Sweater Dresses We're Loving For Fall And Winter