Prime Women is featuring a special guest — a woman who thoroughly embraces her age and lives her life to the fullest. Up first: Yazemeenah Rossi, a model, actress, yogi, whole foods enthusiast, beach lover, and inspiration to us all. This article is part of a series. Read part one here.
---
Yazemeenah Rossi is sitting on the patio of a Malibu beach cafe, eating basil ice cream and blackberries. She wears a casual linen dress and combat boots. Her long white hair spills loose over her shoulders.
She is finishing her dessert, scraping the sides of the bowl with her spoon, when a woman approaches the table, leans in, and tells Rossi that she is breathtakingly beautiful. "I'd love to take your picture," the woman says, explaining that she is a photographer. She emphasizes her enthusiasm with a business card.
This kind of thing happens to Rossi all the time. The 61-year-old French-born model and actress possesses the kind of striking, easy beauty that gives both women and men pause.
Though her look is sophisticated, her wellness routine, including her beauty regimen, is simple — reflecting her entire approach to life.
"Water. Yoga. Fresh, organic food that I cook myself. To live in a peaceful place with light and a view of the ocean. To live at my own pace, doing what I want, when I want. These are my basic needs," she says.
The effects of such uncomplicated purpose are undeniable. Rossi is happy, healthy, powerful in her existence — and a stunner.
Yazemeenah Rossi's Skin Care
For all women, but especially women over 45, good skincare is paramount. And Rossi takes impeccable care of her skin, nourishing it with oils from the inside — with a diet rich in healthy fats — and the outside.
"If I could have just one thing, it would be organic argan oil with essential rose oil," she says. "A friend has direct access to the best argan oil from Morroco and the rarest rose essence oils, and she generously offers them to me regularly. I do my own mix, and my skin is very, very happy with it.
>READ: THE ANTI-AGING BENEFITS OF ESSENTIAL OILS AND OTHER SMALL MIRACLES
In fact, Rossi experiments with all kinds of organic oils, from classic to exotics, finding the unique personality of each one remarkable. "I did a complex for my body that is quite addictive," she says. "It's based on hemp oil, coconut oil, and essence oils from the wild bushes of Corsica [where Rossi grew up]. It is a very special scent."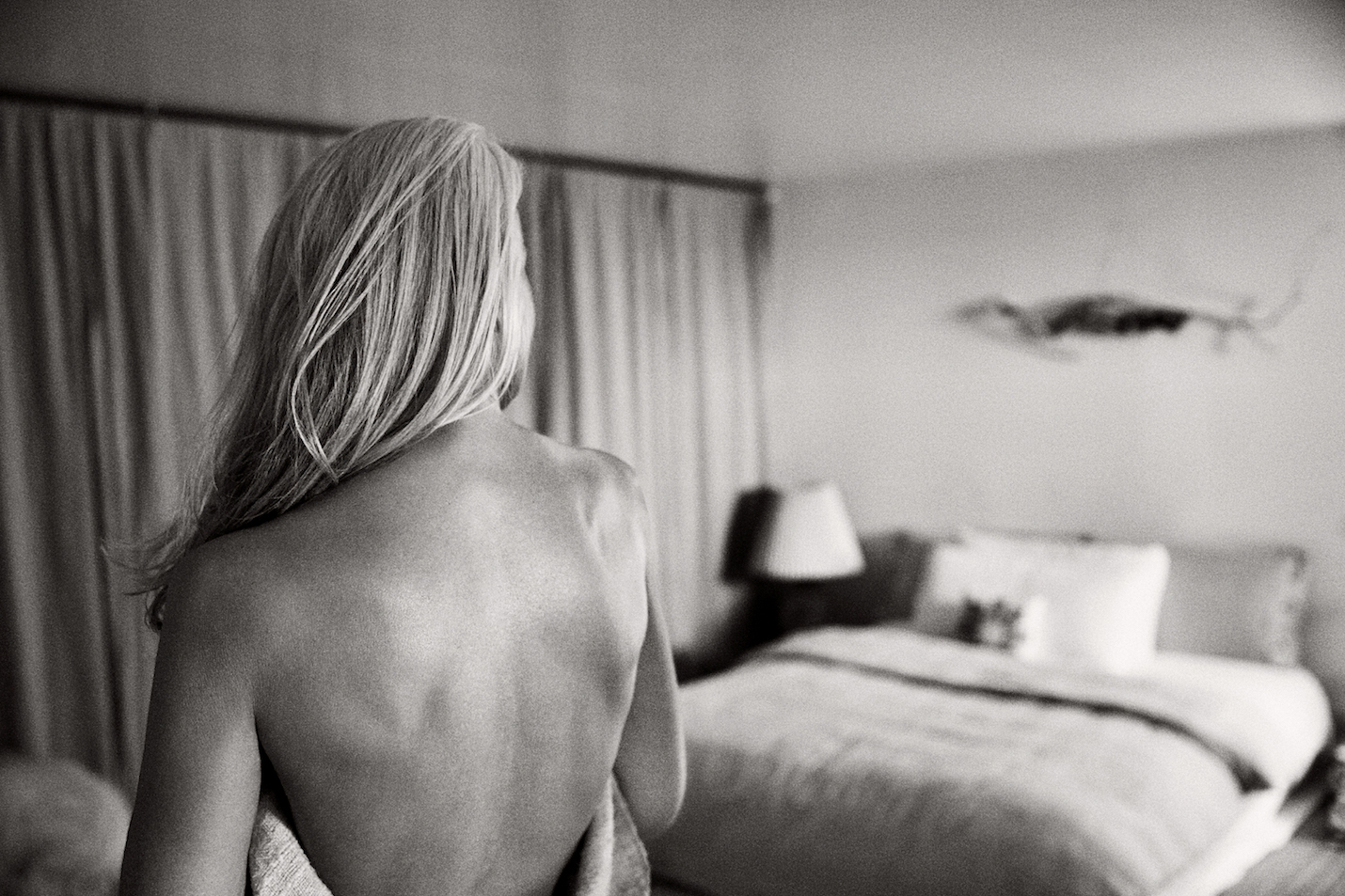 She shuns commercial body washes, opting instead for tea tree, olive, or other organic soaps when she bathes.
Once each week, she uses a dry loofah before her shower, "with strong friction." Her weekly routine also includes a body and face scrub with a mixture of oil and fine sugar or gray sea salt. For daily use, she has a Japanese washcloth called a Salux.
>READ: LADIES, IT'S TIME TO TAKE CARE OF YOUR SKIN
Though Rossi lives on the beach and has a daily sunbathing ritual, she never wears sunscreen. "It's just not right for me," she says.
When she wants a little something other than oil, Rossi turns to May Lindstrom's eponymous line, May Lindstrom Skin, and Rebecca Underdown's Veridatta Skin. She's been working with the ladies and their all-natural brands for about five years, and they treat her with their lines. "Their products are different, and I love them both a lot," she says.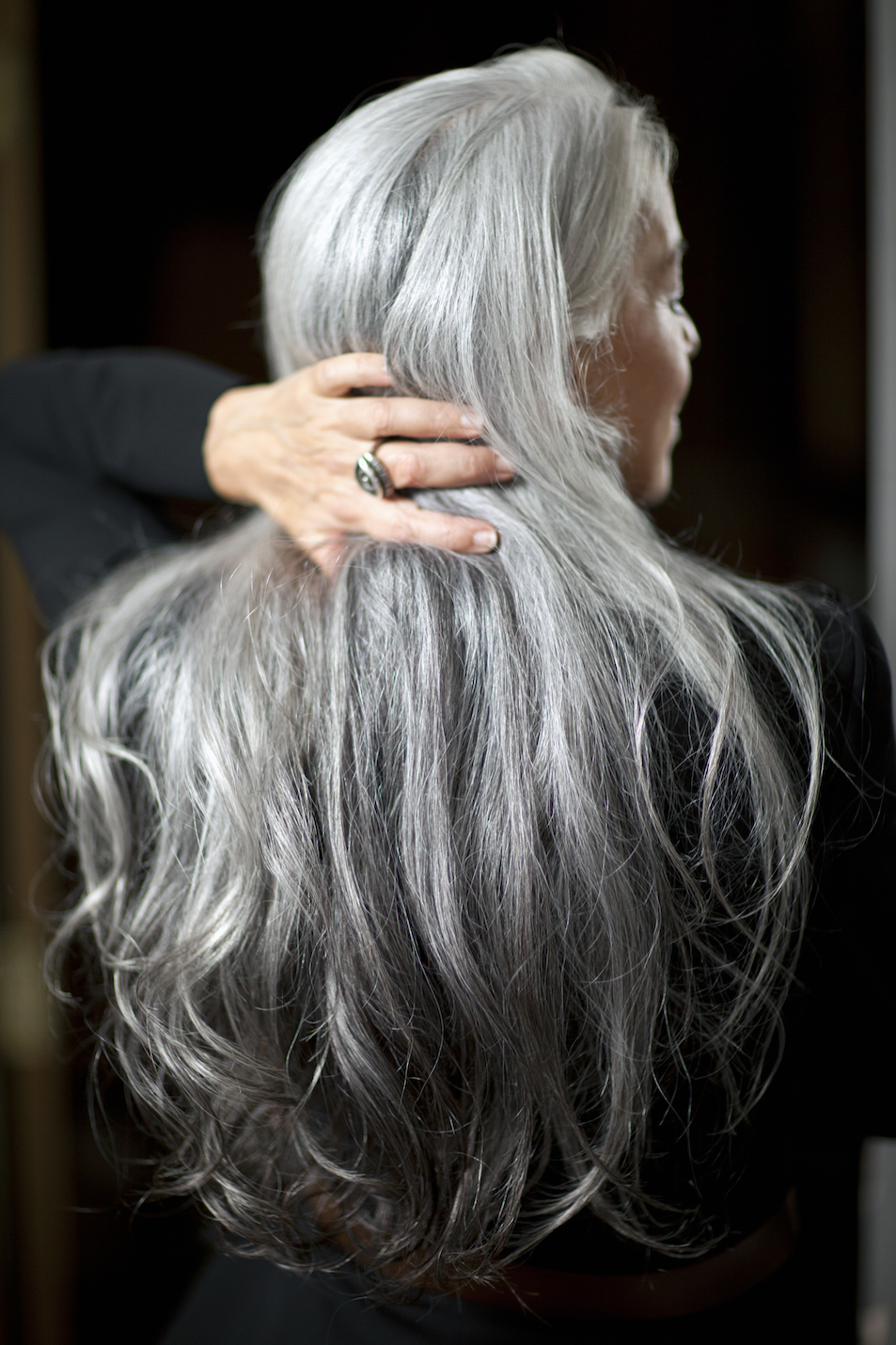 Yazemeenah Rossi's Hair Care
Rossi's waist-length silver locks are one of her trademarks. Her hair began to gray before she even hit puberty, and she's always refused to dye it.
She uses a variety of organic shampoos, but names Phyto's Phytargent as her favorite. "I also love the products from Living Proof, and because my skin loves hemp oil, I looked for a shampoo and conditioner with a hemp oil base, and found Cibaderm's Hemp CBD Complex."
And, as you might expect, she eschews the blow dryer and other styling tools, letting her locks dry naturally instead.
>READ: MODERN HAIRSTYLES FOR WOMEN OVER 50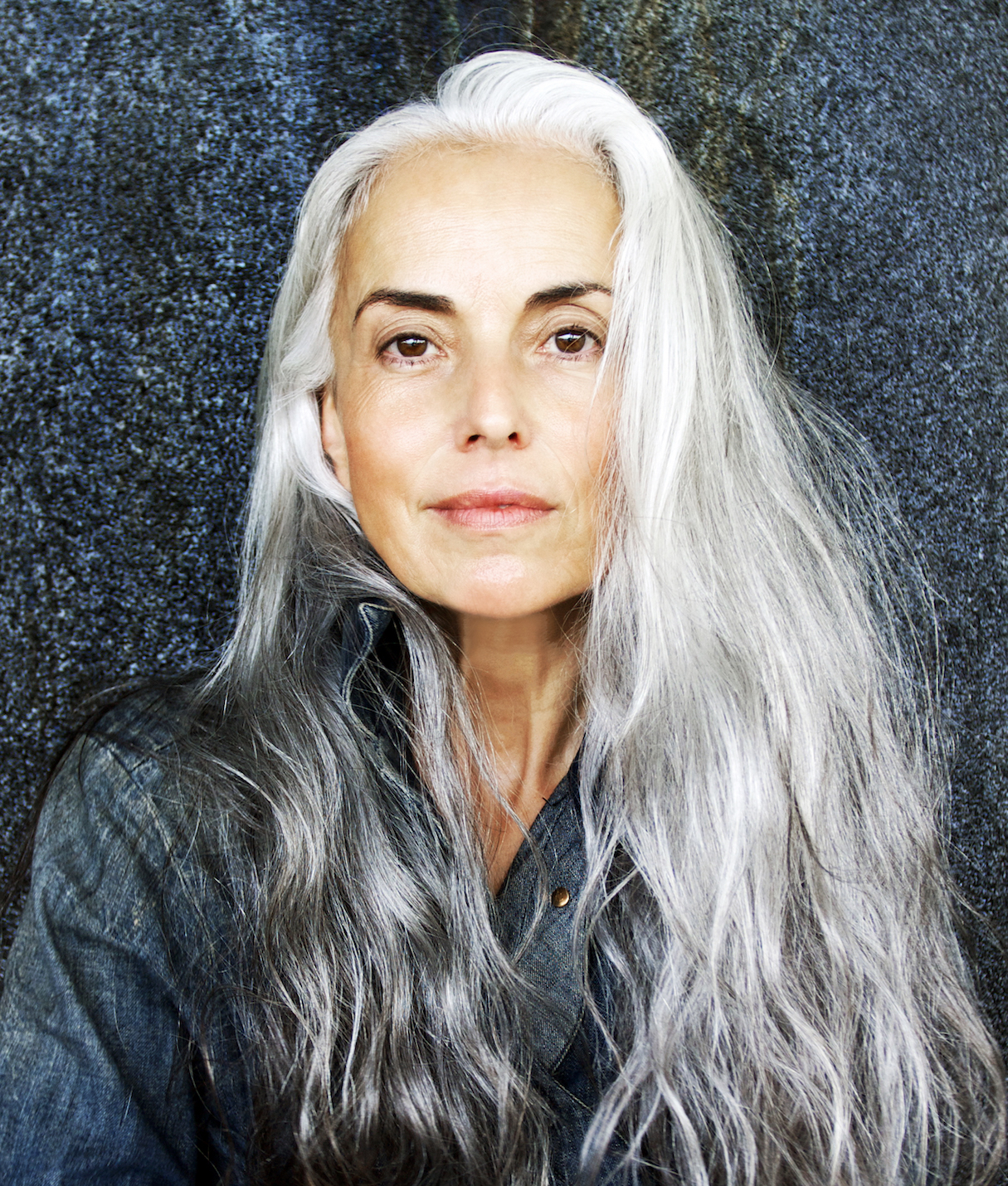 Yazemeenah Rossi's Makeup
In her day-to-day life Rossi spends much of her time at home, working on various projects and exercising by the water. Cosmetics are not a priority. But when the occasion calls for them, she has a few simple go-to's
Sitting in the cafe that sunny afternoon, she wore Dr. Hauschka lip balm and a little cheek and eye color from Josie Maran. That's it.
After all, a lady doesn't need much when she's naturally gorgeous and lives at the beach.
>READ: BEACH BEAUTY: RADIANCE IN 4 EASY STEPS
>READ: DAY IN THE LIFE: MODEL YAZMEENAH ROSSI
Photos: Courtesy of Yazemeenah Rossi