Blush, or rouge, has been around since those gorgeous Egyptians were crushing up mulberries to rub onto their high cheekbones. Can you believe that women actually used to pinch themselves to attain that rosy glow we all so want? On that note, can we just take a minute and appreciate modern cosmetics?
The colors one chooses and the technique for how to apply blush can be a very personal thing. Blush is consistently vogue within society, and the only thing that changes are the trends for wearing it (looking at you '80s!). Today we will bust through the myths, look at some awesome colors, and learn how to apply blush that flatters your mature skin. Look out cheeks, here we come!
Myth #1: "The majority of blush is powder so that must be the best."
Nope!
You guys are probably sick of hearing me say this, and I am terribly sorry, but hydration is key! Mature women just have to work a little bit harder to maintain that moisture due to the environment, menopause, and just the plain fact that the skin cells regenerate more slowly as we age.
After moisturizing, priming if necessary, and applying your foundation, cream blush is the best way to go. Toss those powder cake blushes! They can sink into pores and fine lines, making you look older. Not to mention they fade quickly.
How to Apply Cream Blush
Many of you know how to apply blush when using powders, but with cream blushes, I love to use my fingers or a stipple brush. Start by putting on a big newscaster smile, then apply a conservative amount to the apples of your cheeks. Always remember that with makeup it is easier to add than to take away, so start small and work your way up to what you feel comfortable with. Blend upwards – lightly! Do not go to the temples, but go in that direction. You want most of the color on your apples. This will give you a nice, natural lift. A few of my "all-around" cream blushes are:
Cream blush in stick form makes life so much easier. This one is great because it is so sheer you can build your intensity however you want. They actually call it mistake-proof!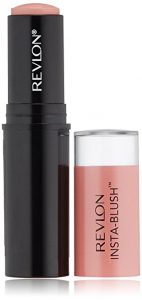 Laura Mercier Créme Cheek Color
This is a super-easy way to get that natural bloom in your cheeks with a soft glowing finish.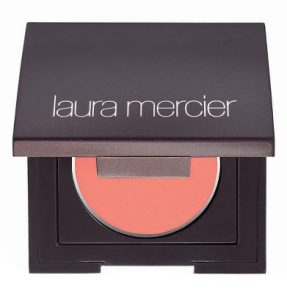 Myth #2 "I'm over 50 so I shouldn't wear any shimmer at all."
Pardon me, but to heck with that! I wouldn't suggest some crazy disco ball highlighter but there are some lovely blushes out there with the perfect hint of shimmer and shine. If you are really worried about your texture, just find a primer that will blend everything out and smooth it down (like Benefit's POREfessional). Here are two blushes that add that perfect touch of shimmer that I absolutely adore:
This should just be a stock item in everyone's personal kit. The phenom blush hit the market in 1999 and is still causing a stir. They have just released it in liquid form for the first time ever this month so it is hot, hot, hot!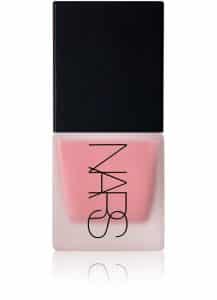 Here is another great stick that is insanely easy to work with. The great thing about Tarte is that their sheer formula is more of a stain so it goes on lightly while still getting a good sheer color. Just do a few quick swipes and rub it in. It's perfect for on-the-go women who need something easy and light (and vegan!).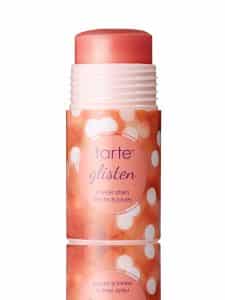 Myth #3 " Bright colors are terrifying and should stay in their decade."
Embrace the brightness and don't be afraid! By using pinks and reds lightly you can achieve more of a natural "blush" look than with some of those drab, dusty rose pinks and darker maroon colors. I love a good bright pink for a fresh and healthy look at any age! Two brands whose formulas and colors I love are:
Almost all cream blushes can take a licking and keep on ticking. This one is no exception. I love NYX because you get a wonderful product at a wonderful price. Their color variety is also fun and imaginative.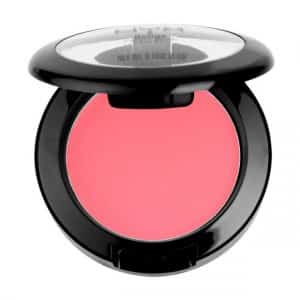 Makeup Forever HD Second Skin Cream Blush
Their second-skin formula makes the application effortless. I love applying this with my fingers and warming it up. It is so smooth and has a wonderful finish. They have 16 shades to float your boat, too!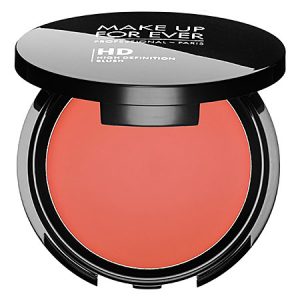 So, there you have it. How to apply blush and the ones I recommend. If you are someone who doesn't wear blush at all, I dare you to try a little bit and see how wonderful it can be! Blush is a key component in any good, full face of makeup. It can be done lightly and elegantly, as well. Play around with different colors and find some to get excited about!
Happy blushing, ladies! XO
Read Next:
10 Ways to Lift Your Mood With Color & Makeup
How To Apply Makeup Like a Celebrity Artist