Our eyes are the focal point of our face. It's the first thing someone sees when they look at us. And as we age, the eyes are one of the first places to show signs of aging and darkness. So what can we do?!
Prime It
Using an eyeshadow primer is a must for eyeshadow application. If you do not use one, you will waste your time and your product as you will not see the eyeshadow colors. They will crease and fade in one hour.
Magnetic Eye is an eyeshadow primer that I highly recommend. You can apply it with clean fingers or a synthetic brush and apply it ALL over the eye from your lash line up to your brows. It will appear very white but it's better to use more than less. The purpose of the primer is to cover all the darkness in the eye and to give you a smoother surface on which you will apply eyeshadow. You can set the primer with a powder or a base color shadow such as a pale pink or off white.
Avoid Shimmer
As we age, the skin in our eyelids can get crepey and/or puffy, so choose textures that are matte. Colors with shimmer will pronounce areas that we want to conceal or look less noticeable. It is okay to use a slight shimmer right under the brow bone as this will bring some highlight to the eyes. Remember, if using a slight shimmer in this area, choose one with a small particle size and not too glittery.
The Flesh Fix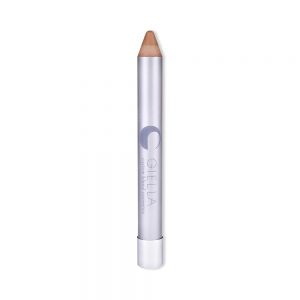 I often hear from my clients, "My eyes look so dark all the time!" One solution for your eyeshadow application is a flesh colored pencil for a quick lift. We call it Lively Eye Pencil by GIELLA; it's a light peach color as opposed to a stark white which can look too highlighted, unnatural and will not cover the red. The Lively pencil can be used on the inside corner of the eyes, on the inside of your water line and under your brows. It immediately takes away the red and darkness and brightens the eye; and it's so easy to use. Avoid using pencils that tug on the skin, it should not be too hard. The Lively pencil is hand-crafted with a soft texture that does not pull on the skin and is paraben-free, mineral and conditioned with Shea butter.
Too Brown?
Many of us were told to use brown over black liner as it's softer. However, I find brown pencils can be too muddy or muted and accentuate the red in your eye. As black may be too harsh for many, try a Sage (gray green) or Midnight (deep navy) or Charcoal (gray) as a liner. This will make the whites of the eye brighter and clearer. I also only recommend using black mascara instead of brown mascara. Even if it's a soft black, it will make the eyes look brighter and call less attention to the redness in your eyes.
What Hue?
Avoid using colors with a golden or yellow tone during your eyeshadow application. This can make the eye look tired. For the base color, I find pale pinks, soft whites and oatmeal best. For the crease color or to push back the darkness in a hooded eye, choose rose browns, taupe, plum or gray. Make sure they are not too dark, choose a medium value for this application. If you are trying to achieve a Smokey eye, use gray or a dark mushroom on the eyelids as it will be easier to blend and not too dark. Save the deeper hues for eyeliner.
Cover the Gray
Remember no matter how perfect your eye makeup is, don't forget your brows. They need to be shaped, defined and colored by using brow pencils, powder and tints.
Extra Tips
After your eyeshadow application, reapply a dab of concealer to clean up any makeup that has fallen below; it's a great closing step!
Enjoy the video and see how 4 minutes can really make you look a lot more revived and refreshed!