3 Solutions for Fading Eyebrows
Getting older comes with a wide variety of changes, some better than others. One area where we typically see a lot of change is our hair. We start growing more in some places while others seem to lose it at a record pace. In some cases, the hair is still there, but it gets so light it's hard to see. One area where this is common is our eyebrows, where they get lighter or turn gray. Of course, many of us lived through a time when thin brows were all the rage, so we might have plucked out a few on occasion, and that makes them look even sparser. However, there are steps we can take to make our eyebrows look fuller and more robust.
So, what are the options for defining brows, covering the gray, and coloring them to match our hair color? Let's find out.
Options for Fading Eyebrows
Brow Tint
Brow tints are a fast and easy way to define our brows and make them stand out. Our favorite brow tint is Glossier Boy Brow, which gives our eyebrows a soft, flexible hold in one easy swipe. Available in four shades — Blond, Brown, Black, and Auburn — you'll keep a natural look because this product doesn't stiffen or flake. If you want to tame your brows while not adding any tint, you can elect for the clear coat, which doesn't leave a trace.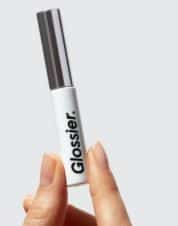 Brow Wax
Our top choice for brow wax is Anastasia Brow Freeze. This easy-to-use styling wax lifts, tames, and sculpts every hair with extreme hold. It's your secret to feathered, locked-in brows. This sets every hair in place without a stiff feel, residue, or flaking for the feathered brows you've always wanted. This universal, easy-to-apply wax is mess-free and provides extreme hold, leaving you with full brows that last all day.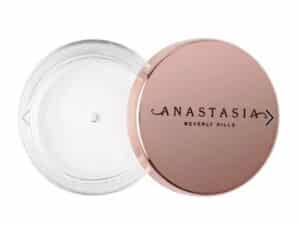 Brow Powder
Brow powder is another way to add color to fading eyebrows and make them stand out. Our top pick is Mellow Cosmetic's eyebrow duo because it can create the ideal shade for naturally beautiful eyebrows. Put it on in the morning when you're getting ready for your day because it's long-lasting, smudge-proof, and resistant to humidity. It's often hard to find the perfect color for your brows, especially if you are gray, so the complementary colors will make matching your brow shade a breeze. As gray becomes an increasingly popular trend, utilizing a taupe color for your brows is a good choice, even if you are a darker brunette, because black or deep brown can be too severe.
Eyebrow Tip
Are you curious about how to draw your eyebrow shape? Place a brush vertically on the outside of your nose. Following this point directly up, you'll come to the point where your eyebrow should start. Then, place your brush on a diagonal, starting from the outside corner of your nostril, and extending to the outside crease of your eye. This is the place where your eyebrow should end. Place your brush directly above the end of your outer pupil, and straight above is where the high point in your arch should be.
Take a look. Do you have fading eyebrows? Make sure they are defining you! Think of it as putting a frame on a picture; it pops the inside photo – and your brow shape and color will pop your eyes!
Top Tools for Brilliant Brows
This brush is great for grooming your brows and removing any clumps from your eyelashes. The two-in-one design features a brow-taming brush on one side and a de-clumping metal lash comb on the other.
KUSH Clear Brow Gel is for anyone looking to tame and set unruly brows because it gets every single brow hair in place for an all-day hold. Like a hair mask for your brows, it is packed with aloe and cucumber extract for extra conditioning, which leaves you with softer, healthier-looking brows. The tapered, tree-shaped brush with dense, firm bristles allows you to deposit gel evenly across your brows so each hair stays put.
Hourglass brings beauty and technology together in each of its breakthrough formulations. Finely milled for flawless bendability, each color in the Graphik Eyeshadow Palette has a high concentration of pure pigment powders for exceptional payoff. The combination of complementary matte, satin, and metallic shades allows you to create an array of looks with depth and dimension.
Read Next:
Thinning Eyebrows? It Could Be Menopause
Brow Power!!! The Guide to Perfect Eyebrows