A Fall Makeup Look – Try Something New
Updating your makeup each season is a positive sign of accepting change in your life. Change is good, and let's face it, it is very interesting to watch our faces transition from 30, 40, 50, 60 and 70+. So embrace change. It will keep us on our toes and allow our brain to process something "new" and adapt to it. First, we need to realize and accept that we are changing both physically and mentally. Then we can put together a beauty plan that is age-appropriate. Like adopting a fall makeup look.
So here's what we are seeing on the Fall runways in makeup and clothing. The fall looks range from exaggerated bright colors, over-sized totes, mini purses, chain jewelry, capes, feathers, glitter and exaggerated monotone looks. It seems like a lot of directions but here are some of my favorites.
Key Makeup Looks This Season
Red lips
Fall often goes to a redder lip and why not add a little sophistication to your look?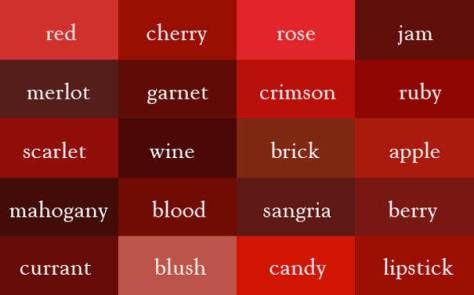 "Red is the color of energy, passion and action. It is a warm and positive color associated with our most physical needs and our will to survive. It exudes a strong and powerful masculine energy. Red is energizing. It excites the emotions and motivates us to take action. It signifies a pioneering spirit and leadership qualities, promoting ambition and determination. It is also strong-willed and can give confidence to those who are shy or lacking in will power."
Believe me, everyone can wear a shade of red. It doesn't have to be bold, saturated and deep. It can be softer, closer to a cranberry and muted. Look to the experts to help you find the perfect shade of red for you. As we get older, a darker heavier lipstick can be too much. However, a sheer stain or even a muted red is a great option.
So you can see here how rose, berry, apple and scarlet would all be a nice selection; all reds with a little bit of brown in them and mid-tones.
A tip for softening red lipsticks to your comfort zone, apply a spice or browner lip liner over the lipstick to take down the intensity.
And remember, you consume many pounds of lipstick in your lifetime so pay attention to the ingredients. Choose healthy, clean ingredients that are good enough to eat. Paraben-free, cruelty-free, lead-free and nut-free are important for you!
Other Red Lip Options:
It Cosmetics, Vitality Lip Flush 4-In-1 Reviver Lipstick Stain in Pretty Woman (muted red), $20
Benefit Cosmetics, Benetint Lip & Cheek Stain, $18
NARS, 7 Deadly Sins Audacious Lipstick Palette, 7 colors, $52
Blush for cheeks and eyes
This is a fun trend and so easy to do! Carry your blush from your cheeks and add it to your eyes. Apply it with a more contoured brush so it stays put on your eyelids and not over or under your eyes. Start with the center of your eyelid and carry it into the ball of your eye. Make sure to blend well! Choose a color that is not too intense so it looks soft and fresh. The color trends for blush are warmer reds, coral and peaches. Try one with a slight soft white gold shimmer.
Powder blush is the way to get this look as opposed to cream blushes. Look at the ingredients and avoid talc! Talc is an inexpensive powder and has been identified as a carcinogen (cancer causing.)
Choose mineral powders that do not have a lot of fillers in them such as dimethicone or silicone.
Here are some great neutrals:
Other Blush Options:
Eyes lined with color
For eyeliner, try a pop of color in a green or gray for eyeliner rather than a brown or black. It will brighten your eye color and add a little more interest. Try the color inside the water line on the bottom of your eyes. Even with smaller eyes, this will give them a lift. Gently pull down the lower lashes and apply back and forth around 30 times. If you don't it will easily fade away and I am sure you do not want to be retouching all day. So embrace a little color, it's a lot of fun!
Options:
Glossy lips in neutrals
With a brighter eye and cheek, a glossy sheer lip looks great! Outline your lip and blend it down into the lip, then apply a glossier color in the center of the lips, both top and bottom.) Choose a neutral without any shimmer or a pop of warm rose pink.
Options:
Give a fall makeup look a try. Sometimes being out of our comfort zone can be fun! Happy Fall!
>READ: CLEANING YOUR MAKEUP BRUSHES WILL SAVE YOUR FACE (AND MAYBE YOUR LIFE)