You look in the mirror, and a dull complexion greets you. You're drinking water and moisturizing, but the glow is gone. It may be time to treat yourself – and your face!
A dermaplaning session can be a great way to brighten and refresh skin. This minimally invasive procedure – often performed by a dermatologist or licensed esthetician – can reduce the appearance of scars, large pores, or signs of aging by carefully sloughing off old skin to reveal the fresh, new skin underneath.
Dermaplaning is most often performed on the face but can be done anywhere on the body. It is a popular facial resurfacing treatment for those who want the benefits of deep-down exfoliation without using laser resurfacing or chemical peels.
You might consider dermaplaning treatment if …
If your main goal is to relieve and reduce the appearance of dull or dry skin, fine lines, or acne scars, dermaplaning can check those boxes. The procedure is also reported to help remove actinic keratosis, which are scaly skin patches that sometimes lead to skin cancer. And, of course, it's a great way to lose unwanted peach fuzz and the stray hairs that sometimes crop up over time.While dermaplaning is a fairly straightforward way to improve skin, you should hold off on this treatment if you have an active case of acne, cold sore outbreaks, rashes, eczema, or skin growths such as moles, freckles, or skin tags.
Can I just use my razor?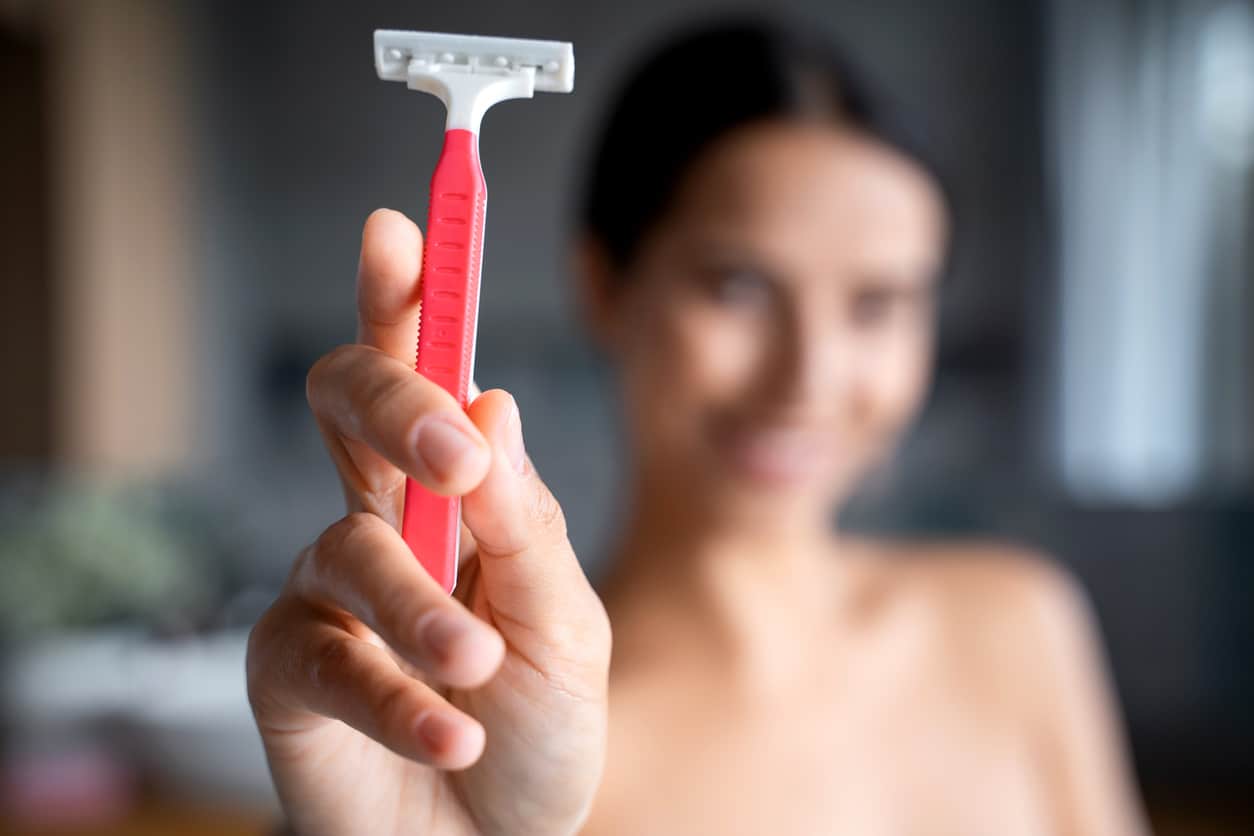 It's tempting to think that dermaplaning can be done at home with a Bic razor, and no doubt many people have gone this route. But there's more to dermaplaning than simply shaving one's face straight out of the shower with an all-purpose razor blade. In dermaplaning, a small, surgical grade (and sterile) scalpel is used to remove the dead skin cells, oil, bacterial, and peach fuzz hairs. The right amount of pressure is applied to reach fine hairs and the top skin layer without going too deep or missing patches of skin.One can find several products and tutorials online geared towards helping with DIY dermaplaning at home, and these guides are worth checking out – with caution, of course. A professional will know to use a steady hand and the correct blade to effectively remove dead skin cells and fine facial hair while avoiding cuts to the face, scarring, and infection.
Before and during the procedure
It's important to begin your dermaplaning session with clean, hydrated skin. Check for any new acne spots or irritations before beginning. While dermaplaning doesn't require general anesthesia, the dermatologist or licensed esthetician will sometimes use a numbing cream or spray applied to the face about half an hour before the procedure. It's common to feel a scratching or stinging sensation on the skin, but dermaplaning should not be painful.This treatment can last anywhere from a few minutes to half an hour. After the dead skin and hair are removed, the person doing the dermaplaning will usually apply a soothing gel or ointment to the face to reduce redness, swelling, or irritation.
What's the difference between dermaplaning, dermabrasion, and microdermabrasion?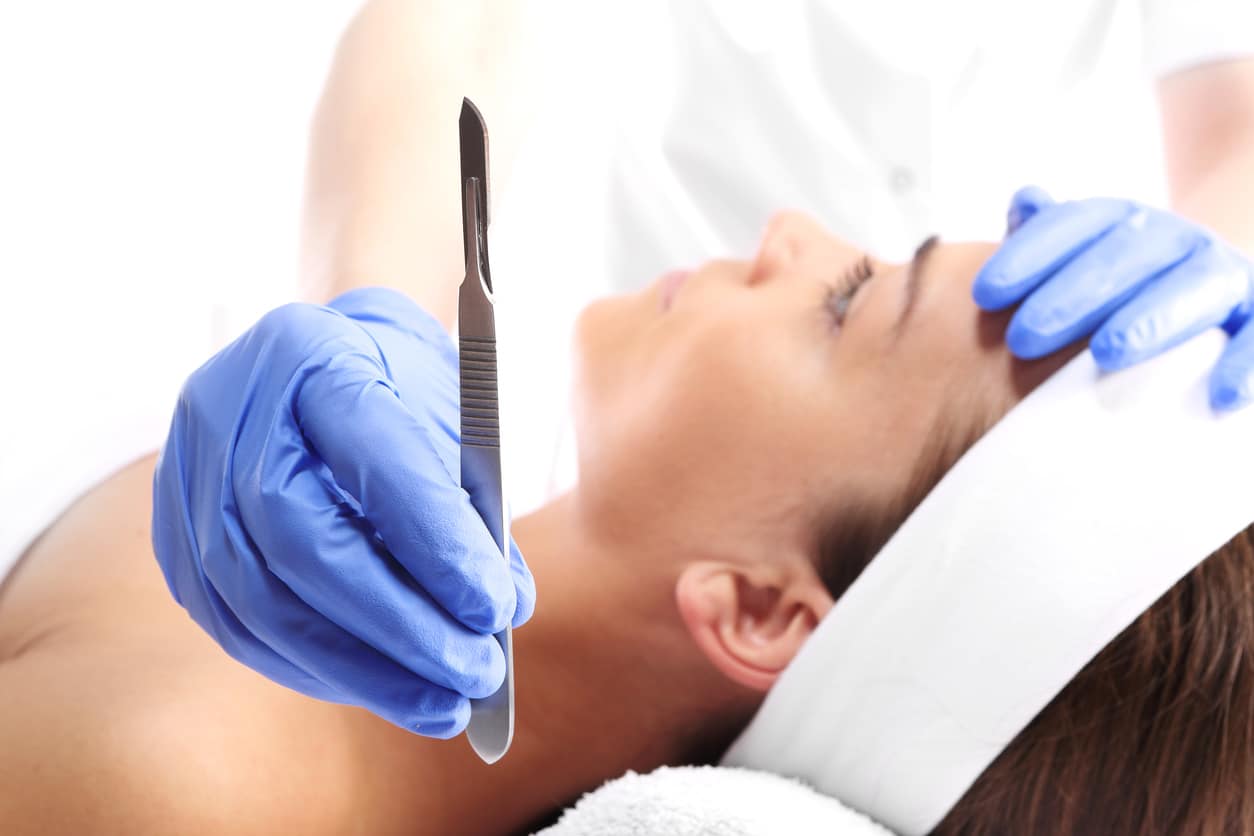 There are lots of options out there for skin resurfacing, each with varying degrees of prep work, recovery, and results. Dermaplaning, dermabrasion, and microdermabrasion are all types of non-chemical, non-invasive skin resurfacing procedures. Each of these treatments utilizes a different tool and removes varying amounts of skin. While dermaplaning uses a specialized scalpel to remove dead skin, dermabrasion utilizes an electrical device with asmall, oscillating blade that moves back and forth to "skim" the top surface layers of skin. Dermabrasion is the more "aggressive" resurfacing technique compared with dermaplaning and microdermabrasion. It is sometimes a surgical procedure and may treat more wrinkles or scars than the other two can reach. The trade-off to this is that, as opposed to dermaplaning, dermabrasion comes with more recovery and downtime.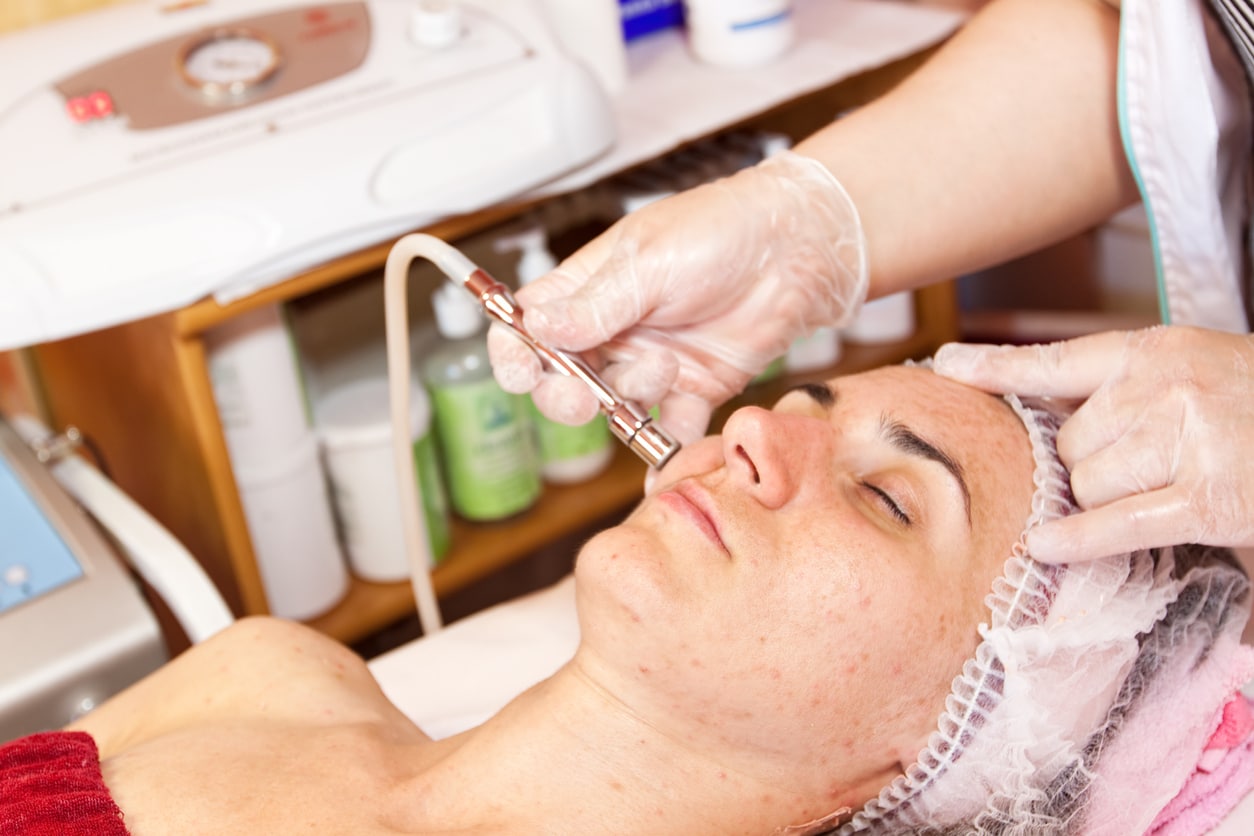 A chat with a dermatologist or licensed esthetician can uncover the best course of action based on your skincare goals, challenges, and budget.
Tips for after-care
Skin resurfacing techniques can sometimes come with short-term effects that should be monitored. Following dermaplaning or dermabrasion sessions, women may notice their skin is a bit red and swollen or experience a slight tingling, burning, aching, or even scabbing. Typically though, dermaplaning has little to no recovery time. After dermaplaning, patients should apply a soothing serum or moisturizer, avoid direct sunlight (definitely use a reliable sunscreen), and avoid touching the face and applying makeup right away, as pores will be wide open and more susceptible to clogging and irritation.
How often for best results?
The glowy results of a dermaplaning session can last up to four weeks. Most patients who enjoy the benefits of dermaplaning repeat the procedure about once a month, which coincides with how often the body is naturally replacing skin cells. That said, more or less frequent visits all depend on a person's specific needs and skin conditions. While regular dermaplaning will not halt the aging process, it is an effective way to brighten the face after a dry spell, remove peach fuzz, and even help products penetrate deeper and make makeup go on smoother. It's like hitting the 'reset' button with instant results. In the words of Ina Garten, "How bad can that be?"Read Next:What is Face Taping, and Does it Work?Hair-Removal Techniques: Waxing versus SugaringTreat Your Skin Right with the Best Hair Removal Cream