Sponsored post.
Summer has really flown by this year; it almost seems like it's gone faster than in years past. We've spent an extended amount of time at the pool and lake this summer, basking in the sun and taking the opportunity to enjoy a relaxing float or go for a fun ride on our boat. As much fun as it's all been, it's definitely taken a physical toll on all of us. My skin is a bit dryer from all of the sun and continual sunscreen applications, and my hair has gotten increasingly coarse and frizzy with all the harsh conditions it's had to face.
I realized my hair needed a little pick-me-up, so I scheduled a visit with my hairdresser. She gave me a deep conditioning treatment and then gave me some options for healthier hair. I could either stop putting my hair through the wringer, causing a consistent flow of damage; I could stop coloring it to help keep it from drying out (this is NOT an option); or I could start treating it right with the proper tools and products.
She recommended a top-notch shampoo and conditioner combo as well as a leave-in treatment, but she said if I don't stop using heated styling tools every day, I wouldn't see much progress at any point. I have thin, fine hair that gets poofy and frizzy if I don't blow-dry it after showering, so this didn't seem like an option. Fortunately, she had a great suggestion that allowed me to keep my normal styling routine without damaging my hair. She recommended I invest in a Zuvi Halo Hairdryer.
Welcome to the Zuvi Life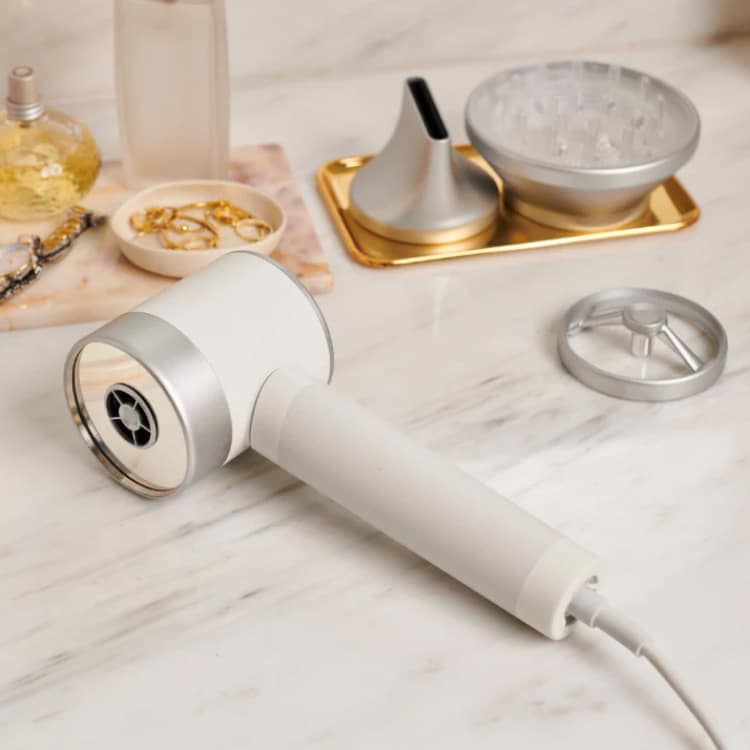 While my daughter is up-to-date on all things trendy, I admit I'm a bit behind the times, so when I started looking into the Zuvi Halo Hairdryer, I was surprised by how technologically advanced it is compared to my normal dryer. You see, the folks at Zuvi decided to answer the age-old debate of which is better: air drying or blow drying. They found a ton of pros and cons to both, but in the end, they found that a combination works best.
While air drying is healthier for your hair (goodbye heat damage), it can take too long when getting ready for the day and can cause uneven styling and drying challenges. To get the best of both worlds, the company created a solution that took the pros of both and combined them in the Zuvi Halo. Basically, it's a high-tech hair dryer that combines the best of air drying with the precision and control of blow drying.
I was intrigued, so I not only researched the dryer online but I went to my most educated sources: my hairdresser and my teenage daughter. My hairdresser was able to explain how the technology worked and how it could prevent damage. My daughter, on the other hand, simply told me that it's been all over the internet and that influencers everywhere have been touting its benefits. When I told her I was going to purchase one, I kind of achieved hero status… And we hadn't even used it to see how awesome it was yet. (If you have a teenage daughter or granddaughter, you'll understand how nice it is to hit a home run with her. It's not easy, and it rarely comes with the benefit of getting great hair too.)
How Does Zuvi Halo Work, Exactly?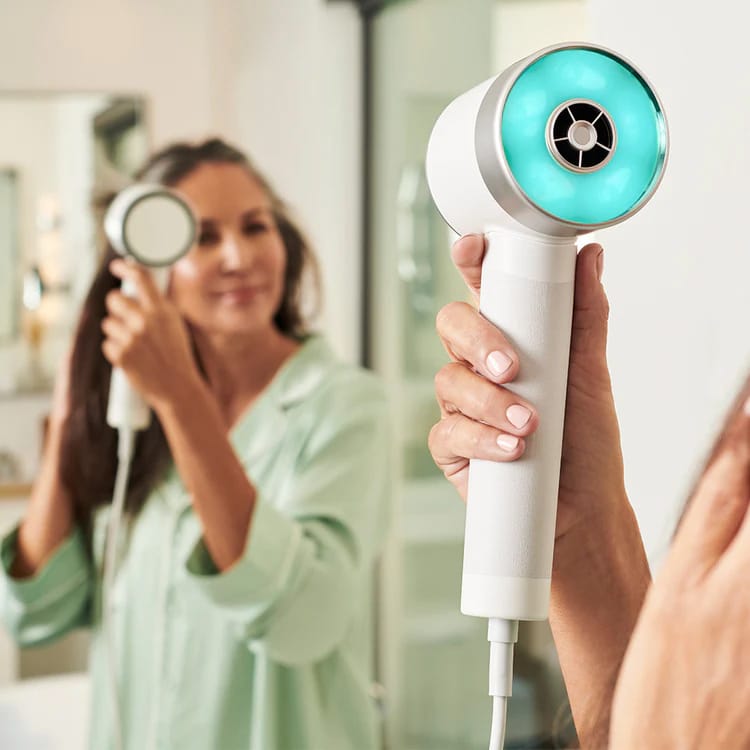 As mentioned, Zuvi removes the damaging effects of a heated dryer while giving you the precision and control that your typical blow dryer allows. It does this by leveraging a patented technology called LightCare™, which uses a combination of wind and beneficial infrared light. If you want to get a mental picture, imagine the sun coming out after a light rain. Between the light breeze and the heat of the sun, the water quickly evaporates, leaving behind little evidence that it ever rained at all, but without leaving the area looking parched.
On top of that, Zuvi Halo has a number of settings to suit your daily needs. If you're not in a hurry and want to give your hair extra attention, use the Care or Soft mode, which use gentler temperatures optimized for hair and scalp health.
There's also a styling option when you're planning to get ready for the day or for a night out. I love to use this setting and a round brush to give my hair more volume and a little bounce. It works so well that I no longer have to use my curling or flat iron to soften out any kinks. This allows me to not only save my locks from extra heat damage, but it also saves me time because I'm combining styling steps. When I'm done, my hair is soft and shiny, and it feels better than it has in years.
Step Into the Lab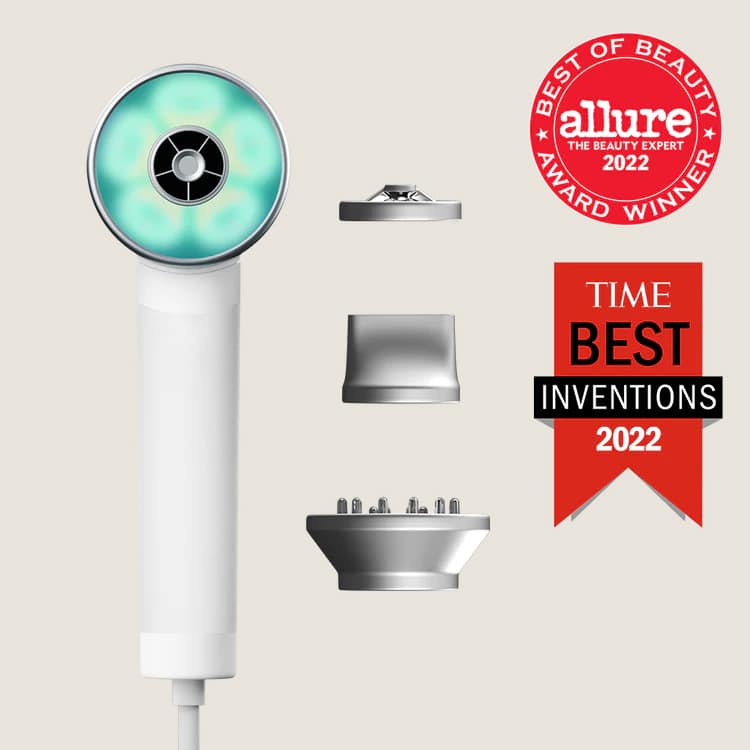 Don't just take my word for it; Zuvi created a hair lab that's actually proven what I've experienced. In their testing, they found the following:
Moisture: By understanding the relationship between water content and micro-scale changes from applied heat, the Zuvi specialists were able to adjust heat levels and protect the inner cortex of the hair shaft, leaving hair 109% more hydrated than when dried with other hair dryers.
Smooth: No one wants frizz. In the Zuvi Hair Lab, they created a world-first testing machine to mimic the effects of running your hand through your hair. Calculating the resistance force allowed them to build a dryer that leaves hair 17% smoother than when using other hair dryers.
Shine: To test the impact of the Zuvi Halo on hair luminosity, they used a carefully designed tool, uniquely positioned LED lights, and hi-res cameras to detect variations in light reflected off hair in a dark room. Their testing proved that by using the Zuvi Halo, the hair reflects more light (38% more shine!) than overdried hair with a flaking cuticle structure.
Color: Blasting heat strips hair of color, leaving colored locks faded and dry. Their experiments show that the Zuvi Halo locks in hair color for 57% longer due to LightCare™ technology.
Strength: Hydrated hair means stronger hair. At the Hair Lab, they designed a strength test to measure moisture content and hair pliability. The result? Hair strands were 9% stronger when using the Zuvi Halo versus other dryers.
Conclusion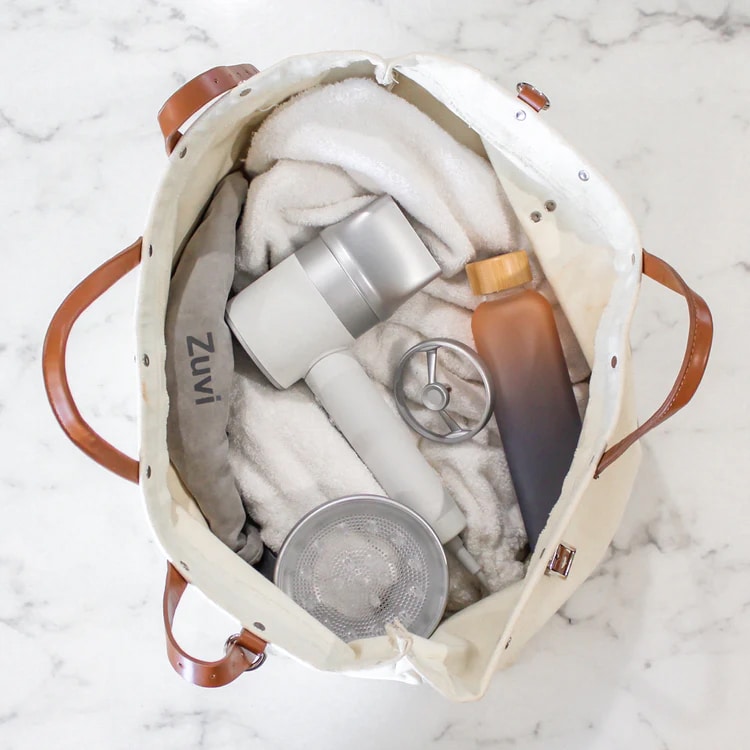 The first time I used my Zuvi Halo, I couldn't believe how awesome it was. Gone was the loud blaring noise of my old dryer, and my hair feels stronger and healthier after styling. I'm ready in less time, and my daughter spends time getting ready with me in the morning so she can also take advantage of everything Zuvi has to offer – and that's the best benefit of all.
Want to take the Zuvi Halo for a spin? Get 12% off with code PRIME12 or by visiting their website! If Zuvi is already having a promotion, use code PRIME5 for an extra 5% off!