Delicate green leaves decorate stark winter branches, flowers push their bright heads out of the loamy ground, and the wide blue sky welcomes us out for long evening strolls. Spring feels light and new, and it invites us all to feel the same. So, let's take it from the top—and that means hair! Spring 2021's top trends in hair accessories echo the season with delicate embellishments – especially pearls, bright baubles, and flowers everywhere you look! Here are the best hair accessories online this spring.
Best Online Hair Accessories for Women
Bobby Pins
Bobby pins are the hair accessory everyone can use. Fine, thick, straight, curly, long, medium, or pixie short: bobby pins will be your best friend this season. Here are some styling options:
Pixie Cuts & Shorter Styles
Bobby pins are the perfect way to pull back your fringe, either to the side or straight back, in order to highlight your best feature. They're also the top trend to show off versatility in your cut and complement your outfit, be it cute & funky or something chic & timeless. The lonna & lilly bobby pin set would be a fabulous choice.
Bobs & Paige Boys
This classic precision-cut calls for a simple style. Try using a deep side part, then pin back the thicker sweep of hair just behind your ear. You can leave the other side loose or tuck it back. I'd use the Mixed Glam Bobby Pins because they're simple & artistic. For a flirtier look, loosely twist back the sides of your hair and secure them together midway below the crown of your head using two or three bobby pins like the Bacha Paris Bobby Pin Set.
Longer Locks, Layered or Blunt Cut
Go romantic with some lovely little pins like the Bunny Bridal Pearl Hairpin Set! Gather your hair into a loose bun and randomly arrange these crystal pearl-adorned bobby pins to create a delicate look that is sure to impress. A more polished version of this style calls for sleekly combed hair and a tighter bun with bobby pins placed in key locations. I recommend sets of two on either side of your head near the crown and another two centered at the back of your head beneath your bun. Again, the Bunny Bridal Pearl Hairpin Set would look smashing for this style!
However you choose to wear them, bobby pins are THE hair accessory that will take you from day to night this spring and transition easily through the rest of 2021. This means you definitely shouldn't feel guilty splurging on a few sets at a higher price point; they'll be your go-to luxe item that lasts all year!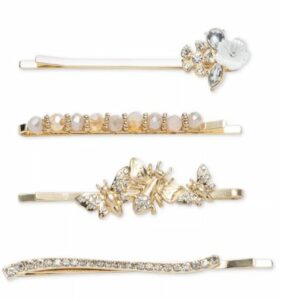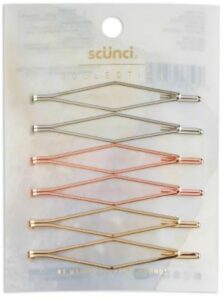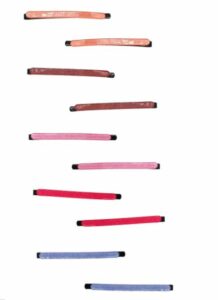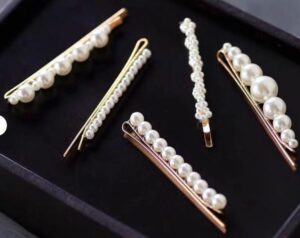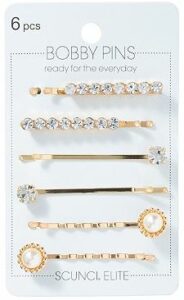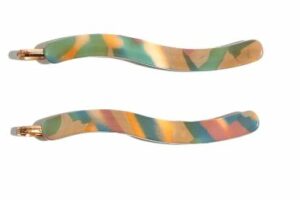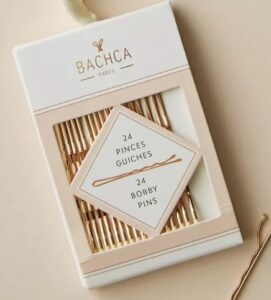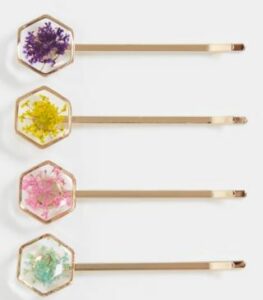 Headbands
Headbands are back in a big way this spring! While the slimmer silhouettes of seasons past are still an excellent option, headbands with retro-styled volume are popping up with all sorts of knots, twists, bows, and braids. And as someone who's sported styles as short as the velvet buzz of early '90s Sinead O'Connor, and as long as the waist-length locks of your typical California surfer girl, I can testify that the headband works with every cut. The key to choosing a headband that will accentuate both your best facial features and your best fashion sense is all about where you add this season's volume.
Face Shapes & Finest Features
Retro turban knotted headbands typically add volume everywhere, but the eye is drawn upward because the knot is the focal point. This style works best on someone with a face that doesn't mind a little visual lengthening, such as a round, square, or heart-shaped face.
Braided, puffed, and embellished headbands work for every face shape. However, if you're like me and have a longer oval face, I recommend choosing a headband with embellishments that are off-centered or asymmetrical so that the volume adds width instead of length.
No matter which lovely face shape you possess, spring is the time to take advantage of this top hair accessory trend in all its fabulous incarnations. Play with patterns, textures & textiles, frills & finery, and every decade from the '60s to the 80's to the RIGHT NOW—you won't go wrong with the headband.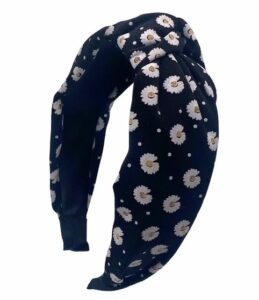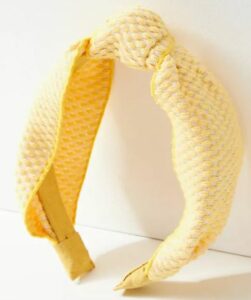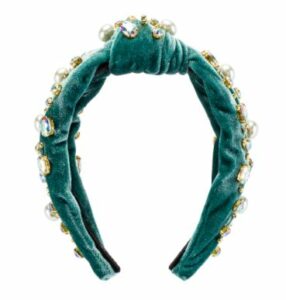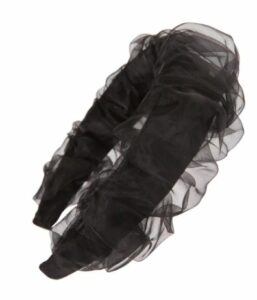 Big Bows
Forget big bows as the fashion accessory of little girls and cheerleaders! Spring's big bow is for YOU. This hair accessory comes in every form & fabric to suit your sartorial style and coiffure. Longer locks look lovely in a low, loose pony held in place with something sweet like the blue Pieces organza hair tie with a bow. For a tighter hold, try a bow attached to a scrunchie hairband. This sort of bow holds your style in place AND protects your hair from the breakage of normal elastic bands. And if you've got a pixie or shorter cut, don't feel left out! There are lots of big bow options attached to disappearing headbands like the Anthropologie Embellished Bow Headband.
Big bows are having their moment, and you definitely don't want to miss out on this fresh, lighthearted hair accessory!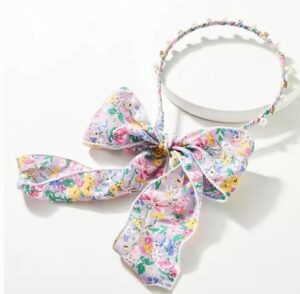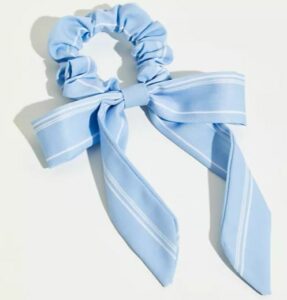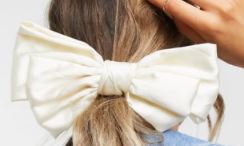 Hair Clips & Barrettes
Like bobby pins, hair clips & barrettes are a universal hair accessory. They work for every cut, style, and occasion. And they do it with a panache that makes achieving any look seem effortless. Spring's take on clips and barrettes feature unique textiles like the Naomi Hair Clip Set, pretty detailing like the scrollwork on the Couture Jaw Clip, and eclectic shapes & color patterns like Cehomi's Pearl Hair Clip Set and Marie Banana Hair Clip Set.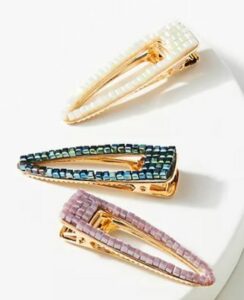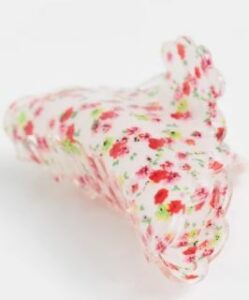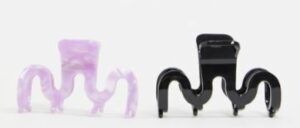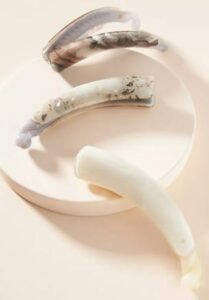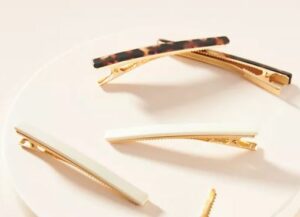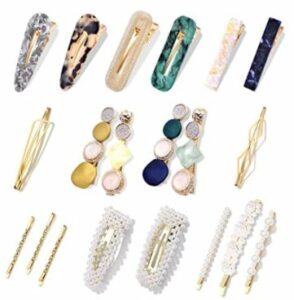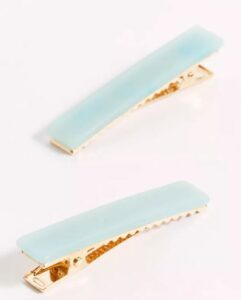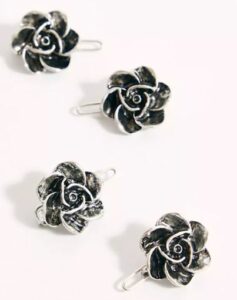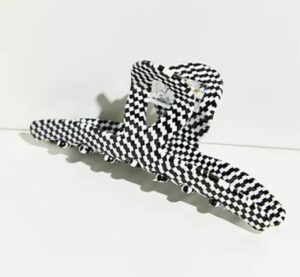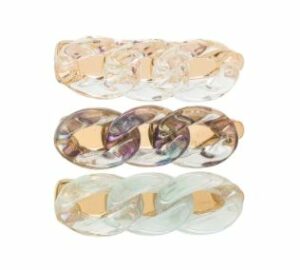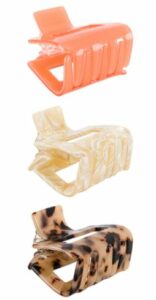 Since these hair accessories draw a lot of visual interest, I suggest letting them shine solo or in a duet. But that's not a hard & fast rule because this spring, the only rule is to have a little fun with your hair!
Read Next:
Handbag Trends for Spring 2021
5 Best Products for Curly Gray Hair