Countless cosmetic procedures are available, from Botox to collagen injections to the more invasive facelift. But would you be on board if you could get similar (albeit temporary) results in a few seconds and spend only a few dollars as opposed to thousands? Enter facelift tape. Easy to apply, it instantly provides a more youthful appearance and lasts for hours. Here's everything to know about facelift tape and why it may be the solution you've been looking for.
Disclaimer: I would never tell you that you must change your body or face, as you're beautiful no matter what. Having written that, if you're looking for a noninvasive product to make you feel your best, this article on facelift tape is for you.
My Experience with Facelift Tape
True story: I first discovered the awesomeness that is facelift tape at my local bin store (if you have one near you and enjoy a good bargain, definitely check it out.) and bought it on a whim. As it was only a few dollars, I thought, let's give it a go and see if it really works or if it's a waste of money.
Fast forward to the day that I tried it. Always one to balk at quick fixes, I was pleasantly surprised at how well it worked. I used it on my temples and taped it towards my hairline, and, wowza, it lifted my eyes to make me look far less tired. Then, I tried it on my chin, where I'd like to have a more sculpted look. It was like my face had just been airbrushed around my jaw.
So, if it's something I never knew existed until recently, I thought our readers might be in the same boat and would benefit from knowing about it.
First, What Is Facelift Tape?
In a nutshell, facelift tape is an easy, fast, and affordable product to temporarily reduce the look of aging on your face and neck. And if you're wondering if it is easily visible, the answer is happily a no.
It has a matte texture that, when applied under makeup, is not really visible unless you're in the sun or bright light and claims to be hypoallergenic, so it won't cause skin issues. It also matches all skin tones as it's a clear formula. It's breathable (so you won't have to worry about sweating underneath it) and is waterproof as well.
It helps with:
Forehead wrinkles
Crow's Feet and eye wrinkles
Sagging face and neck
Double chin
Nasal folds
Marionette lines
Cheeks
This product would be ideal for photo sessions, weddings, and other special occasions where you want to look freshened up.
As a rule, if you can hide the facelift tape around your hairline, it's even more invisible. Each pack of facelift tape comes with instructions to read before you use it. And if you're still unsure, there are plenty of videos on YouTube to check out if you're a more visual person.
How Does Facelift Tape Work?
It's a pretty simple concept, really. It's pretty stretchy, so you peel off the backing tape and pull it taught. Next, apply to the area of your face you want to correct. After you hold it in place for three seconds, let go, and it will pull back to its original length. The last step is to apply your foundation and other makeup as usual.
You'll want to ensure the area you plan to use the tape on is thoroughly cleansed and doesn't have any creams, serums, or lotions on it, as it may affect the product's stickiness.
To remove, it's recommended that you use some makeup remover to gently break the adhesive barrier instead of pulling the tape off to lessen the risk of redness. Also, never sleep in them to give your skin a break from stretching and adhesive.
The new-age facelift tape is different from the type that's been used for decades as it doesn't use stretchy wires or fishing line-style string to lift and pull the skin, making the learning curve much easier to grasp. Once I got used to it, I forgot that I had them on as I went about my daily routine.
How Much Does Facelift Tape Cost?
An actual facelift costs in the thousands of dollars, and Botox or collagen injections creep up to the hundreds to thousands. Facelift tape sets on Amazon, however, cost anywhere from $15 to $20 depending on the brand and how many pieces of tape come in a shipment. In general, you can expect to get 40 to 100 pieces per order.
Try It Out!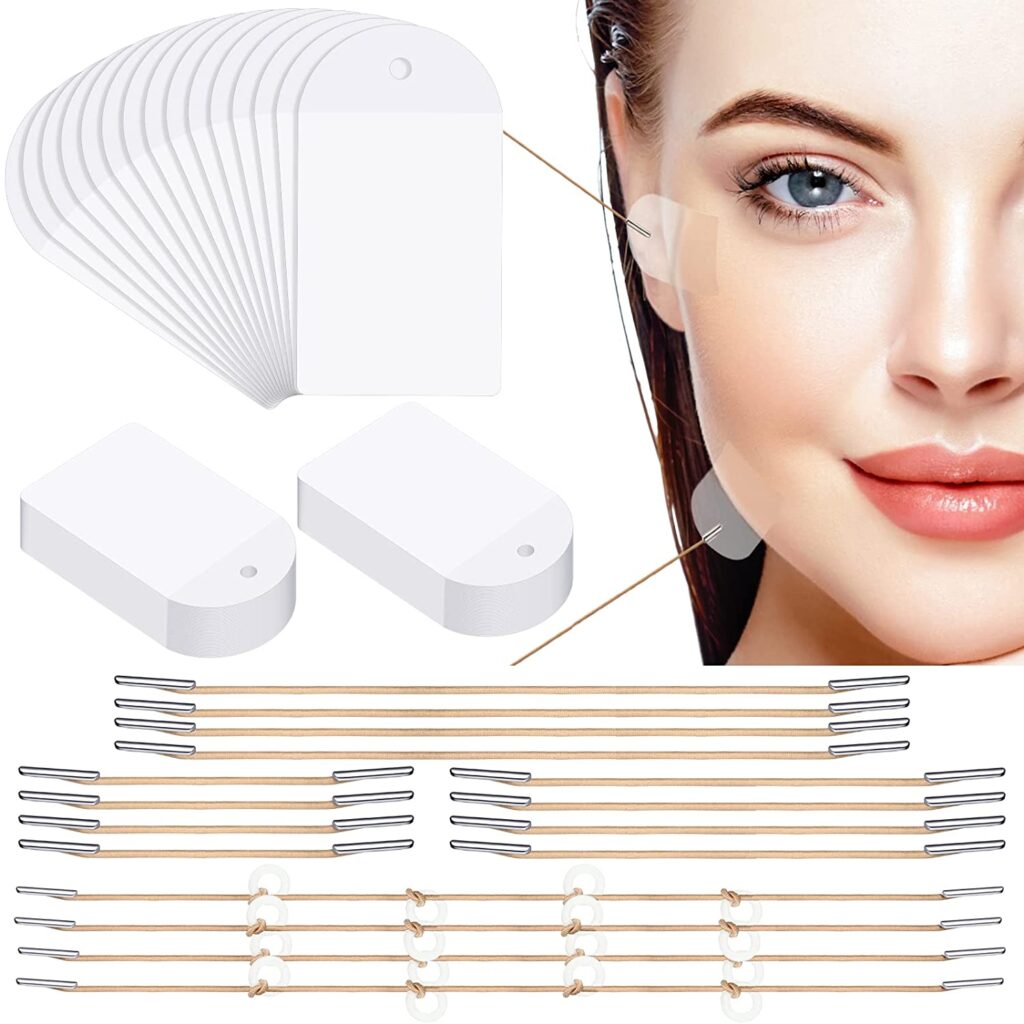 Read More:
The Liquid Facelift: Are Fillers or Stimulators Right for You?