A recent search on how to "lighten" up your Thanksgiving dinner had some interesting options. For your stuffing, they suggested you use rice, barley, or quinoa instead of bread crumbs. That would be okay if you were going for a gluten-free option — certainly not for taste. To lighten up your sweet potatoes, get rid of those tiny little marshmallows or pecans and add grated ginger and lightly sautéed garlic. Yum, right? Or how about substituting butter and milk in your mashed potatoes with Greek yogurt and chicken broth? Doesn't all that sound delicious? No? You don't think so? Neither do we.
How about instead of decimating all those wonderful dishes your family has been enjoying for generations, you prepare them with the ingredients just as the recipes dictate. Sit and enjoy your meal and your company, and worry about calories or overindulgences later. After all, Thanksgiving only comes once a year!
Eat What You Love But Skip Processed Foods This Year
If butter, cream, cheese, and bread were all that bad for us, the French would be fat and die early deaths, which they aren't. What the French aren't eating is a lot of processed foods. Perhaps you should find a better recipe for that old standby, green bean casserole, mainly because it calls for processed foods. Even if you use fresh or frozen green beans, you are still adding a can of cream of mushroom soup and French fried onion rings, which are truly bad for you. If you absolutely must have a green bean casserole, check out the recipe below.
Focus on Friends and Family, Not Food
Another thing the French do is take time to enjoy their meals and savor all the flavors in the food. They also eat much smaller portions than we do. It is amazing how full you will feel with less food if you eat slowly and pay more attention to the conversation than whatever is on your plate. So have all the Thanksgiving dishes you love, just less of them, and save room for a small dessert. DON'T stuff yourself and decide to have your dessert later. You will eat a much bigger piece of pie or other desserts once your stomach has had time to empty. And speaking of desserts, you might try this recipe for lemon goat cheese tart as an alternative to pecan and pumpkin. It is fabulous.
At Prime Women, we believe that enjoying good food is one of the pleasures of life and one we don't want to sacrifice with age. That is why we launched our own weight management program. It is called PLATE, an acronym for portion control, lifestyle, accountability, timing, and exercise. Under the PLATE system, you could still enjoy your Thanksgiving dinner with all the trimmings without feeling the least bit guilty in doing so. This is because PLATE focuses on portion sizes, among other things. If you want to try a weight management program that's not restrictive but instead concentrates on smaller portions, then the PLATE App by Prime Women might be for you. Watch the video on the Apple App or Android that describes the program.
This year enjoy all the food and traditions you love and send the leftovers home with the kids or guests (save the turkey breast meat for yourself) and take a nice, long walk. Happy Thanksgiving!
Homemade Green Bean Casserole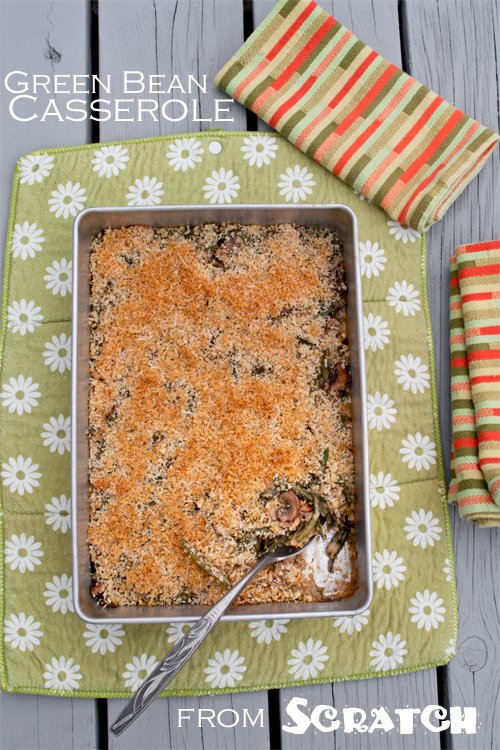 Ingredients:
1 cup panko breadcrumbs
1/2 cup finely grated Parmesan cheese
salt
black pepper
olive oil
1 and 1/2 lbs. green beans, trimmed and cut into 2-inch lengths
8 ounces mushrooms, thinly sliced
1 medium onion, thinly sliced
3 Tbsp flour
1 (370ml) can of 2% evaporated milk or whole milk
Directions:
Preheat the oven to 425ºF.
In a small bowl, combine the breadcrumbs, Parmesan cheese, 1/2 teaspoon of salt, 1/4 teaspoon of pepper, and 1 tablespoon of olive oil. Set aside.
Combine the beans, 1 tablespoon olive oil, 1/4 teaspoon of salt, and 1/4 teaspoon of pepper in a 13×9″ cake pan.
Roast for 10 minutes and then shake the pan. Continue to roast until beans are fork-tender, 10-15 more minutes.
Meanwhile, warm 1 tablespoon of olive oil in a large skillet over medium-high heat. Add the mushrooms and onions and cook, occasionally stirring, until well-browned, 7-9 minutes.
Reduce heat to medium. Add 1/4 teaspoon of salt and the flour. Stir well to coat all the mushrooms in flour. Stir in the evaporated milk. Heat while stirring continuously until the liquid is bubbling and thick.
Taste and add more salt and pepper if needed (I add about another 1/4 teaspoon of each).
Pour the creamy mushrooms over the beans and stir to combine. Sprinkle with the breadcrumb mixture and bake until browned on top, 18-22 minutes.
This article is for informational purposes only, is not intended to override any dietary restrictions you may have, and is not a substitute for medical advice.Read Next: Why You Need to Change Your Exercise and Diet Plan after 50All You Need To Know About the Elimination DietA Beginner's Guide to the MIND Diet