There is a fabulous freelance pastry chef in Dallas, Darren Deville, who created this tart just for me. I absolutely love it because it is very tart and lemony with a creamy filling and a crisp crust that is like shortbread.  All these things combined make it irresistible and one of my favorite desserts. You can't eat just one bite!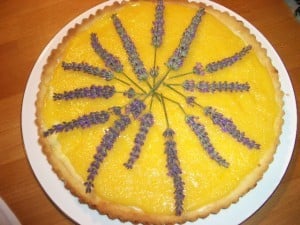 There are several steps, but if you are so inclined, you can make the crust a few days ahead of time and leave it in the tart pan wrapped tightly with plastic wrap. Then, on the day you plan to serve the tart, merely make the little goat cheese filling that is like a cheesecake filling, bake it, and then top it with lemon curd.
I taught this recipe many, many times at my cooking classes at La Combe en Perigord in the Dordogne Region of France. And last week I served it in place of a birthday cake. I just stuck little candles in the tart and voila.
The recipe was first published in my cookbook, The Cheese Lover's Cookbook and Guide, Simon & Schuster 2000.
Tart Crust
1 1/4 cup unbleached all-purpose flour
1/4 cup powdered sugar
10 tablespoons (1 1/4 sticks) unsalted butter
Filling
4 ounces goat cheese (1/2 cup)
1/2 cup crème fraîche or sour cream (4 ounces)
1/4 cup sugar
1 egg
2 1/2 teaspoons unbleached all-purpose flour
Lemon Curd
6 egg yolks
1/2 cup freshly squeezed lemon juice
1 cup sugar
4 tablespoons (1/2 stick) unsalted butter
Serves 8
Tart Crust
Preheat the oven to 350º.
Combine the flour, powdered sugar, and butter in the workbowl of a food processor. Pulse until a soft ball begins to form on the blade. Be careful not to overmix. Remove dough and press into the bottom and up the sides of an 11-inch tart pan with a removable bottom. You can place a piece of plastic wrap over the crust crumbles and press the dough into place. Place in the refrigerator to chill for about 10 minutes, then place in the oven and bake for 15 to 20 minutes, or until golden brown. Remove and set aside and let cool.
Filling
Mix goat cheese, crème fraîche, sugar, egg, and flour together in a small bowl. Pour this mixture into the tart crust. Tilt the pan so the cream filling covers all the crust. Place in the oven and bake for 20 to 25 minutes, or until just set.  Set aside and let cool.
Lemon Curd
Combine egg yolks, lemon juice, and sugar in the top of a double boiler. Place the top pan of the double-boiler over simmering water. Cook over medium-low heat until the mixture thickens and coats the back of a spoon, about 10 minutes. Wisps of steam will start to rise from the mixture as it thickens. Remove from heat and stir in the butter.  Set aside to cool for 10 to 15 minutes. Pour over the baked tart.
Refrigerate for 1 hour before serving.  Garnish with flowers or herbs – and say hello to one of your new favorite desserts!
To serve, slice into wedges.
Copyright © 2000 by Paula Lambert, The Cheese Lover's Cookbook and Guide, all rights reserved.