Fear of missing out, or FOMO as it is frequently referred to, is a real thing. You hear the phrase most often from younger people. I began to realize its significance recently when my daughter proposed an activity for us. At my age, a proposal of an activity for "us," whether it be by the daughter, son, niece, nephew or neighbor, is a crumb we all passively beg for. Was I considering this opportunity because it's something I'd enjoy? Or was I considering it because of the fear of missing out?
I was invited to compete in a triathlon with my daughter.
Many of you may be thinking, "Who cares if you miss that, at least you won't die" or, "What's the big deal, just go do it for the fun of it." My dilemma was that my daughter and I are both former college athletes. Obviously, it's been quite a bit longer since I sprinted around the track or over the hills of a cross country course than she, but we have a common camaraderie having both competed at the same level. So, this invitation was more meaningful than the average person's would have been. This would be a chance to do something competitive together. I never like missing out on that.
> READ: MOVE IT OR LOSE IT: STAYING ACTIVE OVER 50
Although I sometimes think I want to compete in a triathlon because I do swim, cycle and run regularly, I do not have the ability to just do a race for the fun of it. In fact, let's examine the word and thought of fun in reference to said event. There lies the problem. Although I enjoy recreationally swimming for active rest and I do like cycling and I do run some to stay in shape for soccer, the idea of putting them all together without stopping does not sound fun. The event was also going to be held at a location 6,000 feet above sea level.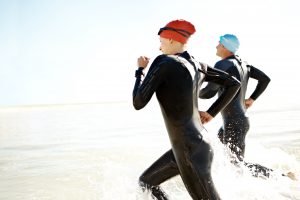 Still, I immediately started thinking about how I'd be able to put the triathlon arrow in my quiver. I could tell all of my old (in so many ways) teammates all about my accomplishment. One of my friends had just trained for and completed a marathon in Ireland. So, here was my chance to brag a little. Think of all the great pictures I could post. Competing against all the other competitors was exciting to think about. I thought of sharing this event with my daughter. I did not want to miss out on anything.
As I began to really consider the possibility, I realized that this might be an event that I was approaching more with a FOMO mindset.
I am a competitor. Even without being in a competition and in doing so, I often beat myself up. I get injured or sick or just plain exhausted. I have been playing soccer as an adult for 25 years, so I have pushed the limits and know my own. Altitude is a demon for me. I considered each event. The running I could probably stumble through. The cycling I could coast some if I needed to. But swimming in a lake at altitude? I measured the time I had to train and thought about the equipment I'd need.
I realized that I could not think of one thing that sounded good except being done with it.
I've lived through the pressure of competing in races I wasn't in shape for or was not competing at the level of. With my competitive nature, I don't need the potential humility of what altitude and age might bring. I guess I'm not mature enough to just do it for the fun of it. I begged out.
> READ: HOW TO GET STARTED WITH SWIM WORKOUTS
Ultimately, my daughter decided the altitude and temperature of the water was a deal-breaker for her too, but the whole thing got me thinking about FOMO. What does it mean to our age group? I had a fear of missing out on an event with my daughter. What if she didn't ask me to do something again, just because I didn't go this time? But I also had a "fear" of missing out the chance to share and show off on social media.
How often are we considering the photo opp we might miss over the opportunity itself?
With that in mind, how many times are we finding ourselves in the situation of not fully experiencing something because we are too busy posting it online? How many times are we doing something that looks good, and actually missing out on doing something more fulfilling or important? Certainly, we can all get stuck in a rut of doing nothing because of "fear." But as it is with all of life, we need to find balance and participate with purpose. For me, if I have a fear of missing out on an activity because of missed photo opportunities or not being a part of a shareable moment, it is probably something I don't need to do.
> READ: IS YOUR LIFE AS HAPPY AS YOUR SOCIAL MEDIA PHOTOS?