The world is continually changing, and human beings have been adjusting their behaviors and habits over time. Living with an extended circle of relatives is the most common type of household arrangement for older people around the world. Still, in the United States, older people are far less likely to live this way and far more likely to live alone or with only a spouse or partner. In the U.S., 27% of adults aged 60 and older lives alone, compared with 16% of adults in the 130 countries studied, according to a recent Pew Research Center analysis of data from around the world for 2010-2018. It is essential to highlight that the concept of old age has evolved, and many people over 60 are currently living actively and independently, thriving in their new lifestyle. We highlight the best ways to stay safe as a woman living alone. Although age is often accompanied by a natural decline in our cognitive abilities, many functions of our body also are affected by the natural aging process. Today, we can see that technology has also been adjusting to these changes with more and more devices designed to promote independence many in this age group seek to pursue. According to the American Psychological Association, 12 million seniors over age 65 lived alone in the United States. Until 2014, the percentage of older adults who lived alone had quintupled from only 6% in 1990.
Is it Possible To Be Alone and Safe After 60?
Safety and security are critical for living a healthy, happy, and independent life. Consider these tips for protecting yourself while living alone. The National Institutes of Health recommends the following for living alone safely for those over 60:
Keep Emergency Numbers Nearby:
Keeping a list of emergency numbers near each phone, and another in your purse or wallet.

Programming these numbers into your smartphone and the list should include a close family member or friend's contact number, your health care provider's office, poison control, and 911

Use a medical alert system. Many companies make products that allow people to immediately call for help if they've fallen or had any other type of emergency with a simple click of a button that is always on them. Here's a popular one: Life Alert.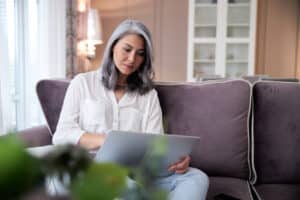 Avoid Social Isolation
Having a relationship with your neighbors can be helpful in an emergency.

You may even want to include your neighbor's number on your emergency contact list.

Ask a close family member, friend, or neighbor to call or visit once a week to check-in. These can be easily adjusted to ensure social distancing. Utilize web call apps to check-in with the loved ones around you. Those who do not see us frequently will notice subtle changes in our appearance, demeanor, and behavior )

Placing a lockbox on your door allows family, friends, trusted neighbors, and emergency personnel to access your home when you are unable to get to the door.

Keep lists of medications, allergies, and personal information in your wallet or purse. If you have a specific condition, absolutely wear a medical ID bracelet. This information can be invaluable to emergency medical personnel when they come to your home, especially if you're unconscious or unable to communicate.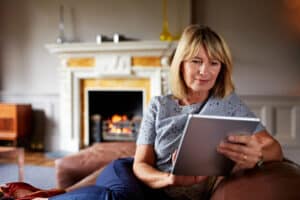 Create a Safe Environment:
Install motion-sensor lights outside your home; intruders will be less likely to sneak around. If anyone makes it near your windows or doors, the lights will turn on, and they will assume you are home and flee.

I

nstall smoke alarms

in an area of easy reach in every bedroom, as well as the other quiet and secluded areas in your house.

Be sure to test the alarms once a month and change the batteries when recommended.
Safety Around The Home
Living Room
Avoid slippery conditions by installing handrails and grab bars.

Remove safety hazards from the floors and staircases.

Take care to make sure floors are not slippery.

Also, install mats at the entry points to your house, so the floors do not get wet on rainy and snowy days.

Cover furniture corners to prevent injuries if you accidentally bump into them.

Keep a fire extinguisher on every floor.

Remove or tack down moveable rugs.

Ensure all stair rails are sturdy.

Remove electrical cords from walking areas.

Use a properly fitting walking aid
Kitchen
Mark on all appliances their On and Off positions.

Store hazardous items, like cleaning products, separate from food.

Frequently check expiration dates on food items.

Keep floors and counters free of clutter.

Store sharp objects, like knives, in a rack, not a drawer.
Bathroom
Replace the original toilet seat with a raised toilet seat with handlebars. Toilets should be between 17 and 19 inches in height. Seniors will find it easier to sit and stand.

Install nightlights on the route and inside the bathroom.

Label faucets Hot and Cold.

Maintain the water temperature below 120 F.

Securely install bath aids such as railings and grab bars.

Place non-skid surfaces on the bottom of the tub.
Don't Be Scammed
Not only are older adults more susceptible to falling, but they are also at a higher risk of falling victim tothieves. According to the National Crime Victims' Rights Week Resource Guide, those under age 12 and older adults are less likely to experience violent victimization. However, the impact of these victimizations often carries heavy mental and financial consequences. If you think you are the victim of a scam, do not be afraid or embarrassed to talk about it; waiting could only make it worse. Immediately contact legal services and Adult Protective Services if warranted. Millions of older adults fall prey to financial scams every year. Use these tips to protect yourself.
Always tell solicitors: "I never buy from (or give to) anyone who calls or visits me unannounced. Send me something in writing."

Do not buy from an unfamiliar company and always ask for and wait until you receive written material about any offer or charity.

Obtain a salesperson's name, business identity, telephone number, street address, mailing address, and business license number before you transact business.

Always take your time in making a decision.
Manage Your Private Information
Use a paper shredder and shred all documents with personal information that do not require preserving.

Monitor your financial statements and never give out personal information over the phone to someone who initiates contact with you.
Mailing Lists & Telemarketers
Register at the National

Do Not Call

to stop telemarketers from contacting you.

Do not let incoming mail sit in your mailbox for a long time.

When sending out sensitive mail, consider dropping it off at a secure collection box or directly at the Post Office.

You can regularly monitor your credit ratings and check for any unusual or incorrect information at

www.AnnualCreditReport.com

.

Never give your credit card, banking, Social Security, Medicare, or other personal information over the phone unless you initiated the call.
Unsolicited Offers
Take the time to call and shop around before making a purchase.

Take a friend with you who may offer some perspective to help you make difficult decisions.

Carefully read all contracts and purchasing agreements before signing and make sure that all of your requirements have been put in writing.
Getting older shouldn't signify the loss of your independence. Following these easy and practical tips will help you feel safe living alone. More on Living Alone Safely:Living Alone FabulouslyLeft Alone: Dealing with Fear of Your Spouse Dying First