By definition, transitions—the process of changing from one state or condition to another — tend to be uncomfortable times. Career transitions, in particular, come loaded with pressure to do well and prove oneself, quickly.
At the age of 48, I left a long and productive business career to do something I had yearned to do for decades: write a novel. I thought it'd be easy. After all, my business colleagues thought I was a good writer. But compared to expository writing, fiction might as well have been a foreign language. I soon learned that I was unable to produce on the page the flawless fiction I loved. As I stared down 50, I felt stupid, unskilled, and possibly untalented. Can you relate?
Go for the Concrete
To help me deal with this difficult transition, I chose a physical goal. I decided to hike a mountain. Why? Unlike writing, it was utterly unambiguous. What's more concrete or stable than a mountain? And my performance would be equally clear; I'd either get up and down or I wouldn't. And if I did, I'd feel good about myself and my abilities, something I longed to feel again.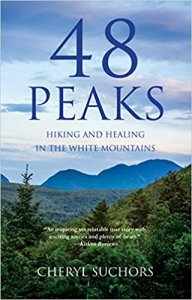 You can read about my process in more depth, and get more tips, in my recently published memoir, 48 PEAKS, Hiking and Healing in the White Mountains. You don't have to hike, of course, to achieve the same benefits during a career transition that I did. Any physical goal will do—walk a chosen distance, play tennis or golf in a tournament, run a race, or any other sporting event you decide upon. Your aspiration has to challenge you, so you'll feel successful when you accomplish it. Make sure the physical activity is something you enjoy doing. Have fun with it! Do pick a culminating event, something to work toward that helps you keep going with the training you'll do beforehand to ensure your best result.
Find a Buddy or Two
It may be hard to find a buddy in your new job or career, but it's easier for physical activities. Lots of people feel they should be more fit. Find someone to whom your physical goal appeals. If you can't think of a friend who's interested, talk to folks at a gym or swimming pool. Try Meet Up groups or clubs in your sport until you find someone compatible. Buddies give you someone to train with, to be accountable to, and to share the joy with when you complete a workout or achieve your final goal. If you can't find a buddy and can afford to hire a trainer, they can help, too.
As the saying goes, two heads are better than one, so you most likely will learn more about your chosen sport than you would otherwise. Nothing builds—or re-builds—self-esteem like learning something new. And, like I did, you might make a new friend or two along the way, something that isn't so easy later in life.
Track Your Progress Frequently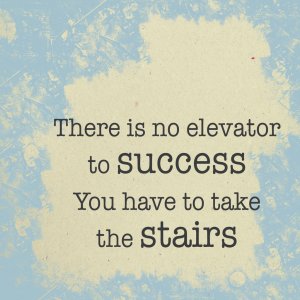 I write down my daily training, and my achievements—even work achievements, however small—in a private calendar. We forget how much we've done even in one week, much less over months, to achieve a goal. Noting progress as we go helps us feel that we are moving forward toward success, and keeps us mentally focused. Tracking any kind of progress during the ups and downs of a career transition allows one to feel fully competent, and good; and feeling good in any corner of one's life lightens the anxiety that may be present in other areas.
Sometimes I get discouraged about how slowly I seem to be improving. Then I look back in my special calendar at when I started, or even a few weeks before. That's all it takes to make me feel better. The most important aspect of success is persistence because all-important goals are achieved over a succession of small steps, none of which alone, may account for much but that collectively lead us from the starting line to the finish.
As President Calvin Coolidge said, "Nothing in the world can take the place of persistence. Talent will not; nothing is more common than unsuccessful people with talent. Genius will not; unrewarded genius is almost a proverb. Education will not; the world is full of educated derelicts. Persistence and determination alone are omnipotent."
Enjoy "Happy" Chemicals
No, I'm not talking about opioids. You've heard about endorphins, I'm sure- those lovely, natural chemicals the body releases help us endure pain and feel "high" when we exercise. They are one member of the family of "happy" chemicals our bodies provide us.
Another one in that family, my favorite, is dopamine. Dopamine is a two-fer. First, the brain releases dopamine in order to help us set and achieve goals. Then, once we do accomplish what we set out to do, our bodies flood us with more dopamine. The result? We feel a surge of pleasure. What's not to like about that?
Did hiking help my new writing career? You bet. Each surge of pleasure and sense of competency after a workout or from summiting another peak kept me going—persisting. Achievements in the physical realm allowed me to be patient with myself during the years it took to learn the craft of my highly ambiguous, messy, new career of writing. And readers, after climbing 48 mountains, I finished a book.
Cheryl Suchors is the award-winning author of 48 PEAKS, Hiking and Healing in the White Mountains, the story of a woman determined to heal from breast cancer and the loss of her best friend by immersing herself in nature and mountains, despite her fear of heights. Women's friendships play a pivotal role. Kirkus Reviews called the book, "An inspiring yet relatable true story with exciting scenes and plenty of heart."
Read Next:5 Tips for Thriving in Your Second Career10 Mental Flexibility Tips for Career Growth