Tina Frey is the founder, CEO, and designer of California-based Tina Frey Designs. Her unique resin pieces are for sale in several well-known hotels, including the Four Seasons, and sold in unique design shops and boutiques throughout the world. One of her resin stools can be spotted in Vogue's tour of Hugh Jackman and Deborra-Lee Furness's home in the Hamptons. When Kanye West recently flew out to her studio for a visit during his three-part Netflix documentary Jeen-Yuhs, he drew further attention to the California-based designer.
Launch and Growth of Tina Frey
Tina has been creative since she was a young child, first in Hong Kong and then in Canada. Despite being a prolific creator since childhood—always knitting, drawing, or sculpting—her career path first led her to the financial arena. She worked with a variety of companies in that field, from huge, well-known groups like Louis Vuitton Moët Hennessy to small retail startups. Through it all, she never stopped creating. In 2007, after spending thirteen years in a financial career, Tina Frey chose to follow her passion.
The sculptor's past experience with resin and a shelf full of books on the subject led her to use the material as the base for the majority of her art. Resin is a unique material that is durable, food safe, and comes in a multitude of colors. It can also hold almost any shape you can imagine. Although resin is the core material used at Tina Frey Designs, some pieces are accented with brass, copper-plated brass, and stainless steel.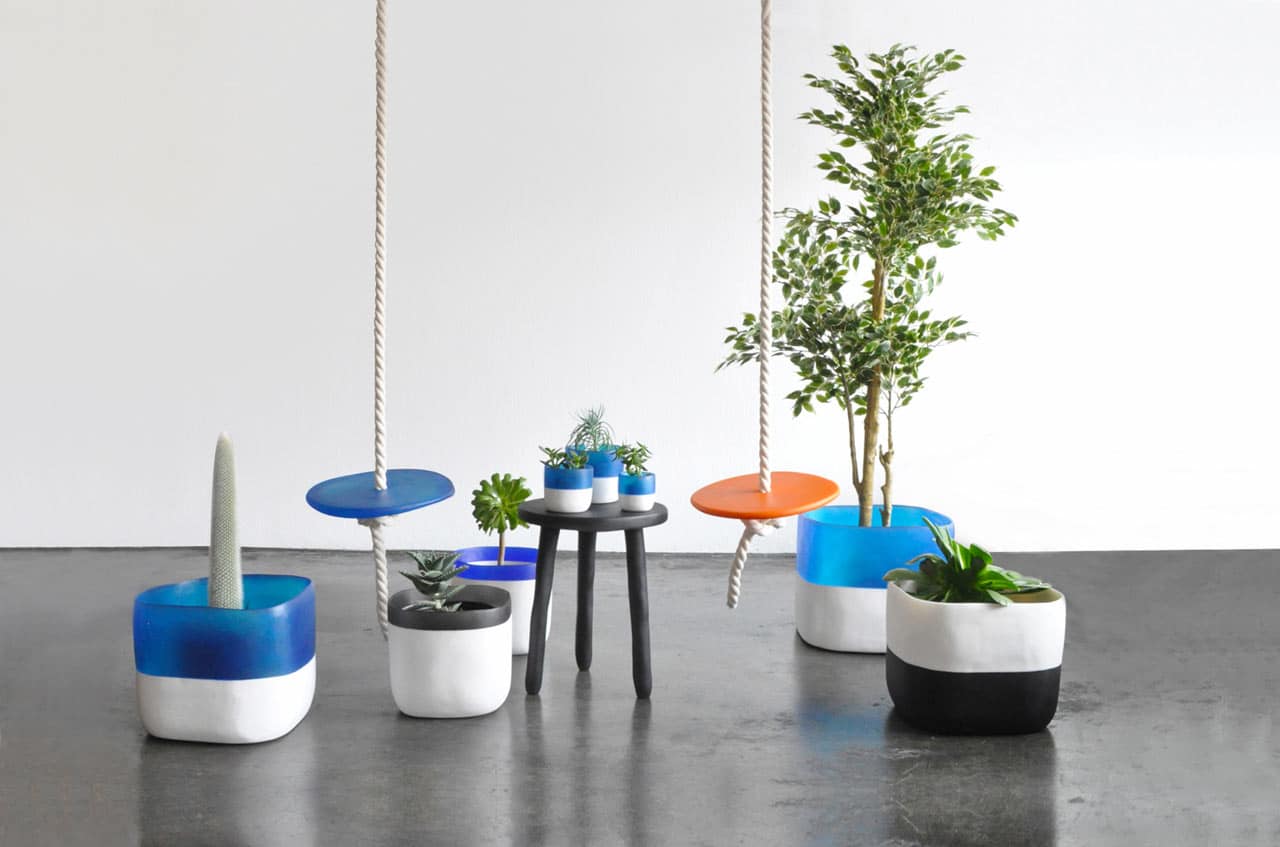 Tina Frey made her first foray into the design world at the San Francisco Gift Fair. There she presented just two styles of bowls in four different colors. Her products sold, despite the fact that she didn't bring an order form along. Initially, she created her designs at her home studio. As Tina Frey's line of products expanded, often in response to a request, she needed more space.
The business grew steadily from there. She fostered the growth of her business at a coworking space first, then moved up to a rented studio, then a small rented storefront. Eventually, Tina Frey secured her current headquarters in the Bayview district in 2018. The 7,500 square foot space that now houses her offices, design studio, and retail showroom resides in what was once a vacant warehouse.
Tina Frey's Art
With the exception of a few modern-looking pieces with precise lines, which utilize a 3D printer for fabrication, each design she offers was first sculpted in clay by Tina herself. It is then hand-cast using a mold of the original piece. Once cast, all the pieces, 3D printed as well as hand-sculpted, are finished by sanding. This process is also done by hand to ensure that each item is imbued with a handmade look and feel. The aesthetics of Tina's products are what draw the eye, but the art she creates is also durable, functional, and versatile.
Tina's designs are informed by her environment. Inspirations include simple, organic shapes found in nature as well as the movement and colors she experiences on her many travels. Many of her pieces facilitate connection. They bring people together over meals and at family gatherings and help to shape memories in the home. Her pieces frequently incorporate both minimalism and the concept of wabi-sabi in their design.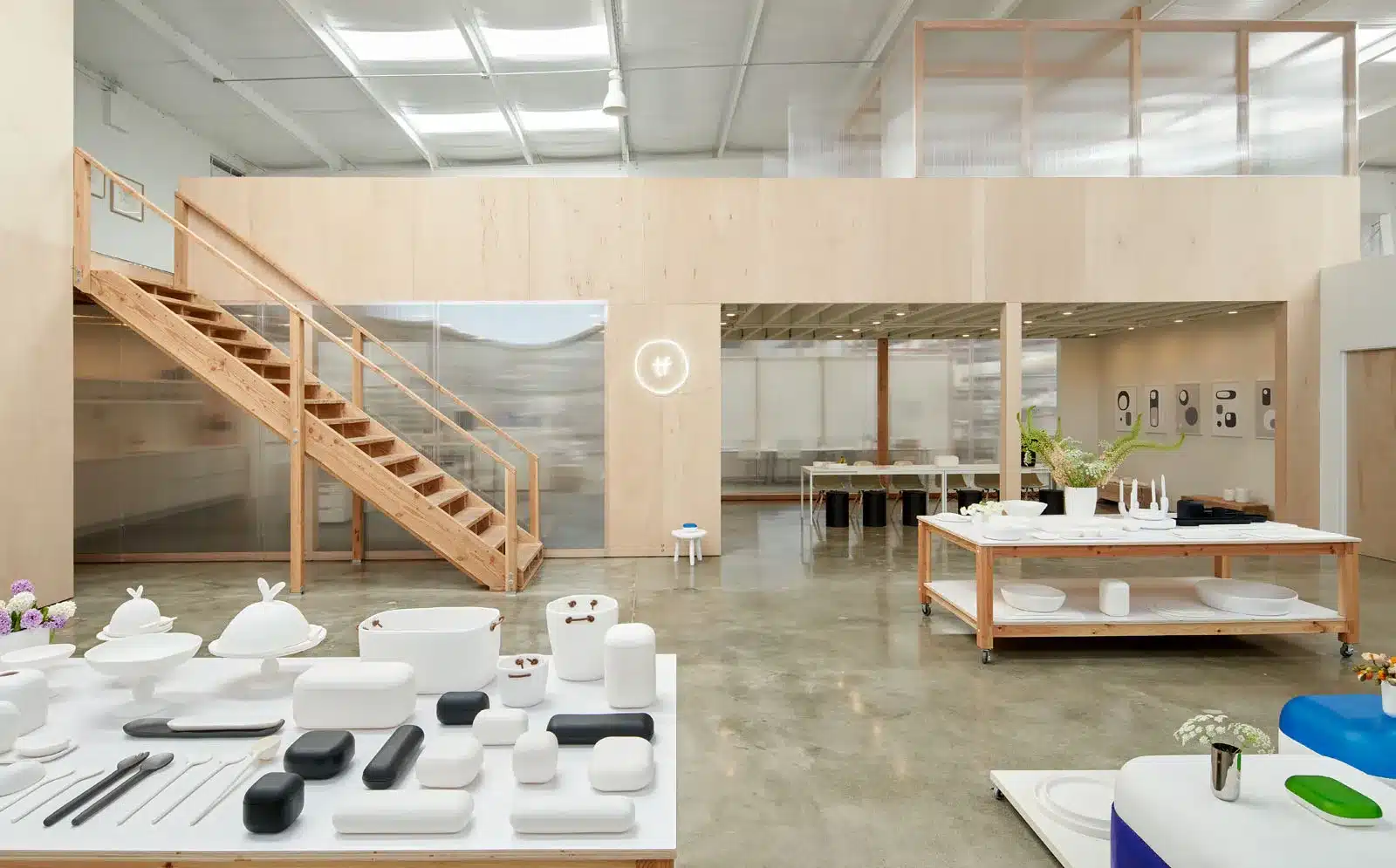 What is Wabi-sabi?
The sculptor incorporates the Japanese concept of wabi-sabi into each of her designs. Wabi-sabi is a Japanese concept and ideal that is elegant in its simplicity, much like Tina Frey's artwork. This ideal appreciates the imperfect and impermanent beauty that hides within an object's perceived flaws. Items that embrace wabi-sabi aesthetics often include asymmetry, simplicity, roughness, and austerity in their construction.
With the help of architect George Bradley, she's extended those concepts into her headquarters in San Francisco. Together they have decorated the 7,500-square-foot space with white walls, lightly toned wood, and minimalistic design. Several fluffy figurines of sheep, one of her favorite animals, are scattered throughout. It is beautifully and simply divided into three separate areas: the main showroom, her office space, and her art studio.
She also opened a temporary pop-up storefront with the same simple, organic style in Montecito in 2020. While that store has since closed its doors, according to her website, Tina Frey Designs will be opening a summer shop in the Hamptons in the near future.
Her second career has now lasted longer than her first, and she shows no signs of languishing. The novice artist who debuted at a crowded trade show with only two styles of bowls is now featured in specialty shops and design magazines worldwide. Her line of products has expanded to include not only tableware but also planters, lamps, and even a few tables. Tina and her team of artists put great care into ensuring that each unique resin creation is imbued with a sense of wonder and connection.
Read More:
Featured Women: Kaleta A. Doolin, Artist, and Philanthropist
Second Act: Stepping Out of Your Comfort Zone
Want a Successful Small Business? 5 Questions to Ask Yourself