When Grace Spampinato moved to Florida from New Hampshire, the only person that she knew was a former co-worker who lived 45 minutes away. So when illness incapacitated her husband Russ just weeks after they made the move, Spampinato found herself in a new neighborhood, with no friends nearby and no idea how to establish a new network of friends.
"It was nearly impossible to meet people, especially since Russ was unable to travel to the places or events where people close-by would get together," Spampinato says. "So aside from meeting my immediate neighbors, I didn't know where to start."
In fact, the ability to cultivate friendships often makes the difference in making a new house a home. According to the US Census Bureau, Americans age 15 years and older will relocate an average of 11 times. Meanwhile, those age 65 and older who do relocate frequently move to areas away from communities where grown children and longtime friends reside, according to the Bureau.
Finding Friends is Especially Important to Women
While establishing a new network of friends in a new place is challenging to both men and women, cultivating new friends is especially important to women, according to Ruth Venti, a Licensed Mental Health Counselor (LMHC).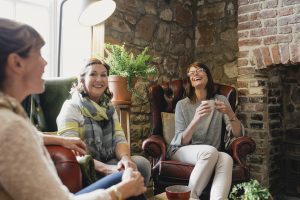 "Friendships are always important, but female friendships are especially important because they are so important to women's mental health, physical health, and even the health of the community," Venti said.
That's because women are more likely to seek out new friendships than men are. They are more likely to become involved with organizations within their new communities and are more likely to stay connected once new friendships are forged.
>READ: FEMALE FRIENDSHIP: THERE'S MORE THAN ONE LOVE STORY
How to Find Friends
Still, finding new friends in an unfamiliar environment can be daunting. Fortunately, there are web-based organizations that help women connect with others who share their locations and interests. Here are our favorite options:
Look Next Door
Launched in 2011, Nextdoor is a social networking site that connects people who live in residential communities nationwide. They offer a forum for everything from questions about the neighborhood to sharing announcements about local activities such as yard sales and theater events.
Users visit the Nextdoor website, submit their real names and addresses, and connect only with those who reside in the same community. Posts made to the site are shared only to members from the same community.
Meet-up
Meanwhile, women can connect with others who share their interests or just want to meet a new group of girlfriends by visiting Meetup. On Meetups' site, users submit their locations along with what activities or social preferences that interest them. Meetup groups use regular events to connect everyone from investors and artists to gamers, foodies, gardeners. They are even groups aimed specifically at widows. Or…start your own.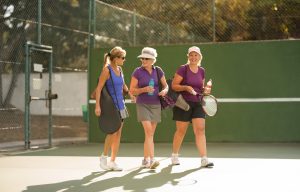 Get Girlfriends & Other Apps
Women can also connect on the web via GirlfriendSocial. An all volunteer-based site, GirlfriendSocial matches subscribers with others locally or internationally who seek platonic friendships with similar interests regardless of age or marital status. Sign up is free of charge.
Apps typically thought of as dating engines sometimes promote friendships, too. Bumble, for example, has a BFF section for expanding social circles.
Another new app on the scene is Quilt. It's gatherings of women in homes for conversation. Check to see whether your city has activity in it yet. And if not? Set up a gathering!
Go Old School
The web is not the only place to search for new connections, Venti says. There are always opportunities to make new friends and support local organizations and institutions as well.
"The first thing to do is get to know your neighbors; it gives you peace of mind when you know who you can rely on nearby," Venti offers. "Then go to community events such as block parties and find out who your other neighbors are."
In addition, local organizations and institutions also offer opportunities to meet new people and learn new skills.
>READ: NEW AGE PEN PAL: A FRIENDSHIP WE ALL NEED
Visit the Library
Local libraries frequently offer book clubs, literary readings or other special events that help newcomers connect with others who have similar interests.
Get Artsy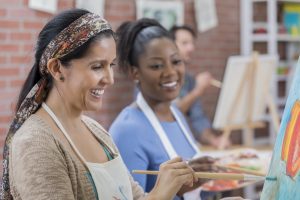 While local arts councils often offer drawing or painting classes, they may also host outings. Visit local galleries, exhibits or local fundraising events where newcomers may mingle with others from the community.
Make History
Likewise, many communities have historic sites that are always in need of volunteer docents, helpers with special events or even researchers.
Find Shelter
Pet shelters are always in need of volunteers willing to do everything! From walking shelter dogs and playing with kittens to helping with office work and taking part in special events. They also help animal lovers connect with one another.
"Ultimately, there are always a variety of ways people can get involved beyond their immediate neighborhoods," Venti says. "It's just a matter of finding those in the community."
It's a message not lost on Spampinato.
"I've even met new friends just walking my dog," Spampinato says. "It's taking time, but we're getting there."
>READ: THE MEANING OF FRIENDSHIP: SMALL CIRCLE, BIG SUPPORT
>READ: TECHNOLOGY TRENDS FOR AGING ADULTS