As our parents get older—and become ill or are no longer able to fully care for themselves—children living at a distance are faced with pressing problems. Most can't travel back and forth to provide sufficient help. They probably feel guilty about that—or regretful. Some aren't familiar with the area's social services and have difficulty arranging elderly care from a distant location.
More than 22 million Americans juggle jobs and care for the elderly
Why has elderly care become a hot issue? According to surveys by the National Alliance for Caregiving and the American Association for Retired Persons (AARP), more than 22 million Americans juggle jobs and care for the elderly. The AARP also reports that long-term care is expected to double in the next 15 years. The number of relatives that live more than one hour away from loved ones is also steadily increasing.
Moving a parent, or other older relative, close to you can be one option. But when it's not, or your relative already lives close to another family member, how do you learn to cope with loving from a distance? How can you monitor the elderly care of a relative in a nursing facility—or still at home?
"Physical distance is affected by a whirlwind of emotions when families are apart," says Prue Smith, a parish nurse and care-management team member at a continuing care retirement community of 900 residents in Milwaukee. "Plus when roles change, the family dynamics get complicated."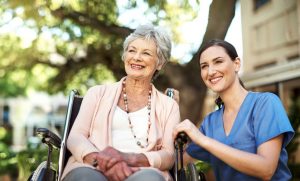 Mary Richards is a geriatric private-care manager in Seattle who serves on the board of Foss Home and Village, a Lutheran facility, and consults with several others. "Three things are crucial for long-distance caregivers," she says. "One, they need to take care of themselves. The first question I ask someone is, 'What are you doing for yourself?' Two, I suggest keeping a phone book and resource guide for the community where their relative lives right by their phone. Three, I say realize that not being close means a different kind of caring experience – not bad or good, but different."
Richards points out, for example, that a parent often rises to the occasion when a distant child visits. "Mom looks great to her, so she tells the sister or brother nearby who's been calling about Mom's failing, 'You're crazy.'"
Communication is key
It's necessary to have a local relative or other person to communicate with regularly, Richards says, to get the true picture.
If your parent lives in a facility, the social worker is a good information source. "Make a set time to call that's not going to be a busy time for that person," she says. Ask, 'Is Mom participating in activities? What material things does she need?' Say, 'The last three times I've called Dad he seemed down. Is something going on with him?'"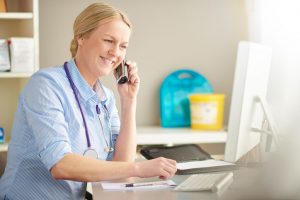 Smith emphasizes this point too. Establish good contacts, she says, with retirement home employees and others who see your relative regularly—friends, community volunteers or church or synagogue members. Their close perspective may give you a more accurate picture of your relative's situation than your phone conversations with your parent. You'll have the phone numbers of a residence, of course, but add those for the folks in the informal support system too. Make sure they have your phone number, and ask them to call you collect if they have a concern about your parent.
Remember, Richards says, to always let the contact person in a facility know you appreciate what they're doing and you want to help. "Ask, 'Is there any thing I could do on my end to support you in caring for my mom?"' she says. "That tells them you are not prying, that you want to be part of the team to enhance your relative's care." She cautions that if you sense evasive answers, be ready to go in person.
"There's a time to see with our own eyes and to hear with our own ears," Richards says.
That's just as necessary, if not more so, in long-distance elderly care for the older person who lives independently. As needs for assistance increase with loss of physical or mental abilities, you can put together a plan to provide resources and support from homemaking services and meals delivery to an emergency alert system that connects with a health facility or police department. You might want to work with a local professional who can develop a care plan.
To find a local professional, contact the National Association of Professional Geriatric Care Managers for information and a directory (520-881-8008).
Have the hard conversations
And during face-to-face visits make the difficult end-of-life decisions together-medical, legal and financial. Involve the older relative as much as possible. Do this sooner, rather than later, Smith urges. "Openly discuss aging issues when seniors are healthy and before emergencies arise," she says. "Avoid the cultural idea that 'aging is bad' and that 'If we don't talk about it, it won't happen.'