Aging Parents
I have watched two generations care for their aging parents, so I should have been more prepared. With our empty nest, grown, successful sons, and my ACT II fitness career in full swing, life for us was fast-paced and fun. Then, my seemingly forever young father became so ill he could never return home again. Honored to share the caregiver privilege with my sister, we blindly jumped into the management of his life. Just as we entered a phase that seemed somewhat doable, I got the call. My father-in-law, newly diagnosed with cancer, needed to undergo treatment and live with us. I remember staring quietly.
There was no asking IF I would care for both of my loved ones. Only HOW? To care for aging parents with different medical issues in different cities was a challenge for which neither I nor my family was remotely prepared. But when an aging parent depends on you for life itself, who truly is prepared?
And so, I entered the "year of the dads" on auto-pilot, blindly fighting for the lives of two very ill, aging parents. What would I have said to the naive, unprepared me? In the hope of helping someone just entering this season of life, I offer this confession and hope to bring direction and peace, all said with love.
1. Declare war
The war for the lives of your loved ones is on. As you enter battles not yet conceivable for medical care and quality of life, you'll need to shield yourself to protect your mental, physical, and spiritual health. Your role as a medical advocate, nurse, accountant, nutritionist, housekeeper, physical therapist, cheerleader, and more is just the beginning. You are the project manager. Get a calendar, a file box, and a plan. It's exhausting and heartbreaking, but rewarding. You can do this.
2. Shout it out
Take time during hospital stays, chemo classes, hospital furniture deliveries, doctor calls, etc. to share your current situation with everyone you know. All who care about you will want to help in some small way; a meal dropped by, brief "parent sitting," a grocery store pick-up, all will be appreciated.
3. Divide and Conquer: Don't ask, tell
Your family wants and needs to assist in the care of the parent or you'll rob them of their joy for reflection later. As you calendar your wants and needs, call family saying "We need you to please___. Thanks so much. You'll never know how much it means." Even if it saves an hour of doctor phone calls, it's worth delegating. Delegate discovery issues such as needed services, financials, wills, etc. There are many decisions yet to be made so distribute tasks, and start now.
4. Prepare for changes
Prepare your empty nest for changes: a loss of privacy, kitchen always messy, laundry piled, temperature altered, furniture moved, providers in and out. It will be frustrating. Reframe it. It's for a season, and as when the kids were young, you'll appreciate more than ever a stolen moment of solitude, meditation, prayer, or a workout.
5. Technology: your new best friend
Cell phones, Drop Cam wi-fi video, and a medical alert pendant or watch will buy you peace of mind and needed moments away. Your fitness tracker provides tiny wins. 10k steps a day? You'll celebrate days with 15k and 20k!
6. Agencies are your angels
The Veterans Administration, Elder Care agencies like Visiting Angels and Hospice are there to help and educate you through your decisions.
7. Let it go
Dad doesn't know what year it is, that you've been there for hours making his new room cozy and all he wants to do is 'go home.' The residents at the facility are emotionally and physically draining you as you try to help those with no family. Take solace in knowing the worst of his scary health moments are remembered only by you and hanging on to those thoughts does you no good. And, yes, it's mostly thankless, but you'll look back and treasure every moment you spent making him the center of your world.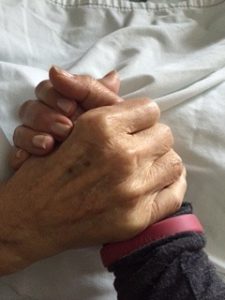 8. Prepare for a miracle
As good things do come out of bad situations, your concentrated time together will yield blessings beyond imagination. Precious hours reminiscing over photos, hearing new paternal adventures never before shared, and discussions that yield emotional healing become the norm. Speaking of healing, just as you think cancer will win the war over your loved one, he'll return home, cancer free.
8. Prepare for the inevitable
Hospice workers are your angels of mercy. When it's his time, you will know. Your hospice angel will guide and direct you. She will hold your hand as you hold his. And when you must let go for the very last time, she will take over, preserving his dignity and yours with love.
Read Next:
Beating Caregiver Stress and Burnout: Why You Need a Caregiver Support Group