I am not athletic. I am not outdoorsy. And camping holds no real appeal for me. So, when I told one of my friends that I was going to the Amazon, they thought I was going to an Amazon warehouse for a special shopping experience. No. I had decided to discover my inner Teddy Roosevelt and travel to the Amazon River to experience life in a tropical rain forest, while cruising on a river boat.
Just to be clear, this was not my idea. We travel with a group of friends who had been suggesting this trip for years. Given that they had traveled to a number of destinations of my choosing, I felt compelled to join them on this expedition to the Amazon.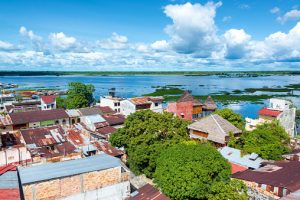 We traveled to Lima, Peru and from there caught a flight to Iquitos, Peru which is on the Marañón River. Given that we were cruising in the "dry season" (more on that later), we had to travel by bus to Nauta, Peru to meet our river boat (a two hour ride). Neither Iquitos nor Nauta are thriving cities—people travel around town by motorized tuk-tuks and generally live off of a fish and rice diet of two meals a day. But both have cell service and an internet connection—so these cities provide our last contacts with the rest of the world.
The Aria Amazon (which holds about 30 passengers) would be our home for the next week. Believe it or not, there is a great staff of more than 30 on the boat (including four naturalist guides), who cater to our needs. I am delivered fresh, warm cookies one day to my room when I ask about them at lunch. The bartender also makes a great Pisco Sour which has now become my favorite cocktail. Meals aboard are actually very good—breakfast includes a buffet with eggs of your choosing, lunch is another buffet which changes daily (hamburgers and French fries one day) and dinner is an elaborate three course meal. Wine and beer are also included. It is actually amazing what this crew can do with what must be limited resources. The rooms are well-appointed with comfortable beds and big picture windows looking out on the river as you cruise along.
The first day we are met with rain. Of course, I question how this can happen in the dry season and am quickly told that there is always rain in the rain forest. Okay. Dumb question. Our departure for the day is delayed, but when the rain clears we hike up some handmade mud stairs and visit a "village" on the river, including the school house. The people live in thatched huts without any indoor plumbing and cook their meals on a crude grill in the back of the "hut." Most of the families have lots of children—we heard many stories of families with 10 or more children. The oldest villager is actually only 66. Most of the teenagers leave to go to the bigger city (Iquitos) for high school and are not returning. A very hard life, but the children seem happy. And the school kids provide incredible joy.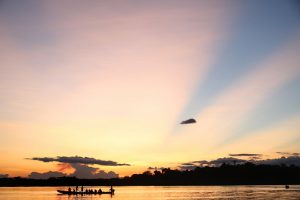 Other days are composed of skiff rides on Marañón and Ucayali Rivers (which I learn is really the Amazon) and their tributaries. We see amazing and colorful birds, fish for and eat piranha, touch anaconda that are 10 feet long, Caymans (or crocodiles) at night and see other small animals. One day some of the cruisers venture out on a long jungle walk where they see poisonous frogs and walk across crude suspension bridges (not me). They come back completely soaked from the humidity. There is swimming in some black lakes, kayaking on the river and canoeing in canoes paddled by the locals. There are great sunsets and beautiful sunrises. Plus, the mosquitoes seem to stay away.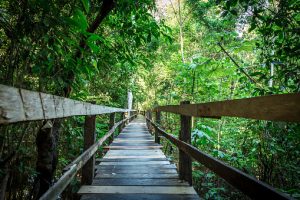 There are many sightings, many excursions, a complete breakfast on the river and some things that I will never forget. We meet lots of other guests on board from different countries—including Australia, China, Belgium and England. We all talk about the German guy who pushes ahead of everyone and complains to the guides about not really traveling on the "true" Amazon River. We talk to the guides about life on the river, we dance to the crew's make shift band that plays "Proud Mary," we travel to a time and place where technology is absent and no other tourists come. All in all, some incredible experiences and some fascinating times in the Amazon. This is something that should be on everyone's bucket list. Check.
Teddy would be proud of me – and I think I even avoided malaria.