Are you looking for an easy, relaxing getaway? Or maybe you'd prefer a DIY boot camp to jump-start your spring fitness? Tucson delivers a welcome dose of Arizona warmth and plenty of outstanding desert hikes, making it a perfect spot to shake off winter and let the sunshine in. Right now, flamboyant flowering cacti are blooming all over the valley, and one of the best ways to enjoy the colors is hiking the area's inviting trails. From local and state parks crisscrossed with routes to a gorgeous national park that feels distinctly different depending on which part you're in, vibrant Tucson offers a surprising amount of wild space that's convenient to access and well worth exploring. Here are five popular desert hikes to check out now:
Saguaro National Park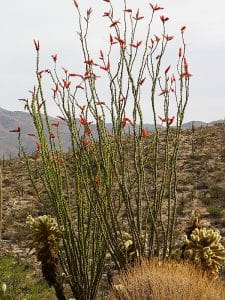 This small but stunning national park is known for its high concentration of saguaros—the majestic symbol of Arizona and a cactus that only grows in the Sonoran Desert. It is divided into eastern and western districts, and combined, these two sections protect more than 90,000 acres of prime habitat. Both are fantastic hiking destinations with more than 165 miles of trails that give you a close-up look at not only these enormous plants, but also ocotillos, chollas, and numerous other desert plants and animals.
1. Saguaro NP East: Rincon Mountain District
Gorgeous light creates an unforgettable backdrop for late-day hikes and photography. The 8-mile paved driving loop—Cactus Forest Drive—is at its finest from late afternoon until sunset. Numerous easy hiking trails, most of which are only a couple of miles long and reasonably flat, extend from this loop and will give you a multitude of ways to explore the park. Try Loma Verde Loop, a 3.4 mile hike, for a mellow introduction to the park. Check in at the visitor center for a map or find one here.
2. Saguaro NP West: Tucson Mountain District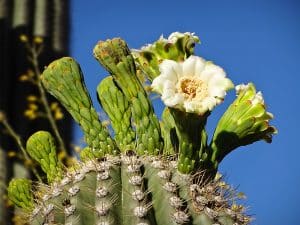 Approximately thirty miles from SNP East, the western district is quieter and more rural. While there are some short, easy hikes here, this part of the park has convenient access to longer, more challenging trails that offer sweeping views of the valley below. For the less adventurous, there's also an unpaved five-mile scenic loop that passes through a saguaro forest. The Hugh Norris and Sweetwater trails make for fantastic outings and are moderate to challenging due to the length, elevation gain, and ubiquitous stone steps. Check in at the visitor center for a map or find one here.
Hugh Norris Trail to Wasson Peak
Glorious in the early morning sunlight, this route is a great way to get your heart pumping by 6 a.m. Hugh Norris Trail is the longest in SNP West and climbs steadily from the parking area before following a ridgeline that steepens as it ascends to Wasson Peak. Find the trailhead on the scenic unpaved Bajada Loop Drive, 2.5 miles north of the Red Hills Visitor Center. The hike to the peak is approximately five miles long.
Sweetwater Trail, Spur to Wasson Peak
Sweetwater Trail has rolling terrain that climbs gently uphill the closer you get to the peak, and lots of cacti. Prickly pears, barrels, and saguaros will give you plenty to admire on your hike. Sweetwater to King Canyon Trail is 3.4 miles long. Summiting Wasson Peak will add another 1.2 miles. This route is best done in the early morning, as well. Evening is nice, too, if you're planning to do a portion of the trail for a shorter out-and-back hike. Follow signs to the El Camino del Cerro trailhead. You'll find this entrance to Sweetwater Trail where the road dead ends, approximately five miles from the intersection of Silverbell Road and El Camino del Cerro.
3. Sabino Canyon Recreation Area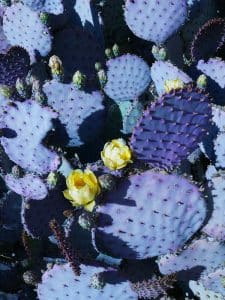 Just off Sunrise Boulevard, a main thoroughfare through the city, and tucked into the foothills of the rugged Santa Catalina Mountains, Sabino Canyon draws day-trippers who want to hike, picnic, and sightsee in this popular desert park. The recreation area is part of the Coronado National Forest and offers more than thirty miles of trails that range from easy to challenging. For a shady morning hike, try Phoneline Trail. It's an easy to moderate 5.7 miles to the top from the visitor center and another 3.7 miles if you hike back. Most visitors hop on the $10 tram at stop #9 for the return so bring cash in case you don't feel like walking. Check in with the visitor center for a map or find one here. Fees, tram information, and more are here.
4. Tucson Mountain Park
This stunning natural area in the southwestern part of town covers 20,000 acres with sixty-two miles of trails. It's an easy place to tick off a few miles, morning or late afternoon, while enjoying the plentiful flora and surrounding views. For those staying at the Marriott Starr Pass Resort, there are trails out your back door. A good one to start with is Lorraine Lee Hidden Canyon Trail. It switchbacks up and back down for a short 1.5 mile loop. Or use connecting trails to make your way to the Richard E. Genser Starr Pass Trailhead and back for an energizing out-and-back 10-mile hike. For an elevated look at a large section of the park, drive over Gates Pass. There are hiking trails in this stretch of desert as well, and the western side of Saguaro National Park is close by. Find a trail map here.
5. Arizona-Sonora Desert Museum
While not a conventional hike, the Desert Museum's half-mile loop trail is an easy but phenomenal place to stroll outdoors and get to know Sonoran Desert flora and fauna. It's best seen in the mornings when wildlife is most active. Visit the cactus garden, one of the museum's highlights, for an incredible display of plants that you may not see on other local trails. You'll also find a fascinating hummingbird aviary, raptors, owls, and many other desert mammals, reptiles, and amphibians. Opening hours and events can be found here.
Desert Hikes: Things to Know
Early mornings (the coolest time) and late afternoon until sunset are best.
Pace yourself and stop to rest in occasional shady spots.
Bring plenty of water (one gallon/person/day is recommended). Start hydrated and drink often, not just when you're thirsty.
Never wear open-toe shoes or put your hands or feet into places you can't see. The desert is rocky and there are many things that can prick, sting, and bite. Rattlesnakes, scorpions, and thorns to name a few.
Steer clear of cactus spines. Some cactus, such as chollas, are designed to attach when you brush by. They're painful and difficult to remove.
Cover up or use plenty of sunscreen.
If you want to find a vacation rental online, you can find a few helpful tips here.