What happened in Paris last November was utterly devastating. It was a situation that was unimaginable and affected the lives of many. We had planned a trip to Paris months beforehand, and we were not to be put off by the acts of these evil people. So, off we went after work on the Friday before Christmas. We boarded the Eurostar and headed to one of the most beautiful and romantic cities in Europe.
Le Grand Pigalle Hotel
We had booked a room at a new boutique hotel called Le Grand Pigalle Hotel, owned by the team behind the Experimental Cocktail Club bars in London, Paris and New York. The rooms are quite small but typical of Paris, and the décor is fab, so dark and moody with gold and velvet finishes. They have a great bar serving seriously good cocktails, and it was full of very beautiful and elegant clientele.
Versailles
On Saturday, we spent the morning in Versailles, the former home of Louis VIII. It was one of the most opulent and over-the-top Palaces I had ever seen – gold everywhere. The hall of mirrors was a particular favorite.
Brasserie Lipp
Sightseeing had made us hungry, so we hopped on the train back into the centre of Paris to grab a bite to eat. We decided to go to a place a friend had recommended – Brasserie Lipp on Boulevard Saint-Germain – on the left bank. I hadn't made a reservation, so I hoped they could squeeze us in.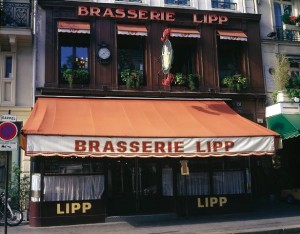 Opened in 1880 by Léonard Lipp and his wife Pétronille, Brasserie Lipp is one of the oldest Brasseries in Paris and still going strong today. I read in a guide somewhere that being seated upstairs was not de rigour; it is where the tourists are sent! Sure enough, the maitre'd tried to usher us up there, but I was having none of it and suggested we had a drink downstairs until a table became available there. The place was packed and had a wonderful buzzy atmosphere. Eventually, and with only a bit of gentle persuasion – in my very bad pigeon French, we were shown to our table at the back of the restaurant.
The menu is, of course, in French and hasn't changed since the day it opened (apparently). It was rather amusing to see written at the top of it – 'No salad as a meal' – in English, just to avoid any confusion. Neither of our French is great, and after sourcing a table downstairs, I wasn't about to ruin it by asking the waiter to translate the menu. So, we ordered what we understood – fish soup, escargot (snails), followed by roast chicken and steak frites (fries) – simple. Luckily, we did understand the wine list and went for a bottle of Croze Hermitage. Overall the food was good, but I wouldn't say exceptional. However, I don't think it's meant to be, and it certainly isn't the main attraction. Brasserie Lipp is an institution – it's entertaining, theatrical, authentic, arrogant, chic, noisy, buzzy and quite frankly, just brilliant.
Oh to be a member of the bourgeoisie in the 19th Century; the Maitre D would have had no qualms about where to seat the Beard and moi!
Lunch for 2 including wine and service was €170!
Brasserie Lipp
151 Boulevard Saint-Germain, 75006 Paris, France
+33 1 45 48 5391

Le Grand Pigalle Hotel
29 Rue Victor Masse, 75009 Paris, France
+33 1 85 73 1200
Read Next: