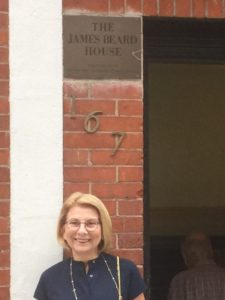 Is there anyone out there who doesn't know James Beard? At least you've heard of him, right? He passed away 30 years ago, but his legend lives on in over 20 cookbooks – the James Beard Foundation and the James Beard Awards.
In his day, he was also a teacher, syndicated columnist, and TV personality. His James Beard Award recognizes the top chefs in the country each year. Today his former home, in the heart of Greenwich Village, hosts exquisite multi-course dinners prepared by some of the country's top culinary talent.
I had the pleasure of attending a James Beard house dinner while in NYC. The chefs that evening were Joe and Katy Kindred, from the fabulous restaurant Kindred in historic Davidson, North Carolina (also Joe's hometown). Kindred restaurant was named one of America's Best New Restaurants 2015 by Bon Appetit Magazine.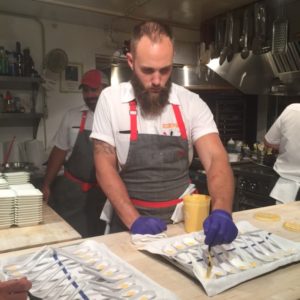 The experience always starts with wine served in the lovely garden courtyard along with passed hors d'oeuvres. That night, the hors d'oeuvres were crispy oysters with green garlic-dill yogurt, flounder crudo with North Carolina mountain trout roe and carrot, and plum tartine with country ham and olio nuovo. The wine was Domaine Mittnacht Freres Cremant Vin D'Alsace NV from France.
Then came the 6-courses – all wonderfully prepared. Each featured a perfectly paired wine followed by a dessert course with Emilio Lustau Oloroso Sherry NV.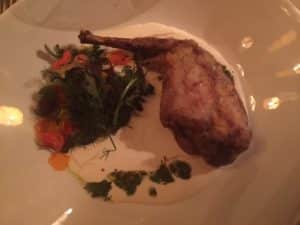 The chefs, Joe and Katy from Kindred restaurant, joined us for Q&A about their food preparation and beverage choices. They also explained that they chose to start in Davidson, North Carolina over a larger city because they want to have an impact in the community.
If you're planning a trip to NYC, check out the website for upcoming James Beard house dinner events. It also features a newsletter and great recipes. Since the house can only accommodate about 100 people in only one seating, the dinners sell out fast. Make reservations as far in advance as possible.
I highly recommend this experience. Over the years, I've met many great chefs and made friends with people from all over the U.S. while attending these dinners. They simply never disappoint. These dinners used to be known as New York's best kept gastronomic secret – not anymore!