Gin has enjoyed a colorful yet ignoble history appropriate for the Halloween season. From swashbuckling pirates to James Bond, many throughout history have imbibed in gin cocktails. Learn about the history of gin below, then enjoy our Halloween cocktails inspired by this liquor's history!
The Early Days of Gin
In the Middle Ages, 11th-century Italian monks distilled spirits with juniper berries. During the Black Death era 1346-53, these spirits were given ineffectively to patients as a Bubonic Plague remedy. In the mid-1700s, Franciscus Sylvius, a physician, scientist at the University of Leyden, Netherlands, and the father of gin, harnessed the "medicinal properties" of gin's juniper botanicals for bladder and kidney ailments. It was sold in pharmacies. The term "Dutch Courage" came from Dutch sailors taking a sip of gin before going into battle, making it difficult to find a sober sailor to climb a mast in those days.
In England, gin was made in back-alley stills and was called "liquid madness." This led to it being credited with creating major social depravity in England. In the mid-1800s, British sailors spread gin to the rest of the world. The British East India Company promoted the world's best-tasting anti-malarial medicine made with tonic/quinine water and London Dry Gin. The cocktail was used to mask quinine's bitter taste, and thus, the Gin & Tonic (G&T) was born.
Gin in the 20th Century
The Roaring 20s brought us flappers drinking "bathtub gin" in speakeasies. Ian Fleming's James Bond made us love the sophistication of the martini, "shaken, not stirred." Virginia Wolff and President Franklin Roosevelt were avid gin drinkers. The 60s saw the Vodka craze and its proliferation of sweet mixes soar while gin's image became tarnished. It was viewed as the older generation's drink.
Yet, a renaissance of gin occurred in the late 1990s. Drinkers sought the retro-cool authenticity of a spirit with real intrinsic flavors. The organic, farm-to-bottle movement prompted craft distillers to infuse exotic, local botanicals for their new, premium gins.
Gin Today
Gin is produced from a neutral spirit double distilled with a mix of botanicals. Botanicals in six categories are used in the production of gin: seeds, herbs, bark, citrus peel, and others such as almond and clove. Historically, the dominant botanical was juniper. Recently, some of the top-selling gins (for example, Hendricks) use botanicals infused with roses and cucumbers. Today's ambitious and skilled bartenders admire the complex flavors of gin. These bartenders have revitalized the Martini, Gibson, Gimlet, Negroni, and G&T and have created new venturesome cocktails like the Gin Basil and the Gin-Gin Mule.
Gin bars have become famous: NYC's Bathtub Gin, Washington DC's Wisdom, and Positano Coast's 1 Tippling Place. These bars and spirit retailers are stocking more and more premium gins.
Gin tourism has developed. Bombay Sapphire has opened a new distillery, Laverstroke Mill, creating a visitor attraction and premium tasting experience. Beefeater is redesigning its distillery and tasting room in London. Premium gins now have the potential to gain a cult following similar to single malt scotches.
Halloween Cocktails that Feature Gin
This Halloween, try one of the exceptional premium sipping gins: Hendricks, Monkey 47, SipSmith, or Star of Bombay. For drama, make a Swamp Demon or simply drop some food-grade dry ice in your cocktail to create a smoky, creepy spectacle. Cheers to conjuring up a wickedly delicious gin cocktail.
Gin Cocktails for Halloween
Hendricks Corpse Reviver
1 Part Hendricks's Gin
1 Part Cointreau
1 Part Lillet
1 Part Lemon Juice
Dash Absinthe
Preparation: Combine all ingredients in a cocktail shaker and shake briskly over cubed ice—double strain into a cocktail glass.
This is a gimlet to which lime marmalade is added, giving it a "swampy" effect.
2 shots gin
½ shot fresh lime juice
½ shot simple syrup
1 bar spoon lime marmalade
Preparation: Shake all ingredients vigorously with ice until ice-cold—strain into a chilled martini glass. Garnish with lime zest.
Add Food-Grade Dry Ice to any flavor Martini.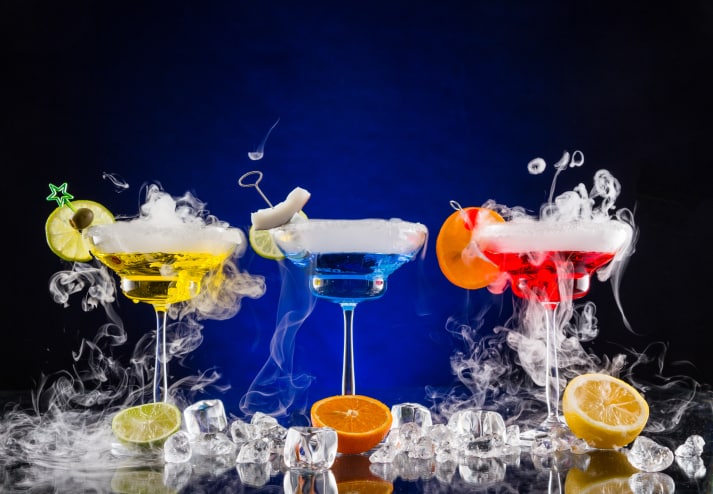 Read Next:
Sandy's Selections: New Books to Read in OctoberHow to Get Through Halloween Sweets and Save Your Abs