Throughout our lives, we have people who teach us many lessons. Once in a while, a special person appears to give us more. This is a person who finds it in themselves to give to others in the form of teaching or mentoring. Many of us pursue mentoring in the workplace and other areas of our life today. There are companies and clubs that have mentor programs to get us up to speed and knowledgeable of the organization. These programs are valuable, but not what I am discussing today. I am looking at life mentors and how they are around us providing direction, inspiration, and influence.
The teacher that I am speaking of is the person who will give their time and energy to help another learn and grow. This mentor does not look for recognition for their efforts, nor do they announce their intentions. They use their knowledge to help others become better without looking for gratitude. This guidance brings them satisfaction. This person does not set up rules and they do not reprimand, admonish, or make anyone uncomfortable. They take the lead by example with grace and dignity. Many times, the people they teach or help do not realize the effort until much later. Life mentors build relationships.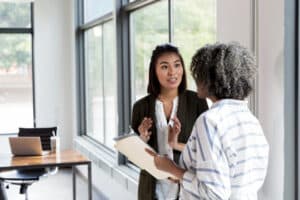 I was fortunate enough to have a life mentor many years ago. This mentor was the person I worked for at the time and from the day I started with the company she taught me more than business. I learned about corporate structure, politics, internal and external relationships but also style, giving back to others and the community. Her spirit was open and friendly. She had patience and instead of finding flaws; she saw opportunities. Although this was in a corporate environment, she taught me so much more about life on a personal level. Her style and way of approaching others were distinctive. She treated everyone with the same warm, friendly nature.
Sometimes this very person is in our life to teach and mentor without us realizing they are there. You may not have a mentor in your life but believe you can value from one. Mentors are everywhere, and you can find them all around you. They may be your friends, colleagues, or family members.
Search for people you would like to emulate. What would you like to improve in your life? Our peers have been through many of the obstacles and changes you may be now experiencing. What part of their life attracts you? As a distant mentee, look for characteristics in others and then see how you can incorporate these into your lifestyle and philosophy. Examine how they think and handle unfamiliar situations in their life. How do they treat others – their spouse, children, parents, or coworkers? What are their work ethics, spiritual path, or community service? Do they have empathy, are they honest, driven, fun or humorous? Look for desirable qualities you can integrate into your life?
You will often find you need not have them guide you with scheduled meetings. Observe to learn more about your differences and how you may accept fresh changes into your lifestyle. Mentors can offer a multitude in guidance. They can help you look at a situation from a different viewpoint and will be supportive if you stumble. You may find you want to act while learning from their experiences.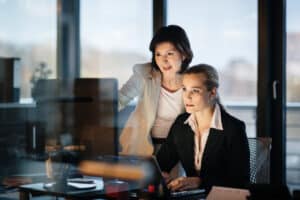 You may be the person to benefit someone else with your knowledge, personal growth and skills. If you can reach out to others in friendship, you could change a person's world by offering what you have experienced and learned. That is what my dear friend and mentor did for me. She did not push her lifestyle or beliefs but was available and honest when needed and asked. Make yourself available and understand what your mentee needs so you can give thoughtful responses.
Something to keep in mind as you begin a mentorship is to welcome advice. Honesty on both sides is paramount. As a mentor, it is vital to not give unwanted advice or to criticize. Equally important as a mentee view feedback as a gift.
My friend passed away a few years ago after a long and happy life. Our work had led us into different directions, but we kept in touch with phone calls and an occasional lunch. She was always a shining example of the person I strive to be today. I can only hope that I can pay it forward to help another on their life journey.
"I think a role model is a mentor – someone you see on a daily basis, and you learn from them."
– Denzel Washington
Robin Anne Griffiths is a published author, certified master development coach, personal trainer and behavior change specialist. She works with groups and individuals on life transitions to create personal balance – physically and mentally – at www.rechargemezone.com.