From door-to-door saleswoman to the senate floor, Marsha Blackburn, Republican senator from Tennessee, has had a remarkable career. Yet, here she is in her kitchen. She's talking about her recipe for Chocolate Chip Amoebas. This is "the favorite cookie at the Blackburn household," she says, and it's easy to believe she has made it a lot: She doesn't measure the honey or the vanilla (she adds a LOT more than a teaspoon!—something most of us happily do), and shows a deft hand with the flour and brown sugar.
The reason Blackburn is in the kitchen instead of on the Senate floor or the Dirksen Senate Office Building is that she's taping an episode of her Marsha's Kitchen video series. Now, there are several other Marsha's (or Marcia's) Kitchens on YouTube, but the senator's kitchen is the one with the pale cabinets and black-and-white backsplashes. And the one with the senator, of course, sometimes with her hair pinned up, sometimes cascading down over her shoulders.
When she lines her baking sheets, Blackburn sometimes uses waxed paper instead of fancy-pants parchment paper, but okay, sometimes she uses a Silpat silicone liner. But always, there's a Sunbeam Mixmaster on the counter. "I know everyone has those big KitchenAids," she tells Prime Women later on, "but I like this: It's a good, versatile machine."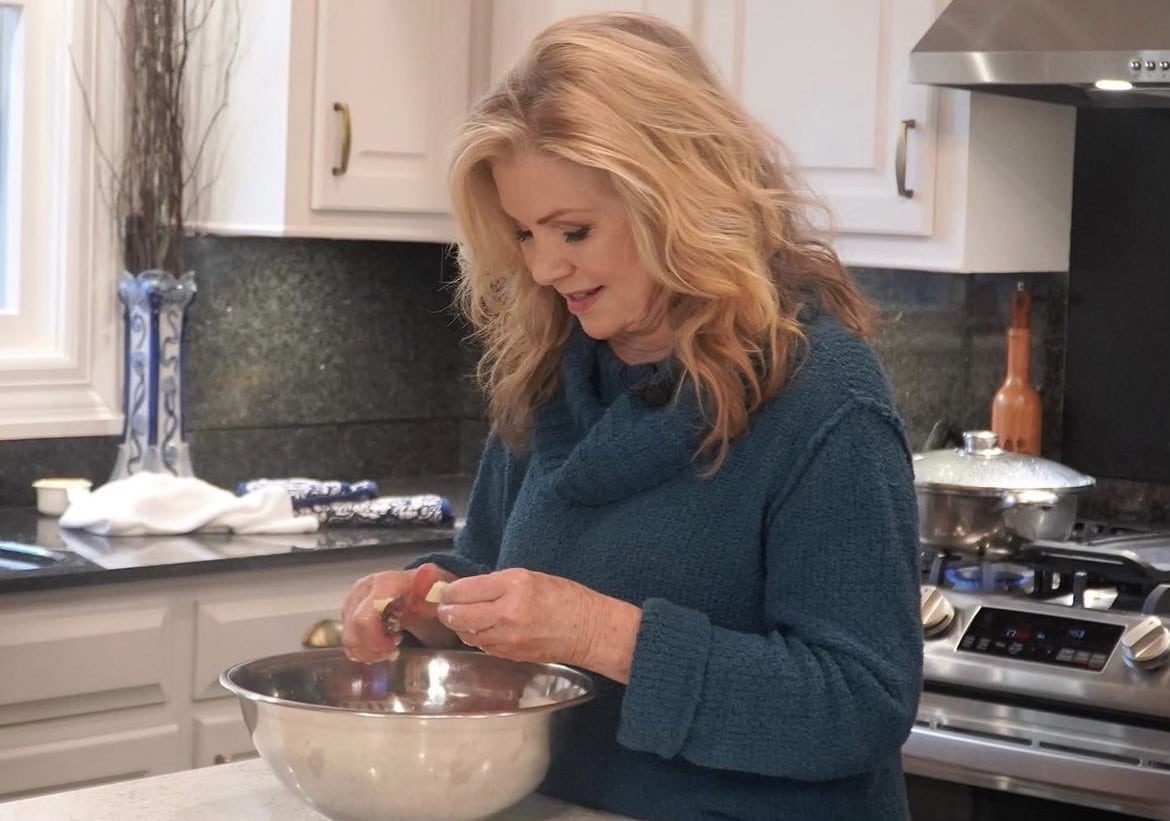 Even beyond her devotion to the vintage-looking stand mixer, her home economics degree, and her obvious familiarity with the recipes in her video repertory, Blackburn behaves like most of us in the kitchen, fingering her index-card-size recipe cards like good-luck charms, consulting them even when she knows them by heart (yup, us too).
We're not in the kitchen with Blackburn; we're watching her bake on video, just like the thousand or so others who have tuned in. Here they don't see the senator in hearings and floor votes, and official constituent events. But Blackburn knows that the kitchen is where she can meet some constituents in a very natural, extracurricular way.
Blackburn grew up in Mississippi and went to Mississippi State on a 4-H scholarship. That federally administered youth organization's original "head-heart-hands-and-health" motto is somehow emblematic of how she was raised. "My family always told me to give more than I got, to repay people well," the Senator says. That, and to "leave things better than you found them."
The majority of the voters in the largely rural 7th Congressional District in Tennessee that Blackburn represents would no doubt agree that she has succeeded in this. They have continued to elect her to office: as a state senator In 1999, then eight times as a U.S. congresswoman representing their district from 2003 to 2019. Since 2021, she has been the senior senator from Tennessee, and she is the first woman senator from the state.
It's tempting to think that if she were starting out now instead of in the pre-Internet, pre-Pinterest early 1970s, she might be one of today's social-media influencers. Not that the Tennessee Republican would be online showing tweens how to conquer eyeliner; more likely, she'd be talking about principles for living.
But decades ago, Blackburn put herself forward in one of the ways then available to young women: beauty pageants.
It's true: People who study such things have noted that a number of women who have gone on to public life have first learned the art of the "grip and grin" by parading, often, in a gown or a bathing suit. There are Republican Senator Lisa Murkowski (Alaska) and Representative Shelley Moore Capito (R-West Virginia), both of whom came through the Cherry Blossom Princess program. Michigan's one-time Democratic governor and current energy secretary, Jennifer Granholm, was Miss San Carlos (California) in 1977. Republican vice-presidential candidate Sarah Palin was Miss Wasilla in 1984 and went on to be named first runner-up and Miss Congeniality in the Miss Alaska pageant that year.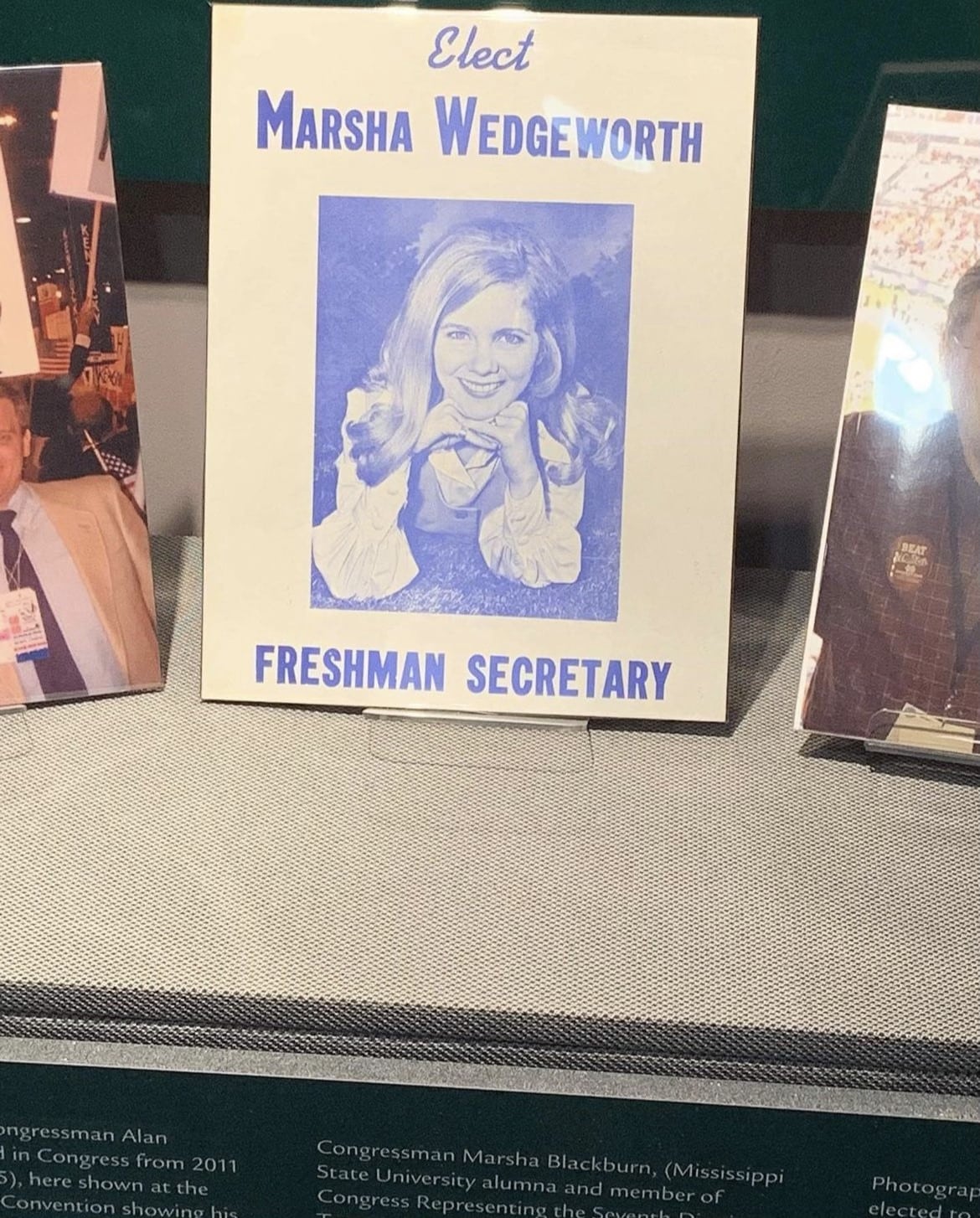 Blackburn? She participated in beauty pageants in high school and was named Oil Festival Queen in Laurel, Mississippi (in 1969, she thinks).
The beauty-pageant background isn't shocking if you think about it. As Heather Henry, Miss America 2000, once told the Hill newspaper in Washington DC, being able to enter a room filled with strangers and engage with them quickly and positively—those qualities are required of pageant contestants and politicians alike.
Now, granted, it's a long road from a sash to a Congressional lapel pin, but a start is a start.
And Blackburn kept starting. After graduating from Mississippi State University, she began working at a direct sales company now known as Southwestern Advantage, where her brother worked. She was assigned an office job because they had never had a woman selling door-to-door. But she soon persuaded the company she could and, in fact, persuaded them to create a line of cookbooks to be sold that way. In hindsight, it was a no-brainer: After all, who was answering those doors during the workday? Homemakers, a natural market for cookbooks. No surprise, Blackburn went on to management jobs within the company and eventually ran her own marketing and promotion firm.
Blackburn may have left the cookbooks behind, but even while attending to Senate votes and the pressing issues of governing, she makes time for other things. "You want to be rounded in public life. It's important not to have only one angle," she tells PW. Marsha's Kitchen is one part of that effort.
Another focus of her downtime is Sunday lunch. "With all the grandkids, we get together after church on Sunday," she says. "It's a time to share stories. Everyone puts their phone down to focus on those at the table," she adds, echoing the fervent wish of parents and grandparents everywhere.
"Many families find it hard to do this, with all the activities kids have these days, but it's time well spent."
Most of us, of course, like to think our time is well spent. But each line in Blackburn's resume, from her earliest school days till now, has added up to the busy but thoughtful legislator she is: pageant queen, door-to-door salesperson, and kitchen whiz who can connect with the folks back home. You could say that has been her recipe for success.
Read Next:
Helen Giddings: Standing on the Shoulders of Giants
5 Ways to Actually Empower Women