Barbara Hannah G​r​ufferman​ is what you could call a "prime woman" motivator. Author of The Best of Everything After 50, she is a frequent contributor to HuffPost and AARP, and has been a guest on the Today Show, CBS Morning Show, Good Morning America, The Doctors, Live with Kelly & Ryan, Dr. Phil, The Talk, The Dr. Oz Show, NPR and OWN (the Oprah Channel).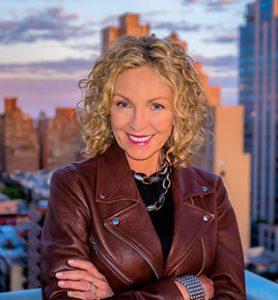 As a nationally recognized advocate for positive living, Barbara Hannah Grufferman speaks on the topic of positive and healthy aging to groups around the country, covering topics ranging from career, to fitness, health, sex, and nutrition. Barbara also serves as the Bone Health Ambassador and trustee for the National Osteoporosis Foundation, and is also the Ambassador for HealthyWomen.org, the country's leading website focusing on women's health and wellness.
Barbara has two daughters and lives in New York with her husband and rescued dog, Pete, a Brittany Spaniel. She recently released a new book, Love Your Age: The Small-Step Solution to a Better, Longer, Happier Life, jointly published by National Geographic and AARP, that everyone is talking about, so we simply had to interview her and share with you. I had the pleasure of speaking to Barbara over the phone for this article, and I'm proud to say we only detoured into the topics of parents, and pets, and children a few times. I hope you enjoy the outcome of our conversation as much as I enjoyed the process.
Background
Before her books and speaking engagements, which are her third full-time career, Barbara was in the magazine publishing business as a publisher, then group publisher. Her second career was running an international conference company. That exciting job took her all over the world, and she loved it. However, when she became a late-life mother, having her first daughter at 37 and second at 41, traveling the world wasn't on her list of priorities. "I didn't wait to have two beautiful little girls, one of whom was born very prematurely – but is totally healthy and fine now – to not be around for them."
So, Barbara took a two-year sabbatical and did things she'd never done – while still consulting on the side. At that point, she was approaching 50 and going through menopause, starting to gain weight, we know the drill, right? Barbara laughs and says, "I called it my 'umpies;' frumpies, lumpies, grumpies…" That's when she had her "ah ha" moment and asked herself, "Do I pull the blanket over my head and stay there for the rest of my life; or go down that path of fighting aging and doing everything I can including plastic surgery and whatever else it takes; or do I just embrace it and get my act together and start exercising, which I really hadn't done since Jane Fonda in the 80s, and eating well and doing everything right for myself?"
Luckily for us, she chose the third option, and wrote her first book, The Best of Everything After 50. There was really nothing out there about positive aging or embracing your age at that time. The book became a best seller after being launched on the Today Show, when Ann Curry did an in-depth interview with Barbara – and the rest is history.
Love Your Age
I asked Barbara to describe the differences between her new release, Love Your Age and The Best of Everything After 50. She told me the first book was about women just turning 50 and how to adapt a positive aging philosophy. "Being in your 40s sounds young still. Being in your 50s just sounds like much more of a change…it's just fraught with change. I had to make it a positive. It isn't negative. You don't have to become desexualized, you don't have to become invisible. I want you to be proud of turning 50."
Love Your Age is the small-step solutions to a better, longer, happier life. It's very research oriented. It's full of healthy habits, tweaking how we move, how we eat, sleep, managing stress, brain health and more. It's geared to women 45 and over, to help prepare women for what's ahead and help them age successfully. "The number one healthiest habit you can have, which motivates you to adapt the other habits in the book, is SELF LOVE. If you love yourself enough you will recognize that taking care of yourself at this time in your life is going to put you on the right path to healthy and successful aging."
Everything in the book is backed by science. Love Your Age also includes over 100 healthy tips and healthy habits to embrace and how to do them – and do them in small steps so they're not overwhelming.
What's Next for Barbara Hannah Grufferman?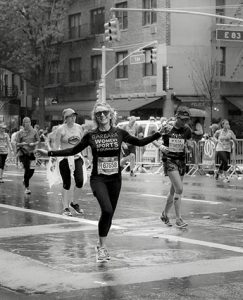 Barbara wants to continue to research and continue the mission of doing the right thing for healthy living. "People think it's too late to start living a healthier life or embracing healthier habits. It's absolutely not." Of course, there are more books ahead, she has a Facebook live show and hopes to do more TV – still the best way to reach a wider audience and affect more lives.
Lastly, I had to ask what Barbara finds most rewarding about this third career, and she was quick to say, "The messages I receive privately, or publicly through social media about how my message has helped change people's lives keeps me motivated every day and committed to walking the walk and talking the talk."
Now, a Few Fun Questions for Barbara Hannah Grufferman
What are you reading now?
While working on Love Your Age, all my reading was about the body, health, psychology, and the like. Now I'm taking a break from that and reading The Outsider, by Stephen King. I just finished Celeste Ng's Little Fires Everywhere and The Death of Mrs. Westaway by Ruth Ware.
What product or item can you not live without?
Peanut butter.
Do you have a quote or mantra you fall back on for inspiration?
We can't control getting older but we can control how we do it.
Do you listen to music while running? If so, what is on your playlist?
Yes, I do. When running, I only listen to Tom Petty and the Heartbreakers.