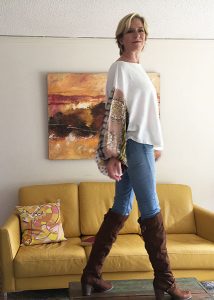 Talk about a wardrobe essential! No fall or winter is complete without at least one pair of boots. Luckily, boot season is upon us. Living as I do in Texas, one could argue that boot season is never gone. But for those of us who don't live on a ranch, we await boot season like we await the return of good manners. Luckily for us, boots always return. This year, they are strutting their stuff in bright colors (especially red), metallics, bright white, ultra chic cowboy, and boots so fuzzy you could be mistaken for a polar bear. (Mine, in the photo to the left, are suede. And I'm on my coffee table because I don't have a catwalk in my living room. Yet.)
I tend to lean toward styles that will last at least a couple of years – and not require regular shampooing. Here's a rundown of what's in store this boot season.
First, there are the booties. Whether low or high heel, block heel, stiletto, flat or peep toe, booties are a wardrobe essential. Wear with jeans or leggings, short skirt or midi, with or without tights. There's just something so versatile about them!
Then, there are riding boots. Always in fashion. Always classic. I wear mine way too often, especially consdering I am not riding to hounds anytime soon. But I love them so! I pair with skinny jeans and tunics or sweaters, a blouse and jacket, or with a short skirt that I'd feel too "floozy" in wearing high heels.
The next style, I am going to call a dress boot – because that's what they were called when I was growing up, although the term seems to be spread a little wider these days. A dress boot is mid calf to just below your knee and involves everything from a low 2 inch to ultra high heel. I usually try to have a pair of black and a pair of brown or neutral so I am never without an option for any outfit.
Last year, I bought my first pair of over-the-knee boots. I opted for a lower, stacked heel instead of something gloriously wobbly, so I could wear them CONSTANTLY. Thanks to fashion intervention, I reined myself in and only wore them a LOT. I actually found they were quite adaptable. Skinny jeans, leggings, short skirts all found themselves paired with my soft, toast-colored suede boots. Grab a pair and channel your inner Wonder Woman.
I hope you enjoy this boot season as much as I intend to! Grab a pair or three and kick up your heels this fall!