In 2019, Kelly Ripa's husband, Mark Consuelos, posted a photo to his Instagram account of his then-47-year-old wife in a bikini on the beach. She looked amazing, but haters gonna hate. Since they couldn't shame her well-toned body, they shamed her age instead, saying that she was "too old" to be wearing a bikini. Consuelos clapped back, but those comments reflect a segment of society's views on what is acceptable for women to wear after a certain age.
The bikini has come a long way from three tiny triangles held together by string. Today there is a wide array of styles designed to fit and flatter every body type. Knowing what works for you will let you look and feel your best.
Instagram has opened up the opportunity for women of all ages to share bikini pics when they look and feel their best. It's empowering, even if it's not for all of us, and the movement to accept ourselves and our bodies in all our glory is a step in the right direction. Whether you elect to stick with your usual swimsuit or take a bikini for a test drive, what really matters is to find a suit that fits properly, offers the right amount of support, and flatters your figure.
Choose a Suit That Works for You
Here are a few things to look for when choosing the right bikini for your body type.
The Issue: Small Breasts
The Answer: Find a top with a little something extra, like ruffles, twists, or a plunging neckline, and keep the bottom simple. You can also try a bra with a little padding for some extra oomph!
The Issue: Big Boobs/Sagging Breasts
The Answer: It's all about support and lift. Underwire is a great choice for helping you defy gravity, but it's not the only choice. Many companies now offer bikini tops that come in band and cup sizes, just like your bra. These are an excellent option because they've been designed specifically to work with your shape.
The Issue: Poochy Belly/Love Handles
The Answer: To smooth out love handles and tummy bulges, look for a high-waisted brief with hidden panels that compress and support.
The Issue: Short Torso/Short Legs
The Answer: To elongate the torso, choose a bottom with a lower-cut style. To create the illusion of long, lean legs (or play up great gams), a high-cut brief or a fabulous print will do the trick.
The Issue: Big Butt
The Answer: When women are heavier on the bottom, the tendency is to cover up with more fabric. That tactic can have the opposite effect by drawing the eye to the area you are trying to minimize. Instead, go for something special on top, like a plunging neckline or ruffles, and keep the bottom simple. That way, the eye is drawn up.
Our Top Choices:
Disclosure: This post contains affiliate links.
Personal note regarding the Dahlia Top: I haven't put on a swimsuit top that feels this good in years. I am a bit heavy up top and often have an extremely hard time finding a swimsuit that provides actual support. The Dahlia did not have any underwire, but the way it is designed, there are two ties in the back: One provides the support, and one provides some lift. You rarely see a bikini top without an underwire that can give this kind of support. Plus, I appreciated the feel of high-quality fabric and was surprised to see it was made from recycled materials.
Personal note regarding the Belize Top: The Belize top offers great coverage while looking amazing. I paired it with the high-waisted cheeky bottoms, and I can hit the beach or pool without constantly adjusting and rearranging the suit for coverage and comfort. It's one of my favorite suits I've gotten in years.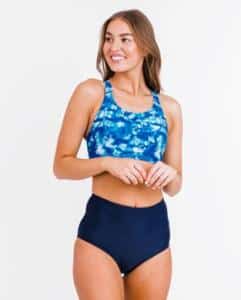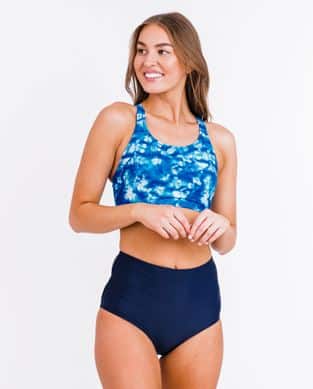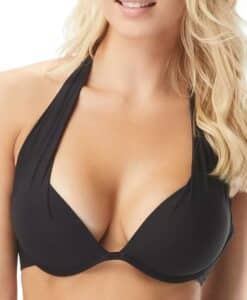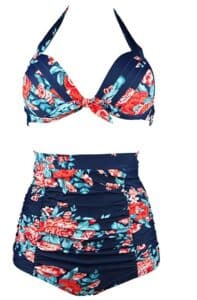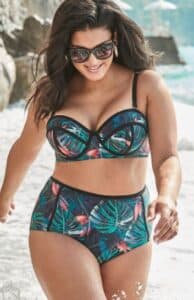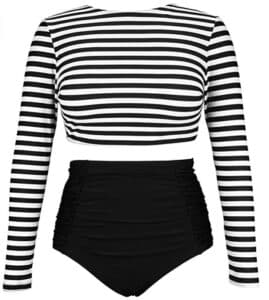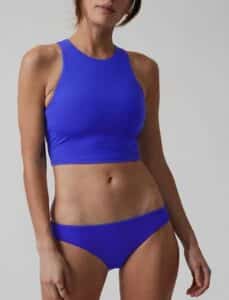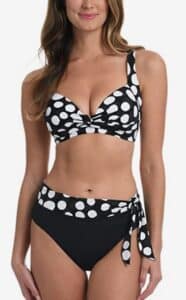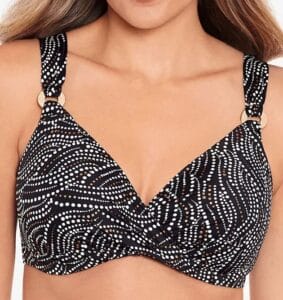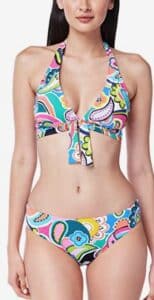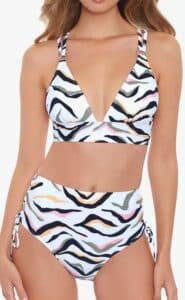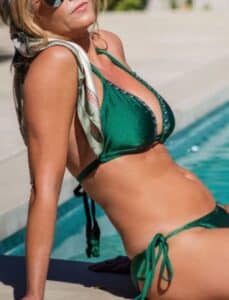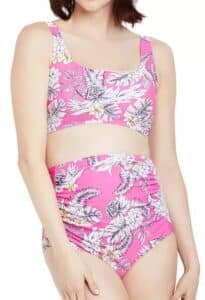 Whatever style you choose, add some cute sandals and a healthy dose of attitude, and you're ready to go!
Read Next:
Mature Swimsuits: Prime Women Style
How To Get Fit When You Hate Diet and Exercise