While the generation marrying today are typically more casual than we were at that age, a large number still want a formal, if not, a black tie wedding. They may not be picking out sterling silverware or $450 a place setting china, but they do go all out on their weddings.
If you are in that stage of life when your children are getting married, you likely are also being invited to their friend's weddings – all requiring you to think about what you will wear. With May, June and August being the most popular months for weddings, a black tie wedding invitation may be coming your way or has already landed in your mailbox.
You will see cocktail length dresses on the younger set even though the invitation reads 'black tie', however, the bride (and her mother) are most likely envisioning guests in tuxedos and long gowns. Finding the right dress is just the beginning. You also need to think about how you will accessorize it. If you've got statement jewelry, by all means wear it. This is the one time you can wear the "real" jewelry you own, but you might still elect to buy costume that better sets off the dress.
Heel selection is truly critical as you will, hopefully, be dancing. If you are buying new, it's a good idea to stick with a brand that you know fit your feet well in a heel height you can manage. It's also a good idea to wear them around your house so they are a bit broken in before the big event.
We've selected a few dress options that would be perfect for a black tie wedding but, also, perfect for any black tie affair. The fabrics are soft and flowing, which means you will also be comfortable while looking beautiful. You will also find suggested shoes and accessories.
Black Tie Wedding Dresses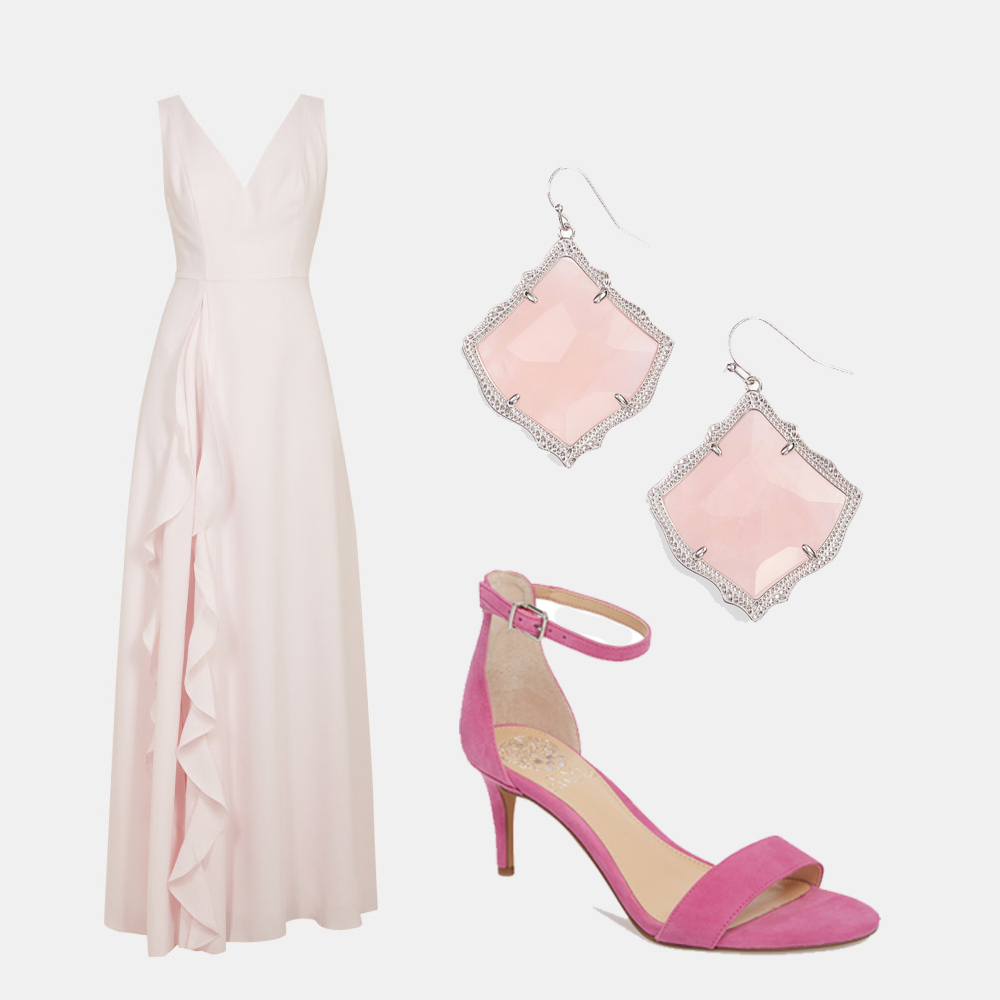 Ted Baker London, V-Neck Ruffle Maxi Dress, $395
Vince Camuto, Sabatini Sandal, $100
Kendra Scott, Kirsten Earrings, $75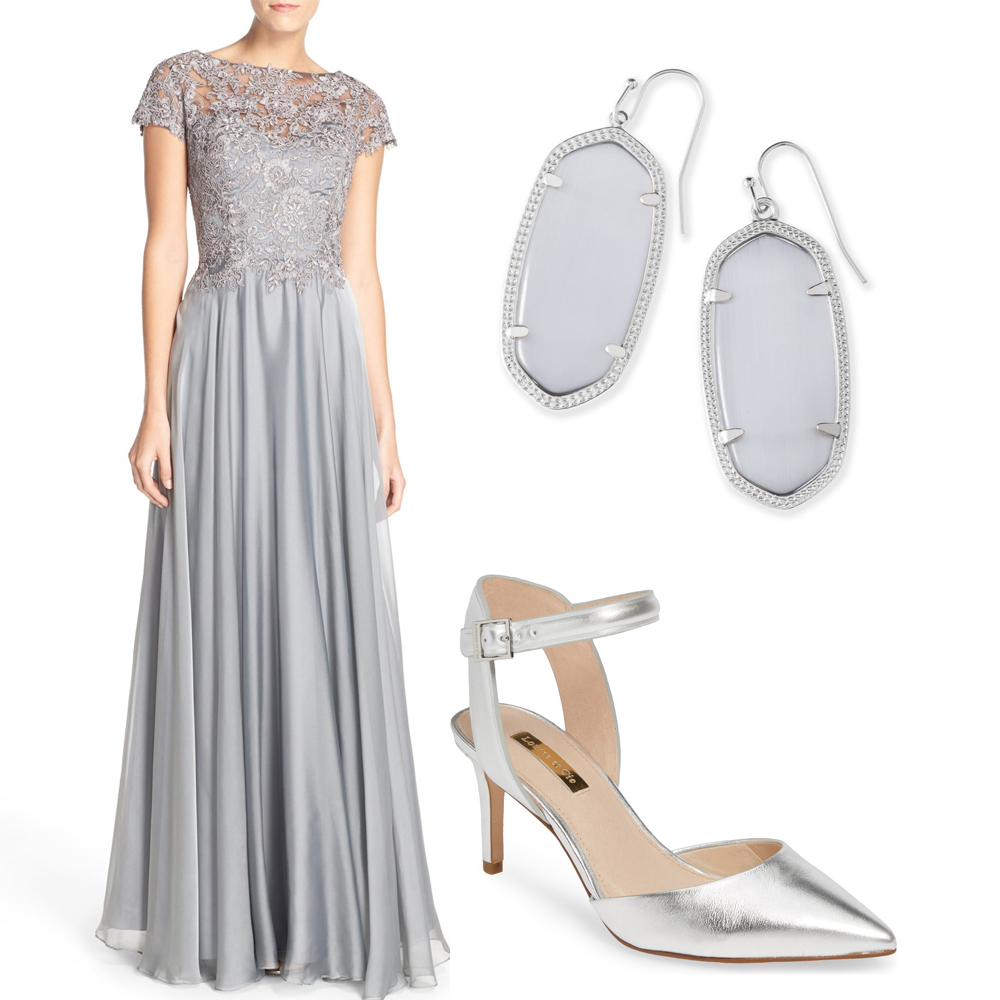 La Femme, Embellished Lace & Satin Ballgown, $450
Louis et Cie, Kota Ankle Strap Pump, $100
Kendra Scott, Elle Earrings, $55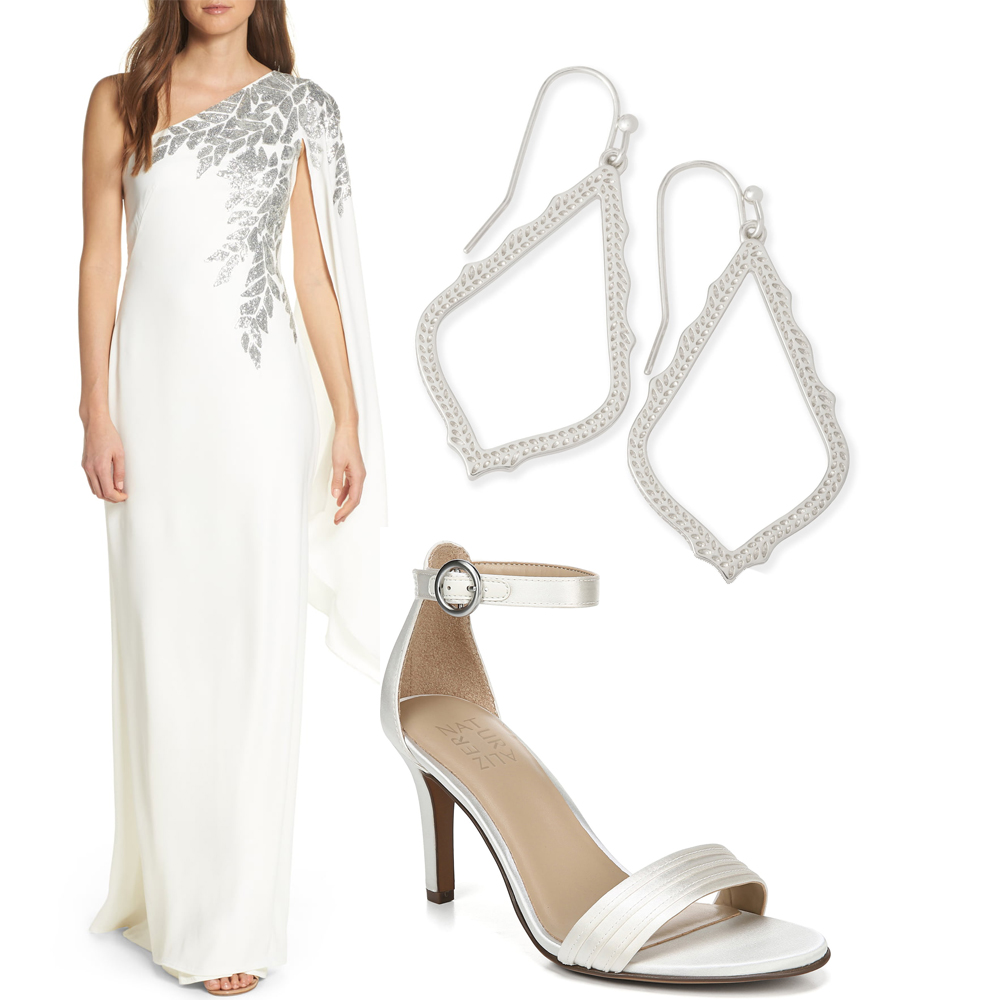 Tadashi Shoji, Cape-Sleeve Crepe Ballgown, $388
Naturalizer, Kinsey Sandal, $60
Kendra Scott, Sophia Drop Earrings, $50
Ted Baker London, Waterfall Ruffle Maxi Dress, $395
Louis et Cie, Kota Ankle Strap Pump, $100
Givenchy, Crystal Linear Drop Earrings, $58

Julia Jordan Hunter Crepe Ruffle Shoulder Jumpsuit, $138
Steve Madden, Erin Heeled Mule, $56